I was lucky enough to be able to celebrate my 21st birthday this year in Bali. If you haven't checked out my travel guides for Seminyak and Ubud make sure to check them out! In that post, I talked about all the things we did on our amazing trip to Bali!
My favorite part of the trip had to have been my birthday, not just because it was my 21st birthday, but because I got to spend the day with elephants!!
Before I continue on about my time at the elephant park, I think it's important to mention that I did my research before planning this trip. It was important to me to make sure that I was supporting an organization that treats their animals well and that there is absolutely no abuse, even if that meant spending a little more money.
You can read more about the organization and the treatment of their animals on their website. 
The morning of my birthday we woke up at around 6:00 AM. Which wasn't too bad since with the time difference, it'd be about 8 AM back in Sydney, Australia, which is what we were use to. We got picked up with a shuttle service around 7 AM and continued to pick up other people who booked at the elephant adventure that day as well. Overall the drive was about an hour-long, picking everyone up and getting to the Elephant Safari Park.
Unfortunately once we got to the park, it started to rain. However, the park was really accommodating with umbrellas ready for us when we got there. We got checked in and a little introduction about the area before going to our first experience with the elephants; bathing them!
There were four elephants standing next to each other while people took turns washing them. Everyone was super friendly, the people and the elephants! We were able to give our phone to one of the workers and they took so many photos of us while we were washing the elephants!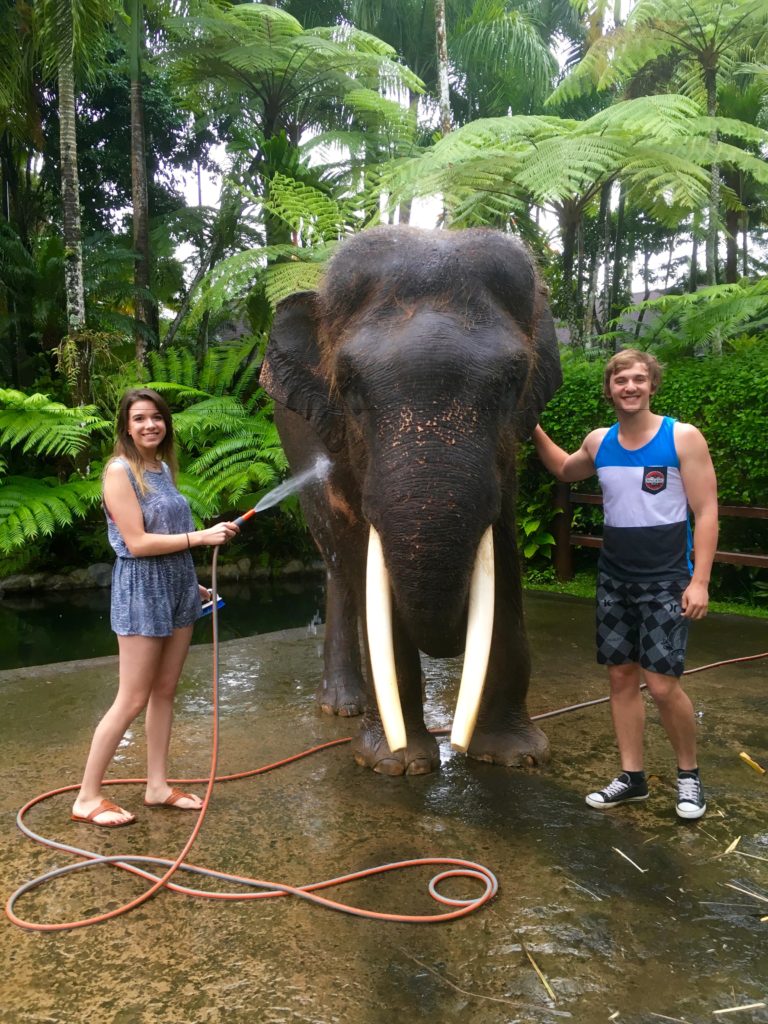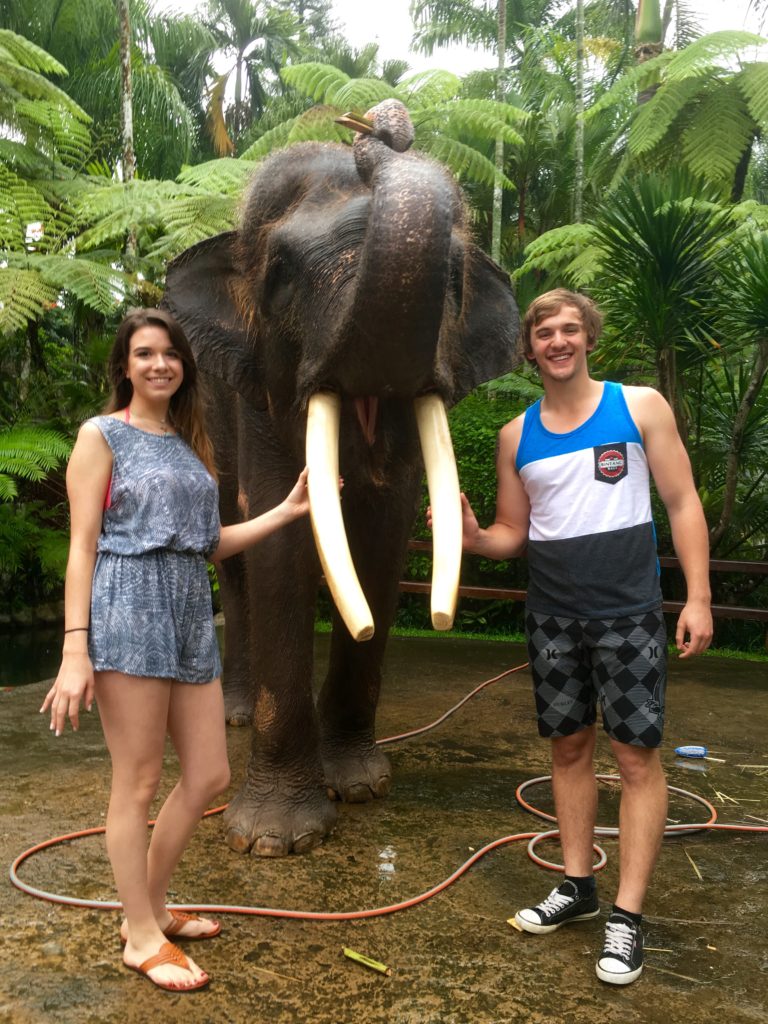 After we washed the elephant, we then made our way over to the swimming pond where we boarded our elephants and swam with them. This was such an awesome experience and one I'll never forget! The elephants would pose for pictures and mine ended up dumping my guide in the water which was pretty funny.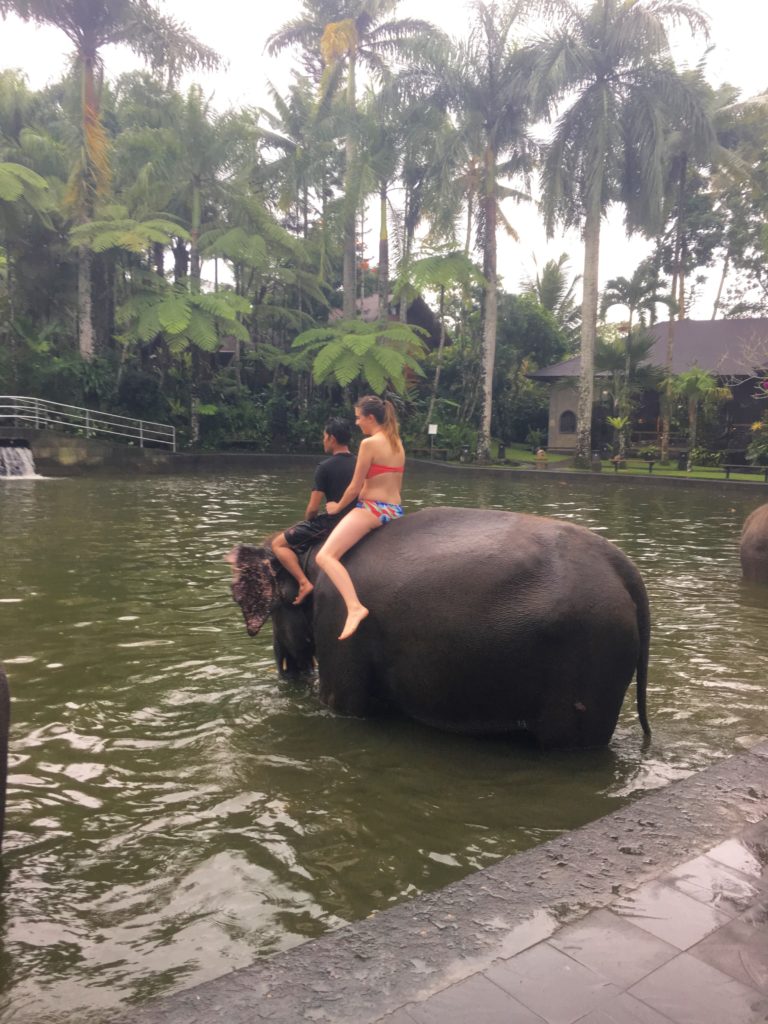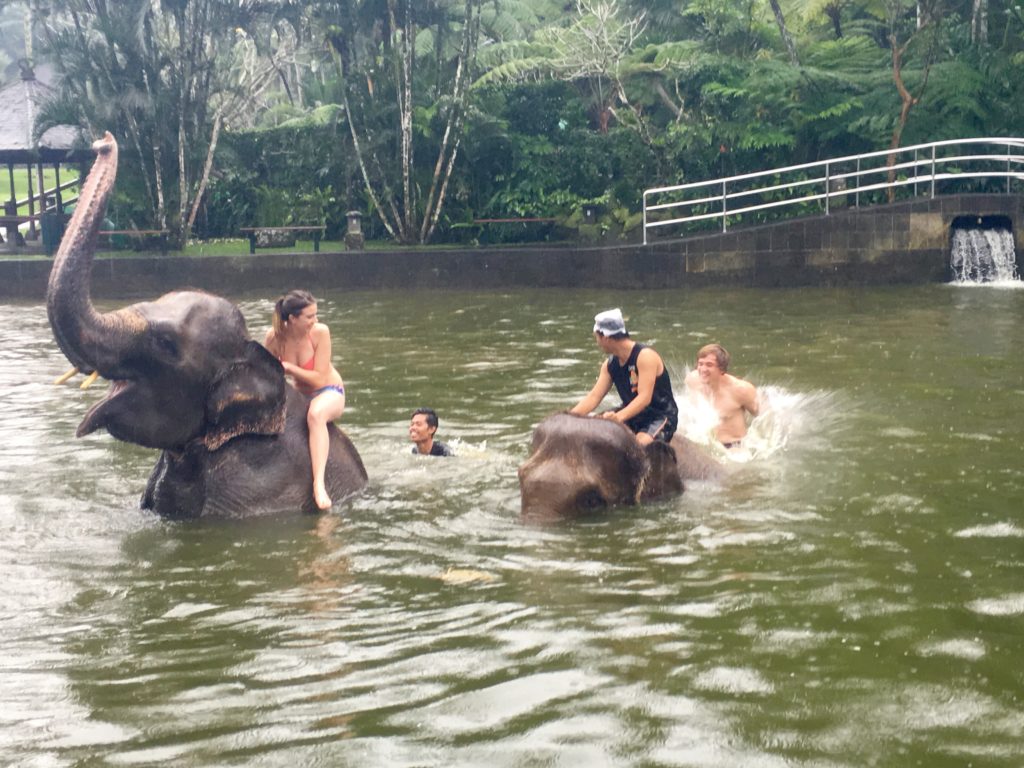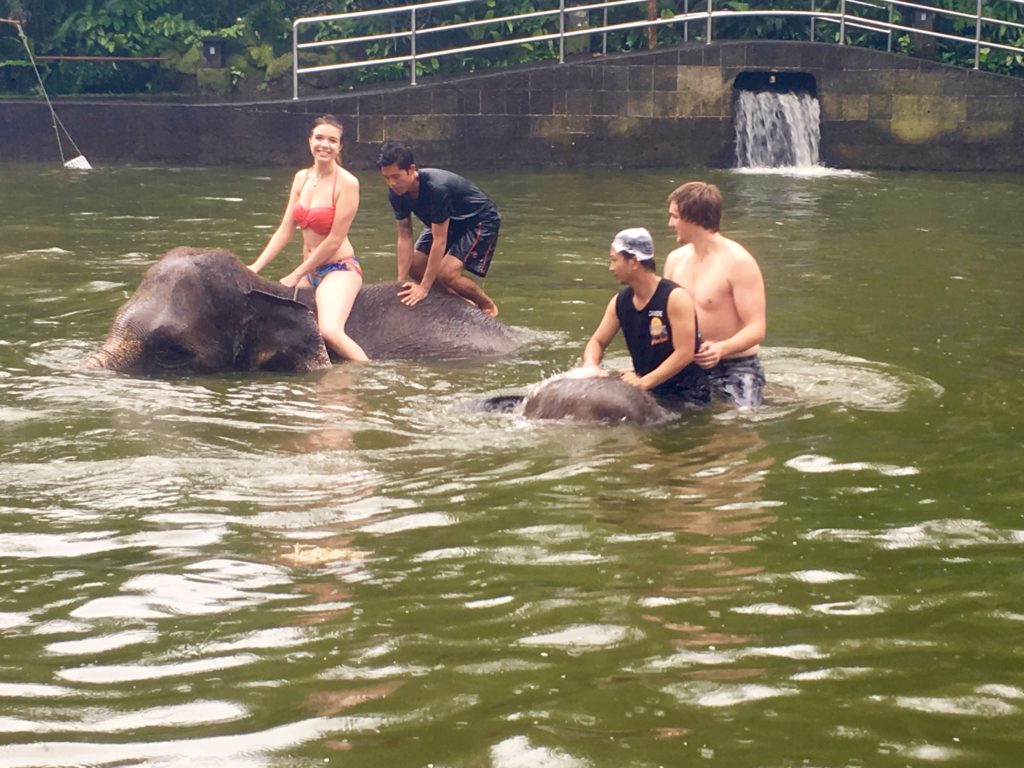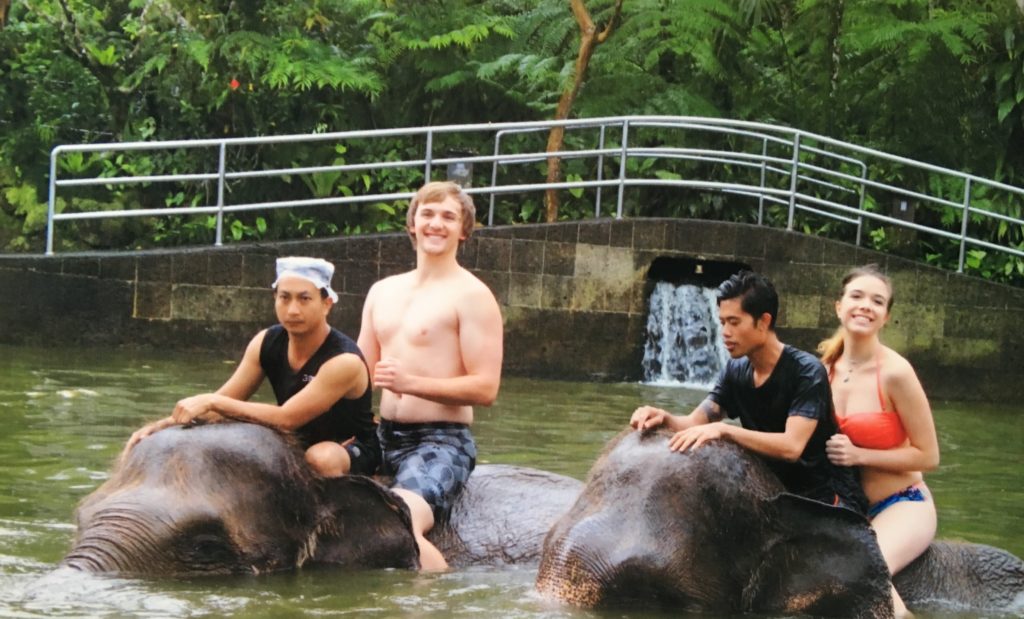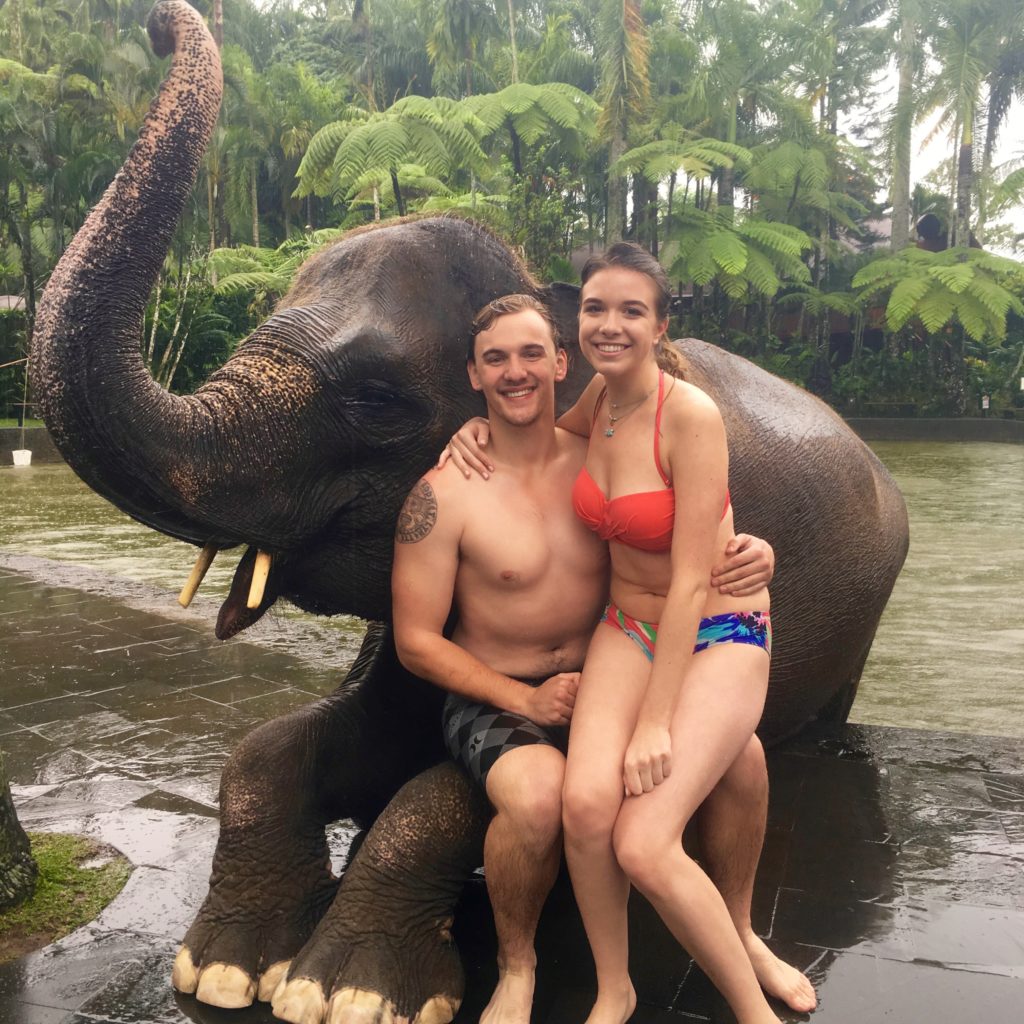 Following swimming and more photos, we made our way to the showers where they provided towels and soap so we could get cleaned up after swimming in the pond. Once we were completely clean, we then made our way to the dinning room for a buffet breakfast with a view of elephants swimming and  roaming around! Following breakfast, we wandered around the park until it was time for our safari ride.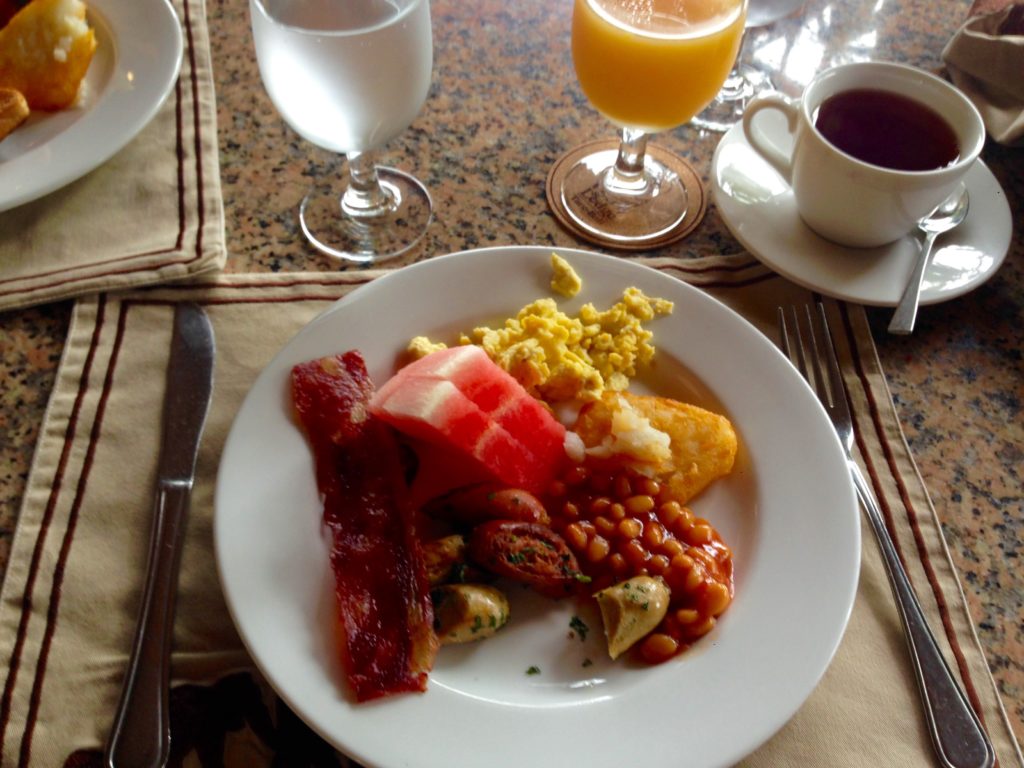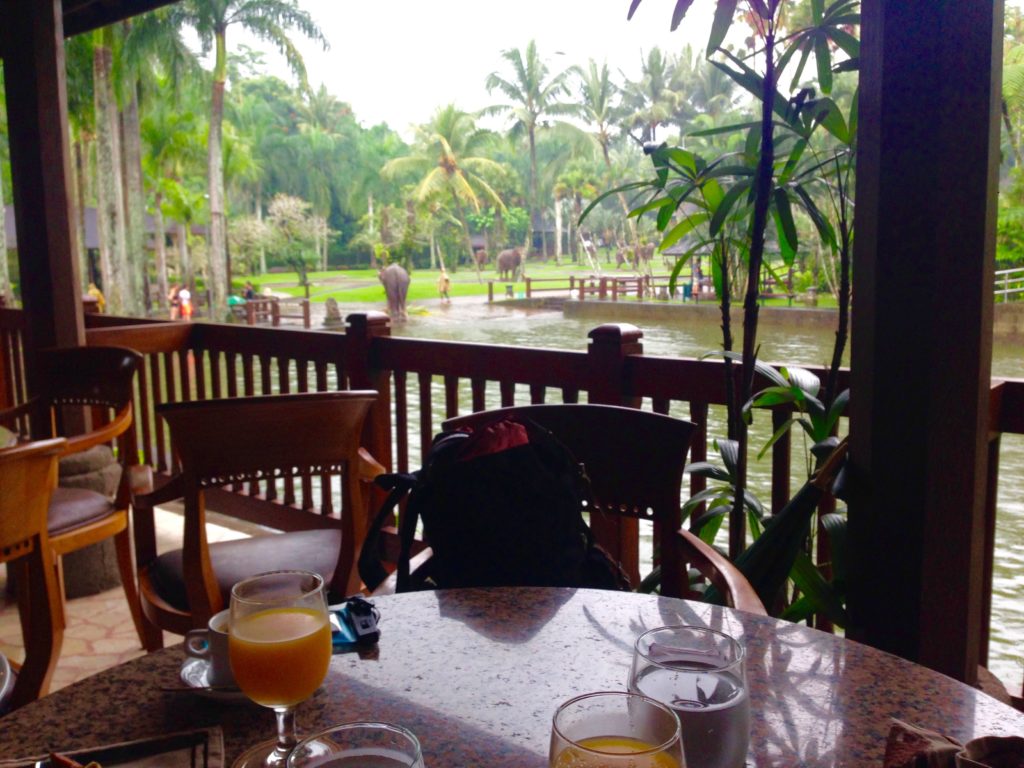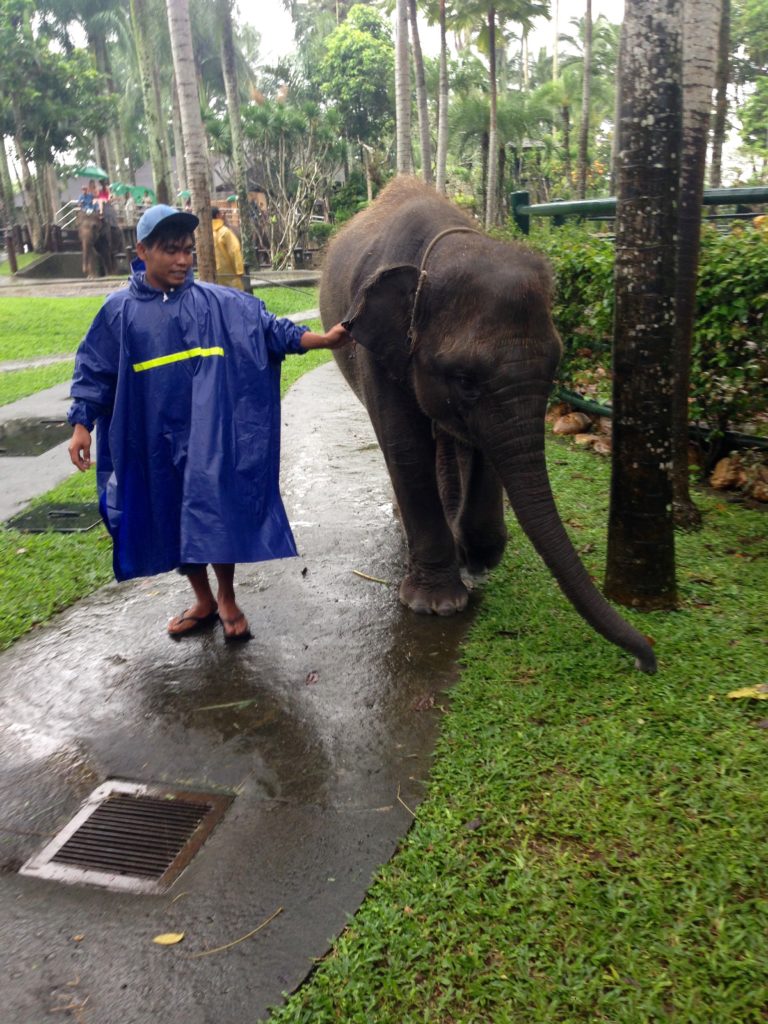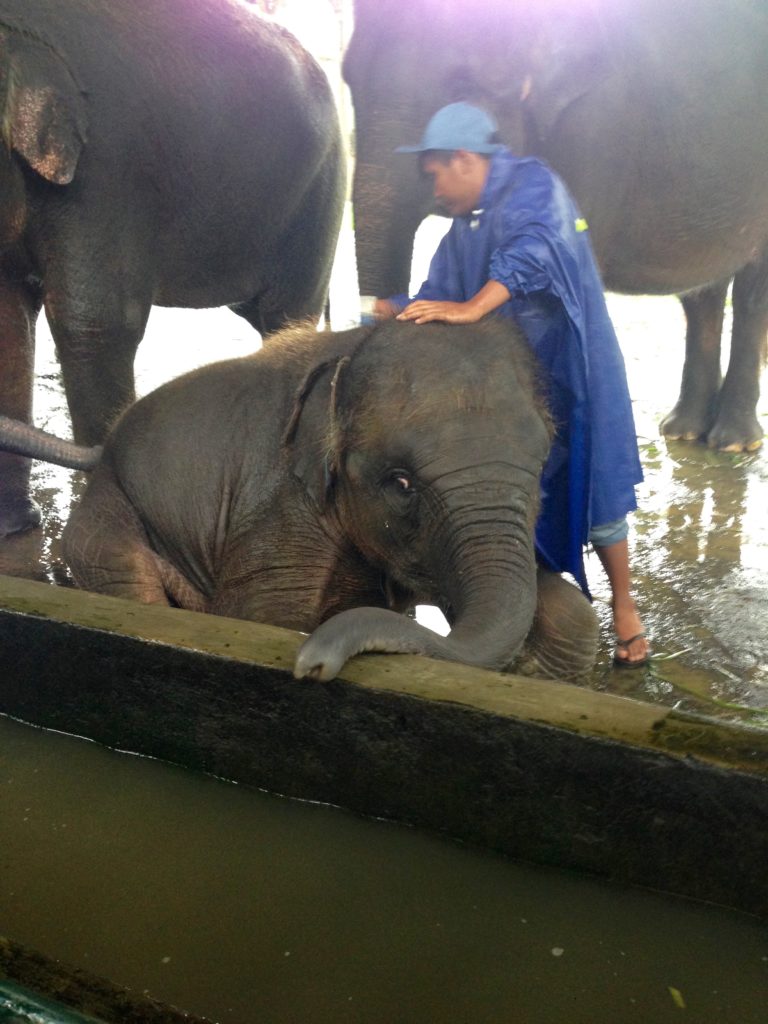 Our safari ride was so nice. It was about a 20-30 minute ride and we were really able to get a tour of the whole park. Our guide was also super nice just like everyone else who worked there and he told us that he's been with that elephant for seven years, which just shows the connection the workers and the elephants have with each other!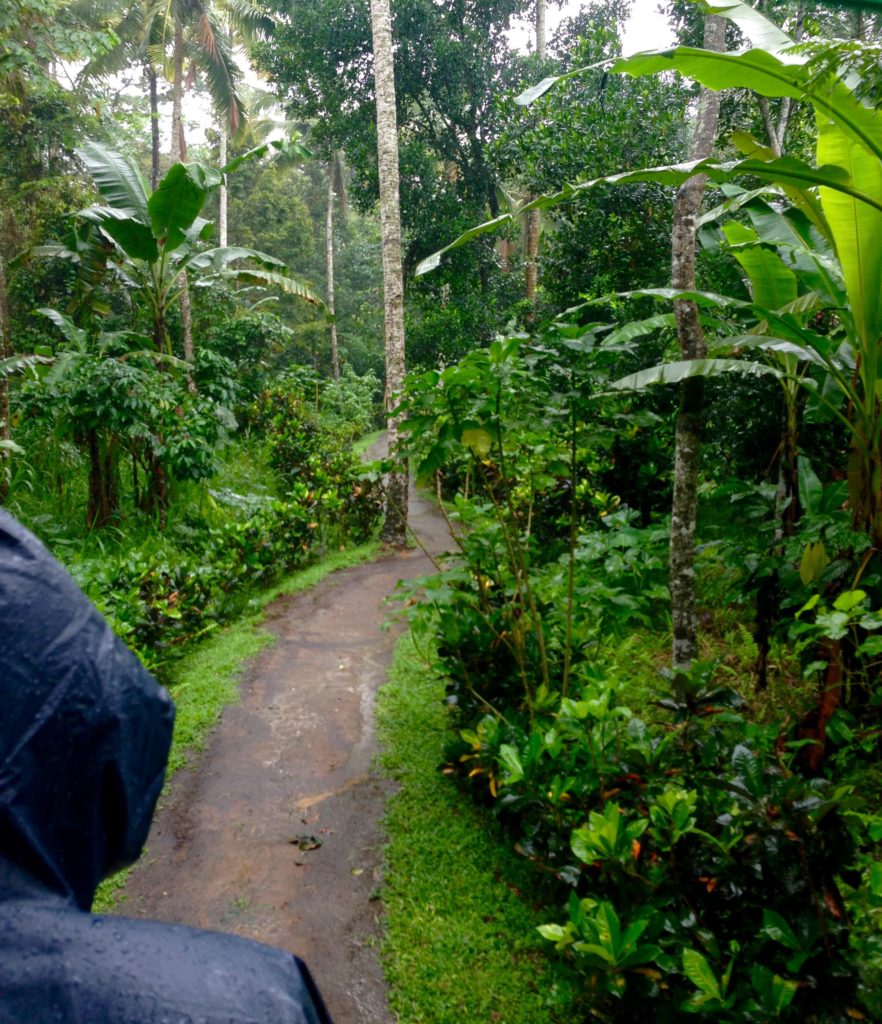 Our elephant adventure was still not over yet! Once we were done with our safari ride we got to feed the elephants! They provided food for you for free or you could buy a basket of fruits and veggies for $5. I decided to get the basket of food and it was $5 well spent! The elephants went crazy for the food and I got some awesome photos out of it as well! Finally we ended our time at the elephant park with a talent show where the elephants would play soccer, paint, and do balancing acts. It was such a cute show and a great time!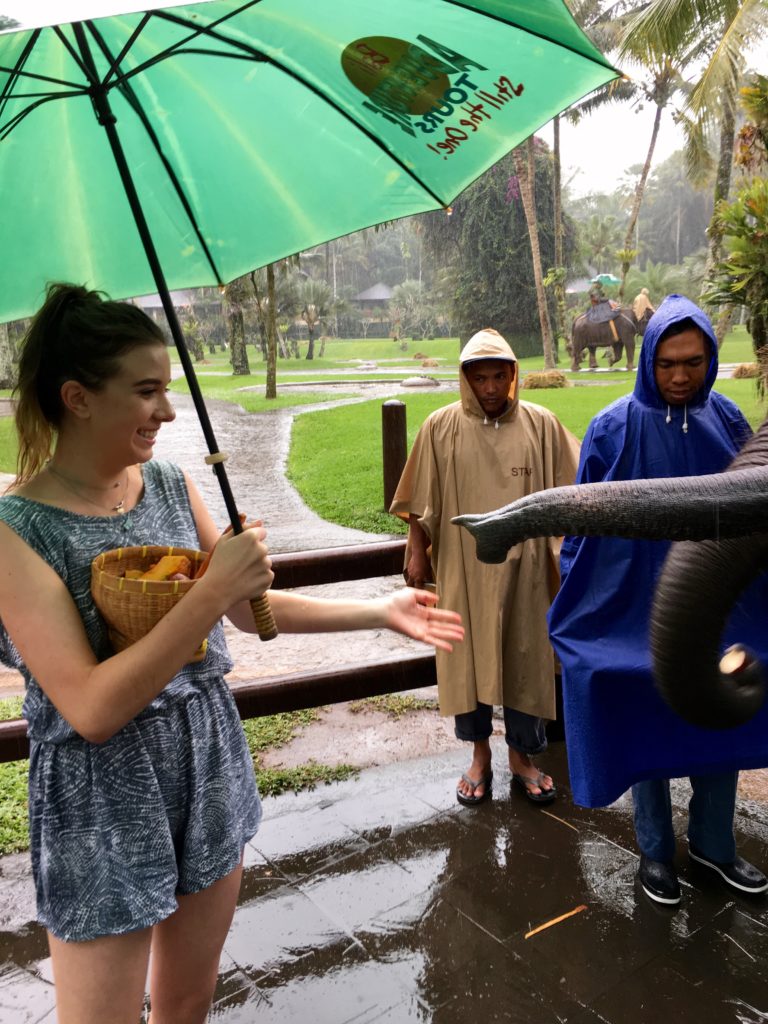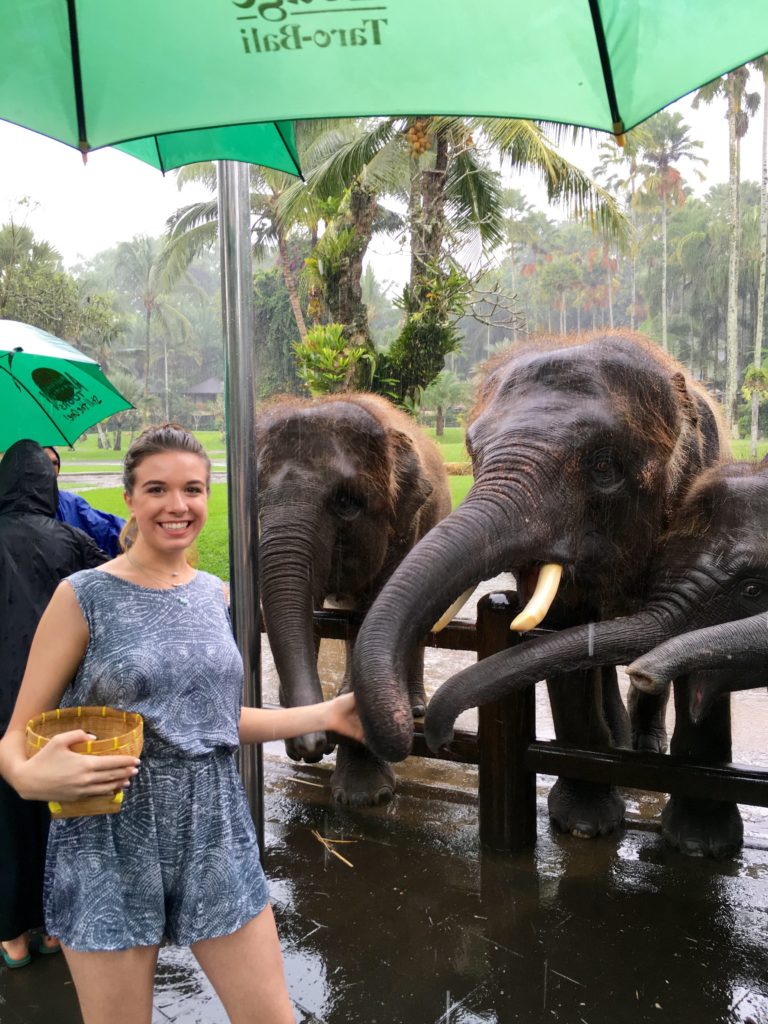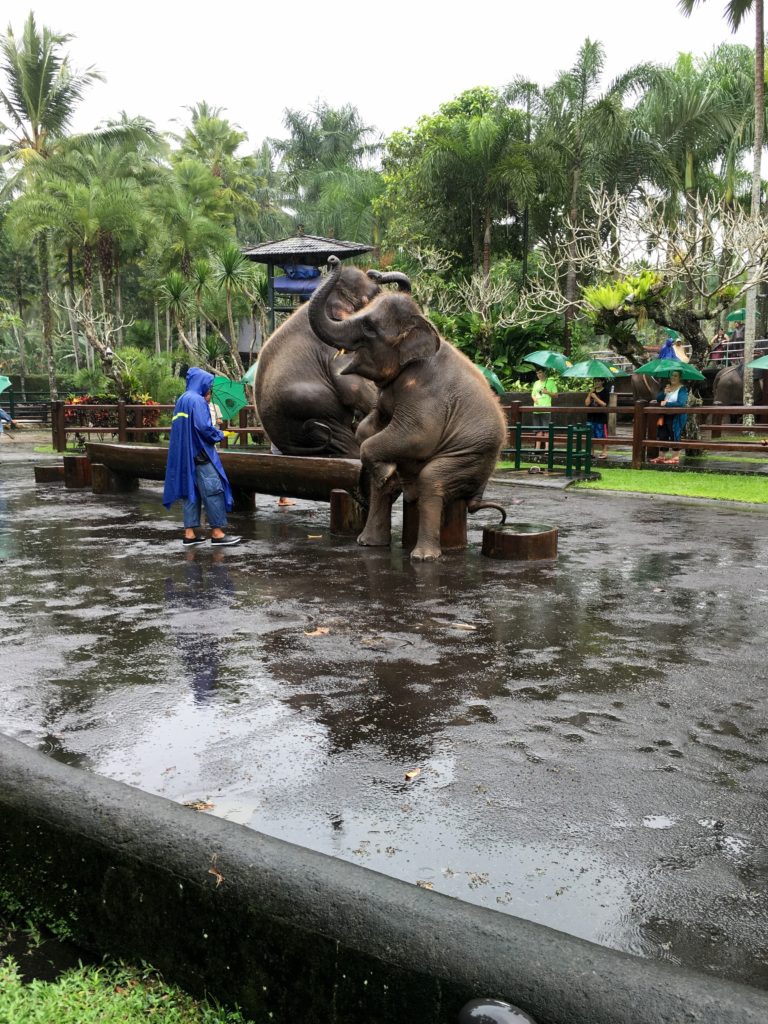 Our day was only halfway over at this point. We then boarded a shuttle to get dropped off at another restaurant where we were provided with a lunch buffet. This buffet was super good and had a huge selection of traditional Indonesian dishes. After that we were brought to the area where we would go water rafting. Unfortunately we didn't bring our phones on the raft since we didn't want to risk anything happening to them but it was an amazing time.
The whole ride was about 2 hours long. There were parts that I was a little scared with huge bumps and fast waters, but overall it was so much fun and very pretty! We got out of the raft a few times to let the river pull us along and swim near waterfalls. It was such an amazing time and a perfect way to end our day.
At the end of the day, we once again showered and changed and got back into the shuttle to bring us home. It was such a long, exhausting, yet unforgettable day and I can't honestly think of any other way I'd love to spend my 21st birthday! I'm waiting for the day that I'm able to go back to Bali and would love to go to the elephant park again.