This contest is now closed! 
I love having girls nights. It's so great to get together with all of your girlfriends, relax, catch up, and gossip. I, however, have a few staples when it comes to having an Unforgettable girls night, one being an awesome chick-flick!
Unforgettable is the perfect movie to compliment any girls night and I'm giving away tickets to the film along with a gift basket full of Unforgettable goodies thanks to Warner Bros! You can watch the trailer to Unforgettable here!
Unforgettable is about Tessa Connover (Katherine Heigl) who is barely coping with the end of her marriage when her ex-husband, David, becomes happily engaged to Julia (Rosario Dawson). Trying to settle into her new role as a wife and a stepmother, Julia believes she has finally met the man of her dreams, the man who can help put her own troubled past behind her. Tessa's jealousy takes a pathological turn when she will stop at nothing to turn Julia's dream into the ultimate nightmare.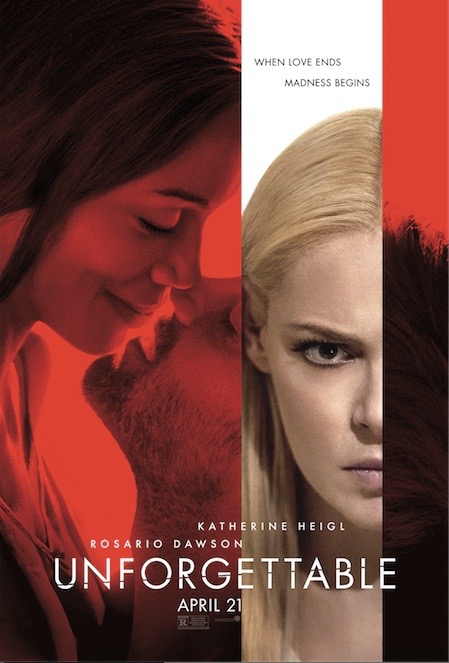 Amazingly, Warner Bros. is providing tickets and an Unforgettable gift basket with Unforgettable promotional items such as T-shirts, wine glasses, phone cases, and a few other random girls night necessities to my subscribers! This means to enter into the giveaway all you simply have to do is subscribe to blog and I will randomly select a subscriber to get complimentary tickets to Unforgettable! The contest will be run from April 10th- April 19th and the winner will be announced on April 20th! Enter by subscribing here!
Along with mentioning the partnership with Warner Brothers and Unforgettable, I wanted to include my top much-haves when it comes to having an unforgettable girls night.
Wine
I'm someone who really enjoys a good wine. That being said, a glass of any Moscato and I'll be happy. Luckily my friends and I also have a similar love for wine. Having a nice bottle of wine is definitely a staple for the perfect girls night. If you haven't checked out my blog post, How to Host the Wine Night of Your Dreams, make sure how to, to see how to host an awesome, affordable wine night for all your friends.
Games
Girls nights for me always involve games. I think game nights are honestly the best nights. My favorites are Cards Against Humanity and Catch Phrase, both are super fun and perfect for a group setting.
Face Mask
Girls nights are the perfect time to try out different face masks. Having all your friends bring their favorite face mask to share to your girls nights allows everyone to try out a new product and hopefully find a new favorite face mask. Personally, I love the Derma-E Charcoal face mask.
Snacks
I don't know about you, but as soon as I have wine in my system, I need snacks. My go-to includes cheese platters and popcorn. I personally love putting together the perfect cheese platter for the occasion. If you haven't checked out my other posts A Christmas Gathering and Wine Night, you should check them out and see I assemble my cheese platters. If I feel like having an easier snack, I like to opt for popcorn. Not only is popcorn super cheap and easy, but it's easy to get in bulk and it's not like other traditionally unhealthy snacks such as potato chips.
What are your must-haves to having an unforgettable girls night? Let me know in the comments down below! Also, don't forget to enter my giveaway by clicking here.