I love hosting parties. If you haven't checked out my Wine Night, a Christmas Gathering, and Pancakes and Pajamas: A Birthday Brunch, you wouldn't know that I especially love throwing platter parties. This Valentine's Day was no different. What goes better together than pizza and wine? I thought it would be fun to throw a DIY pizza party where guests can decorate their own pizzas and therefore make their perfect pizza!
Compared to my other parties, I decided not to go all out on this party. However, I still think everything turned out fantastic, especially without spending much money at all.
Decorations:
Decorations were super simple. I raided the Target $1 section as usual to find some felt hearts, plates, napkins, and little heart-shaped bowls. Other than that, I got flowers at Trader Joe's for $2.99…I swear they have the best deal when it comes to beautiful flowers! I then just added different knick knacks that we already had around the apartment that remind me of Valentine's Day like pretty books and candy.
Food:
The awesome thing about pizza is that especially if you
make it yourself, it's very affordable. I just got some basic toppings such as cheese, mushrooms, peppers, tomatoes, red onion, spinach, salami, and pepperoni. For bases, I got tomato sauce and pesto. I felt like it was a good selection and all the toppings were used up, which was nice. I also made a simple salad with spinach, red onion, cheery tomatoes, feta cheese, croutons, and a greek vinaigrette. I displayed the food on my platter, which I thought looked really nice and was really different from what I've seen before. For the pizza dough, I simply got Trader Joe's pre-made dough in Garlic and Herb and Original. This dough is super affordable ($1.99 at my location), and makes the whole thing very easy.
For dessert, the most important part of the party, we had brownies, cookies, chocolate covered pretzels, and Hershey Kisses.
                                                          Drinks: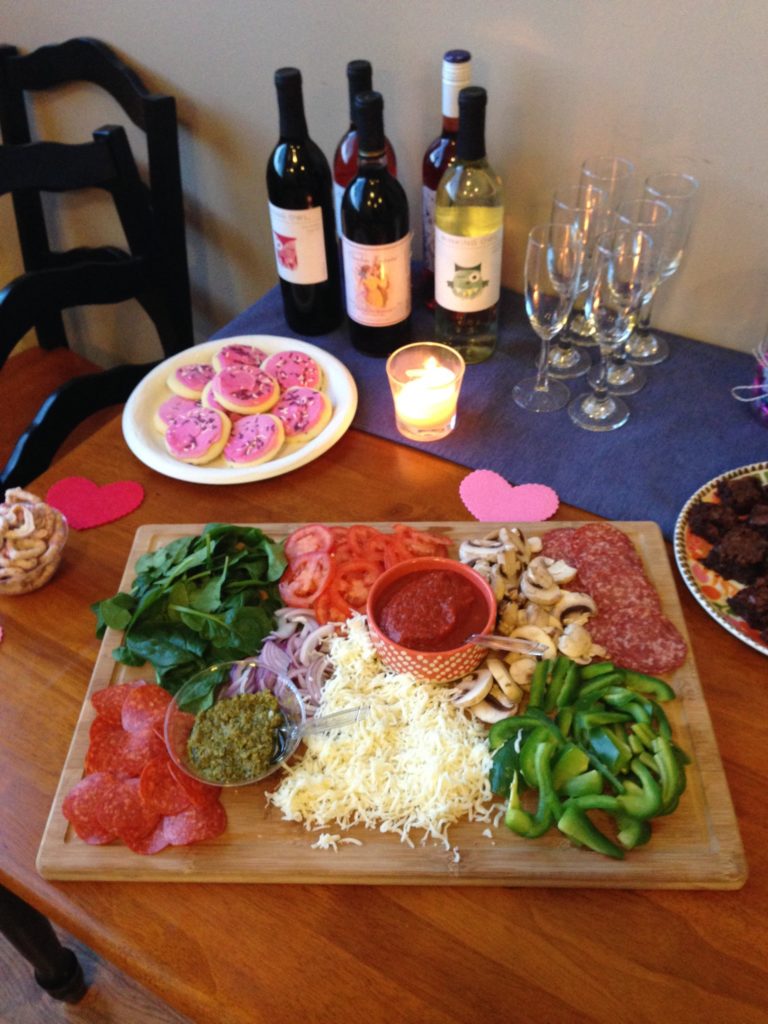 I asked guests to bring a bottle of wine to share with everyone. I like to do this with most of my parties that way it's more affordable for me, but everyone gets to try out a different type of wine, which is always nice!
I also find that people like to bring things to dinner parties. If they want to bring dessert or a bottle of wine, definitely allow them too! If anything, it'll make things easier for you!
Music:
Since we were in the living room, we put on 'Valentine's Day' music videos on YouTube. We were able to display it on our living room TV with Apple TV. Other than that, we just talked and hung out. It was a really good time and everyone enjoyed themselves.
I would definitely recommend hosting a DIY pizza party, it's an affordable option for a traditional dinner party, but with my experience, everyone will have a great time! Let me know if you've ever hosted a dinner party or a pizza party in the comments down below!