A majority of college students are heading on Spring Break right now. I'm celebrating my final spring break as a college student in Australia and having a great time. However, my friends are all over the world right now, some in California, Chicago, Ohio, and some in typical Spring break spots like Florida. I had a wide range of experiences when it comes to Spring Break. I've done the crazy Spring Break in Panama City Beach and I've also had the relaxing Spring Break back home.
If you're planning on going away for Spring Break, especially to someplace warm, here are my top necessities when it comes to Spring Break!
Sunscreen
If you're heading somewhere warm or even just sunny, sunscreen is an absolute must. Chances are during Spring Break, you'll be spending a lot of time in the sun. With spending the whole day outside, it's definitely easy to get lost of time and therefore get sunburned. A lot people aren't aware that sunscreen over 60 isn't any more effective than sunscreen below it. This simply means that just because you put on a SPF of 80, it doesn't mean you don't need to constantly reapply it throughout the day. Make sure you're using over an SPF of 40 and reapply it constantly, especially if you're getting in and out of the water.
Self Tanner
Instead of sunbathing, I like to self-tan. This way I'm not harming my body with exposing it to too much sun, but I'm also able to get a "natural", even tan. I'm the type of person who burns and then goes back to being pretty pale. Needless to say, I don't tan too easily. This is why self-tanning is perfect for me. After trying out a few different types of self-tanners, I've come to a product that works perfectly for me; Loving Tan.
External Battery
You can pick up external batteries just about everywhere now, which means there's a wide range of affordable and cute options to choose from. Especially with all the pictures you'll be taking on Spring Break, having an external battery is necessary to be able to keep your phone charged throughout the day. They're also handy for situations such as getting separated from your friends or in case of an emergency, you want to always make sure you have a fully charged battery.
Cheap Pair of Sunglasses
Having sunglasses for spring break is very self-explanatory. However, there are a lot of really cute and fun styles of sunglasses currently that are so fun for spring break. I recommend picking up a cheap pair of sunglasses since they're something that can be easily lost or misplaced.
A Cute Bathing Suit
If you're going to the beach, chances are most of trip you'll be spending a lot of time in your bathing suit. A cute bathing suit that you feel comfortable in is vital for Spring Break. I personally love the affordable options Target or H&M have.
Backpack
Having a small backpack is super handy to be able to carry a lot of stuff with you without feeling like you're carrying around a bag all day. Backpacks are really trendy right now which means that there are a lot of different backpacks to choose from and are available at a number of different stores. There are many different styles but if you're spending a lot of time in the sun, I recommend not using a leather backpack since it can tend to get really hot from the sun such as the Kent Backpack from STATE Bags.
Water bottle
With spending so much time in the sun, drinking water is necessary to make sure you stay hydrated. Getting a cute water bottle such as a S'well
one, makes it something that you want to carry around and have water with you at all times.
Book
Although you may have a booked schedule during Spring Break, I've learned to always be prepared and bring a book with me. Whether that be on a layover, flight, car ride, or down time at the beach, it's nice to take a break and read a good book to pass the time. Currently I'm reading GIRLBOSS
and loving it. It's extremely entertaining and motivating as well!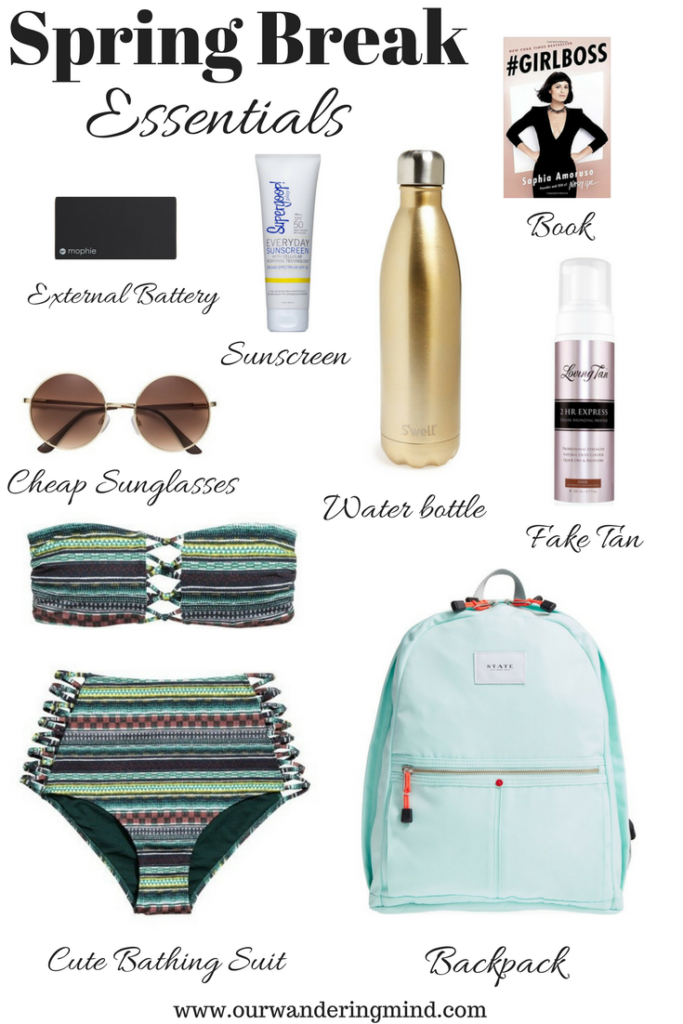 Spring Break is a crazy, fun time. Make sure you're prepared and stay safe! Hopefully you found this post helpful when it comes to packing for Spring Break! Where are you going for Spring Break? Let me know in the comments down below!