Ubud is a very popular spot for yoga retreats because of its relaxing atmosphere. That being said, there is however so much you can do while in the Ubud area. Below I've included where we ate, what we did, and how we got around while we stayed in Ubud. If you haven't seen my travel guide for Seminyak, the first half of our trip to Bali, make sure to check it out before! 
Where We Stayed:
Bebi Tepi Sawah: It was definitely going to be hard to beat our amazing stay in Seminyak at the Sanyas Suites. Bebe Tepi Sawah was very nice however. Although we didn't have our own private pool, or a luxurious outside bathroom, it was a very comfortable and clean room with gorgeous gardens surrounding the area. Bebe Tepi Sawah also had great service and even allowed us to leave our luggage there while we went to the markets one last time after check out.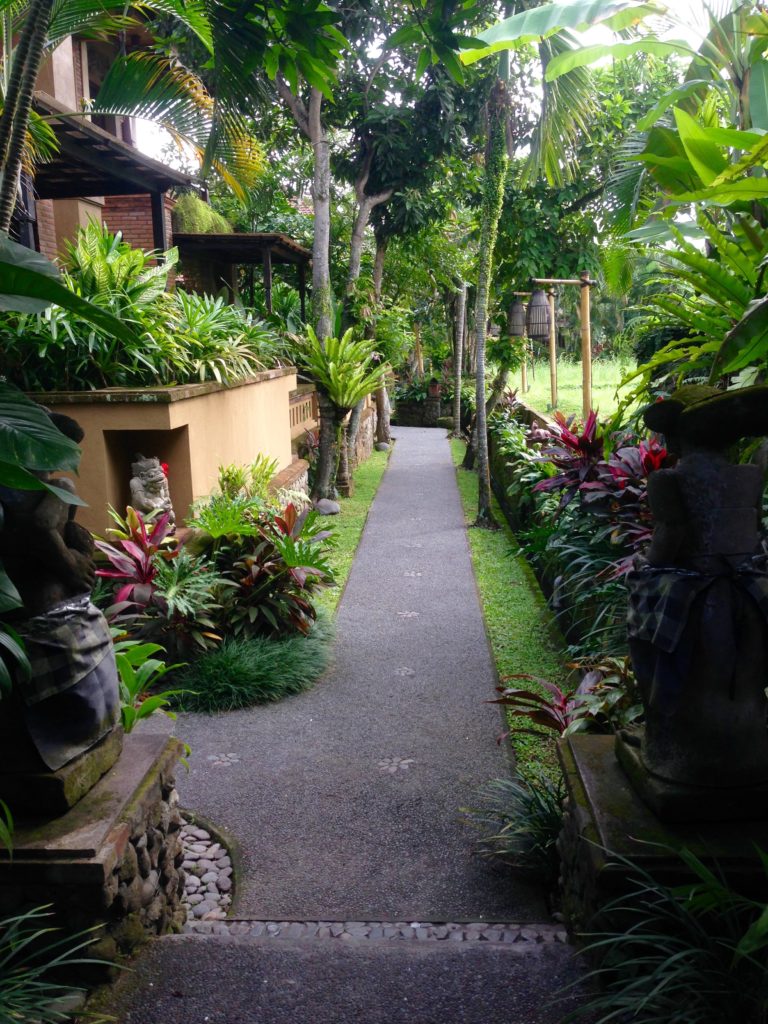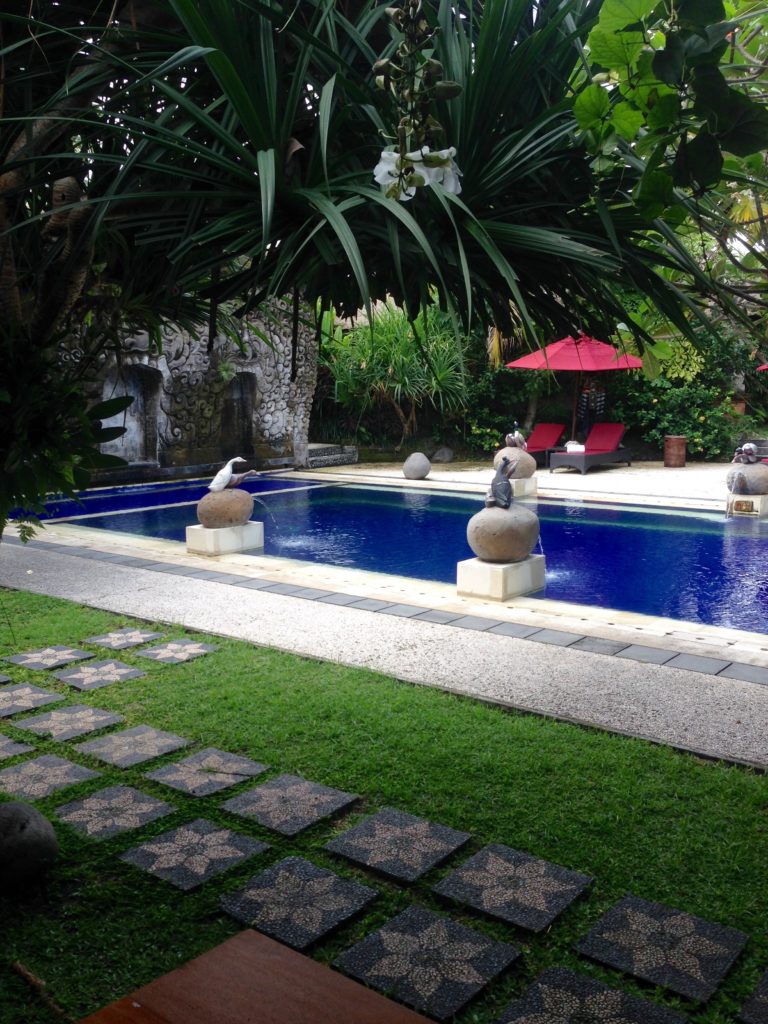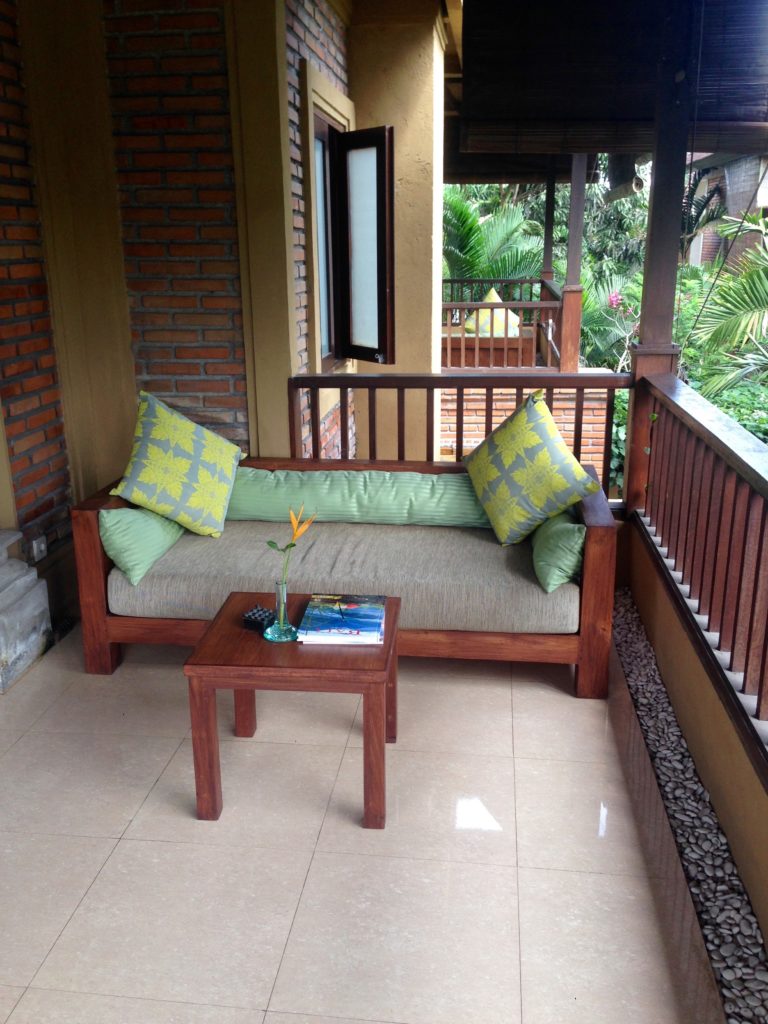 Where We Ate:
Bebi Tepi Sawah Restaurant and Pool Side Cafe: Conveniently next to where we were staying, the villa also owned a restaurant, a very nice, well-known restaurant to be exact. Although their most popular dish is the duck (something I decided to pass on), we did enjoy a few meals at the restaurant and enjoyed a complimentary high tea and breakfast at the pool side cafe, which was delicious!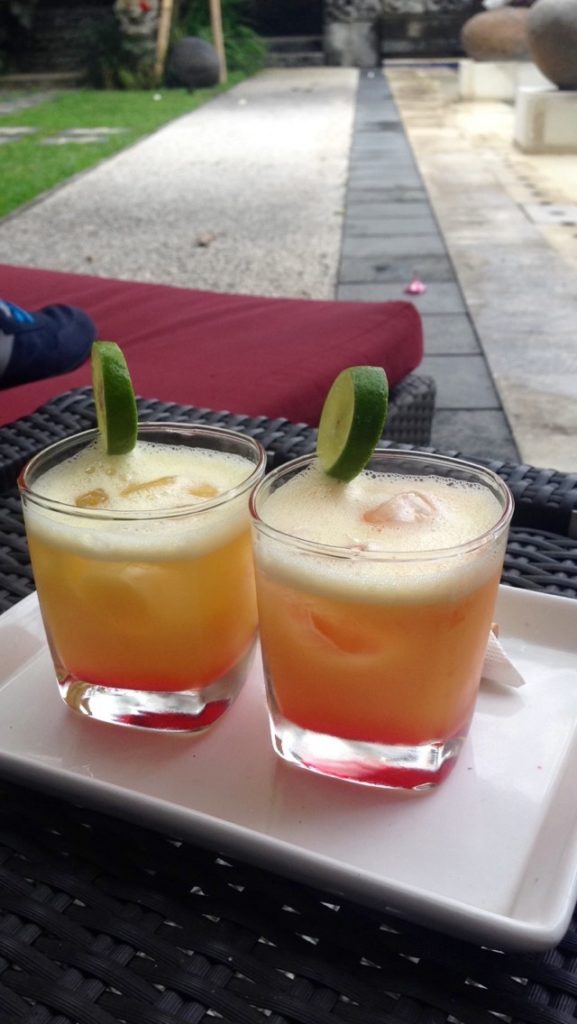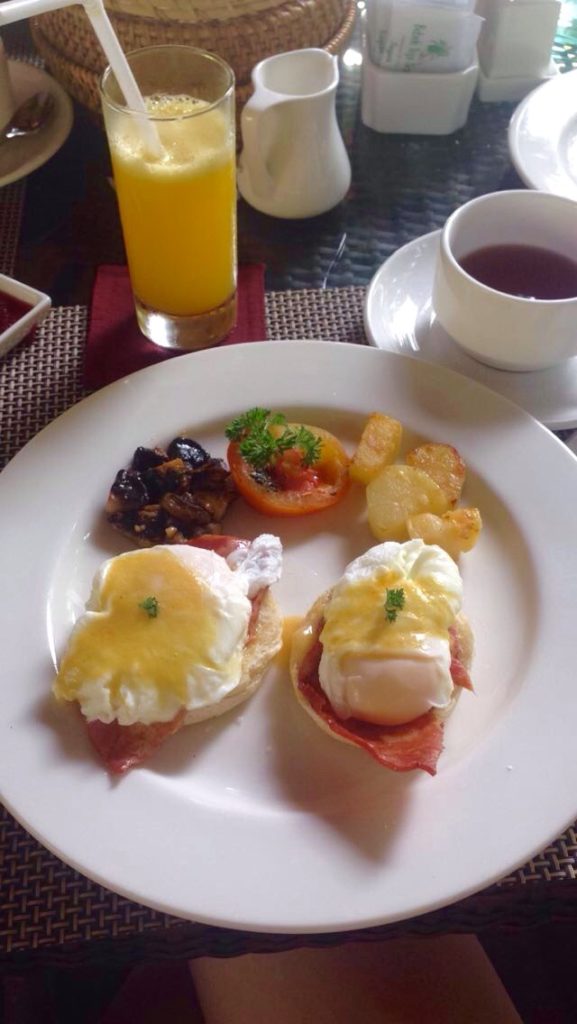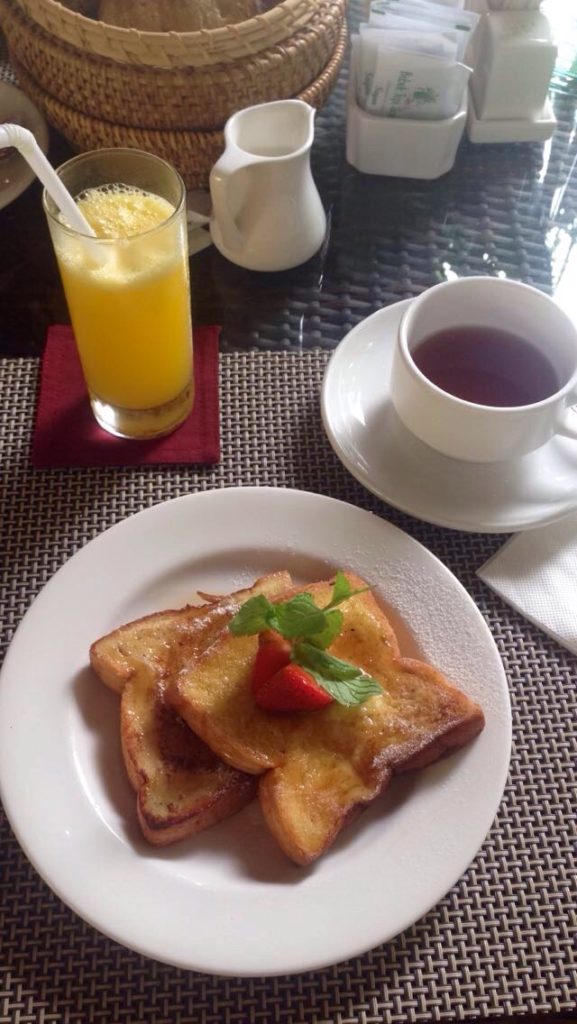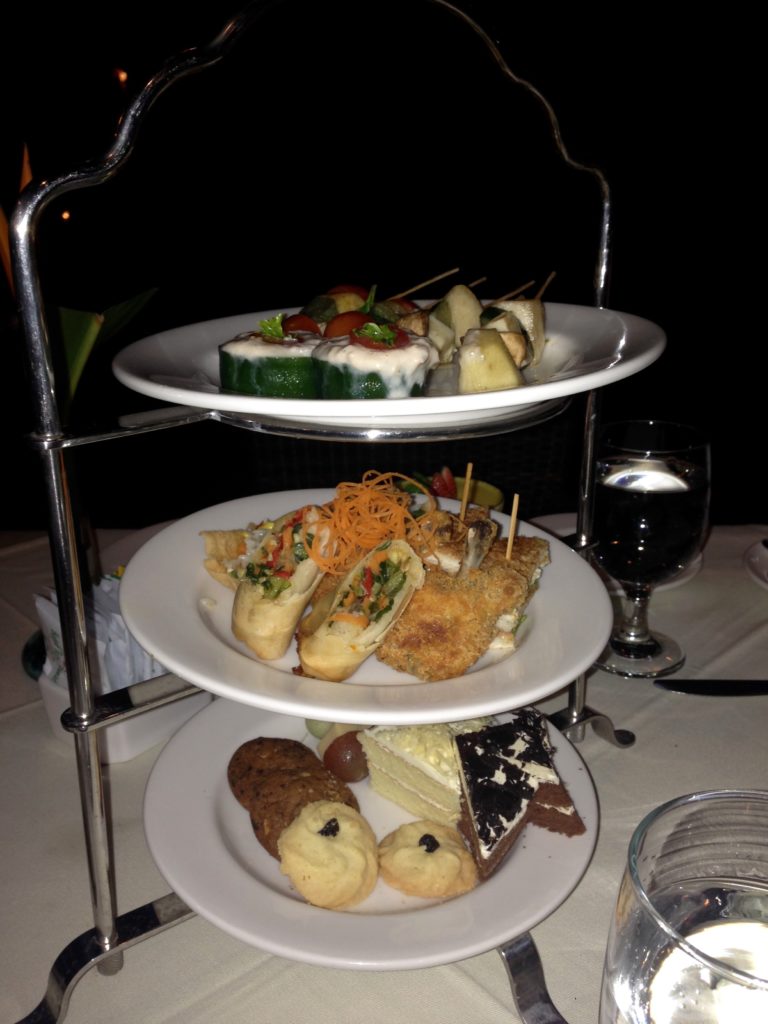 Buddhas: After exploring some of the city we decided to stop at Buddhas. We weren't necessarily hungry, but we were both super thirsty. We both ended up getting a mixed fruit juice with fresh watermelon, orange, and what seemed like a combination of every other type of fruit possible! I'm still dreaming about this juice, it was amazing! The restaurant had great vibes, cute tapestries, and was streaming AFL, which brought a lot of Australian tourists to the area.
Kedai: This place was conveniently on the streets in Ubud. We were pretty hungry and stumbled upon this restaurant. It was super cheap and pretty decent. I ended up getting a pizza and a salad with a fresh watermelon juice of course! 
Oops: This restaurant is in prime location. It's right across from the Ubud markets so we were able to take a break from all the shopping, get out of the sun for a bit, and enjoy a nice meal with the view of the busy street. 
Lia Cafe: We ended our last night before heading off to the airport for our red-eye flight eating a delicious seafood platter right on the ocean, and when I say right on the ocean, I mean right on the ocean. It was a little pricy, but overall it was the perfect way to end our trip.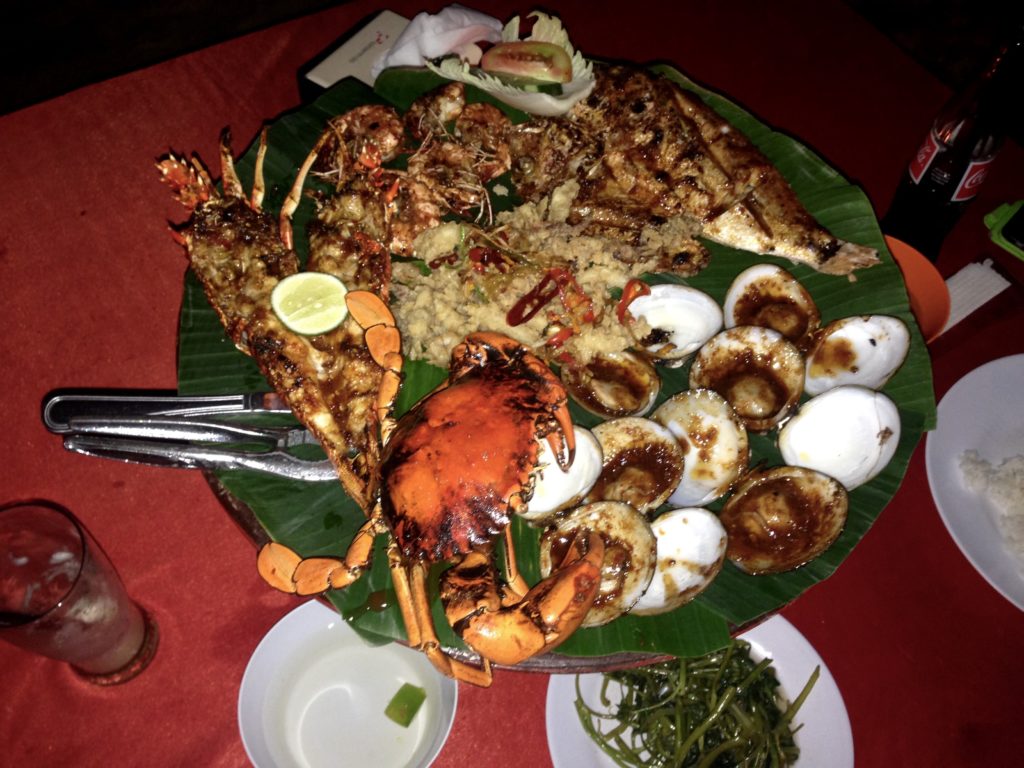 What We Did:
Ubud Sari Coffee Luwak Agrotourism: I heard of this coffee on blog posts from other bloggers before we left for Bali. However, the idea of drinking coffee made from poop didn't really sound like my cup of tea. On our way to our villa in Ubud, our driver recommended we stop there, and so we did. It was a really cool experience! Not only was it really educational, but we were able to taste all their teas and coffees complimentary which was super nice! To try the "shit coffee" as they like to call it, it cost $5 and even there was no actual poop in the coffee itself, it was probably a once in a lifetime experience. At the end of our little trip, we ended up purchasing the Lemon Grass tea because it was delicious!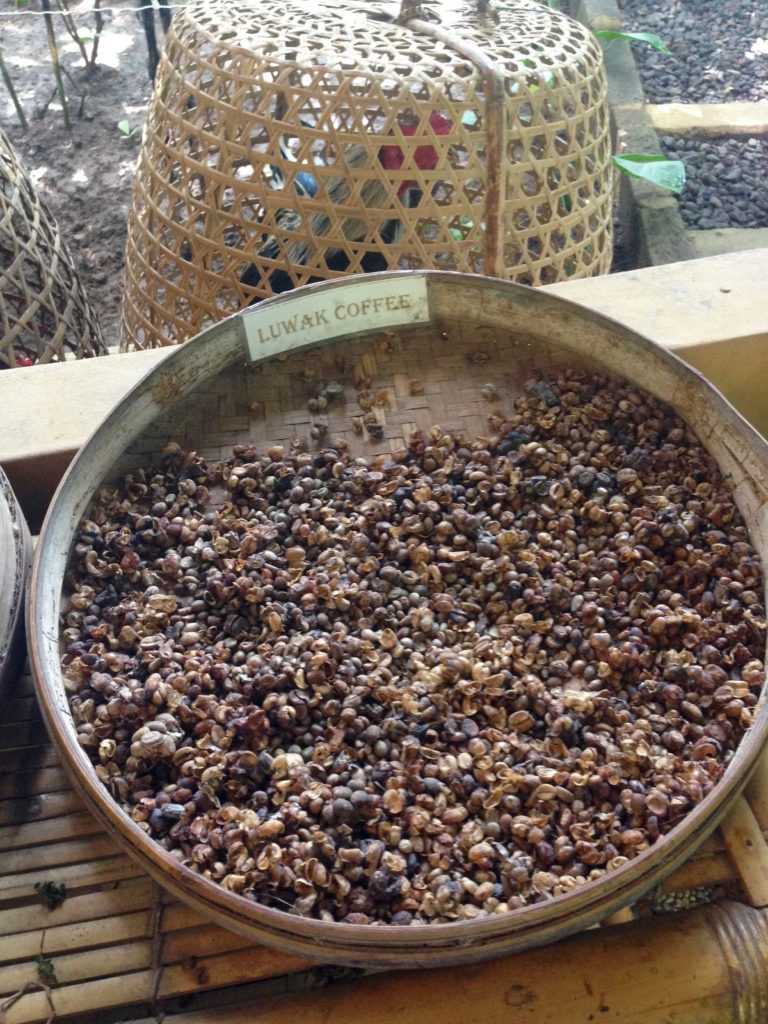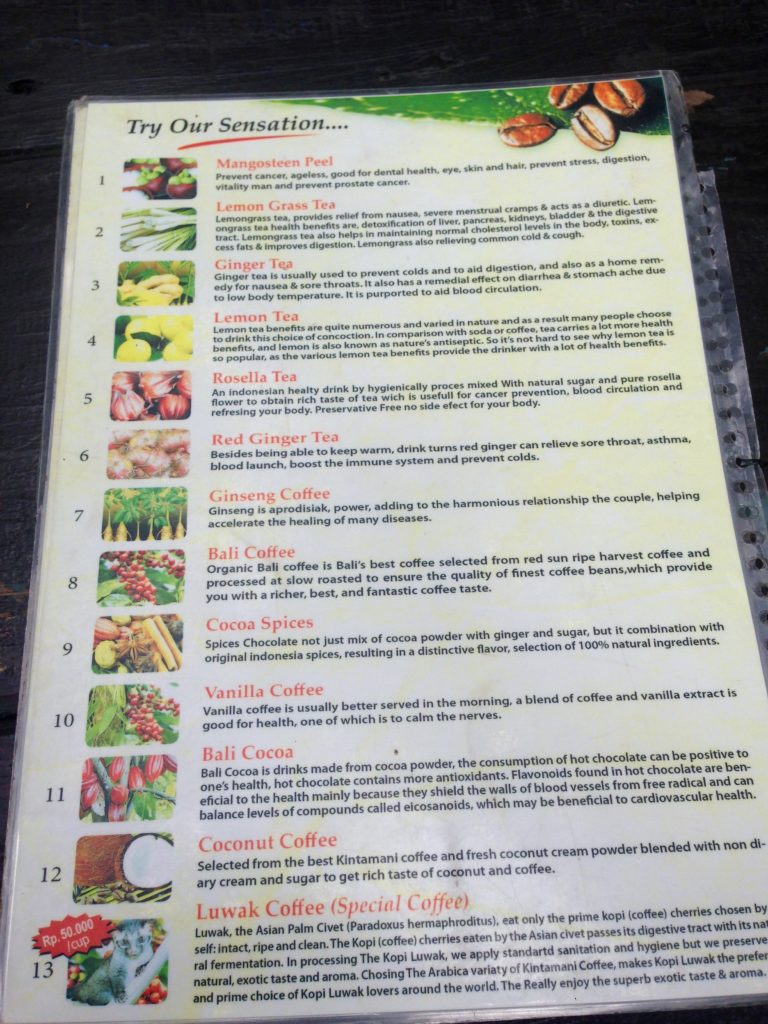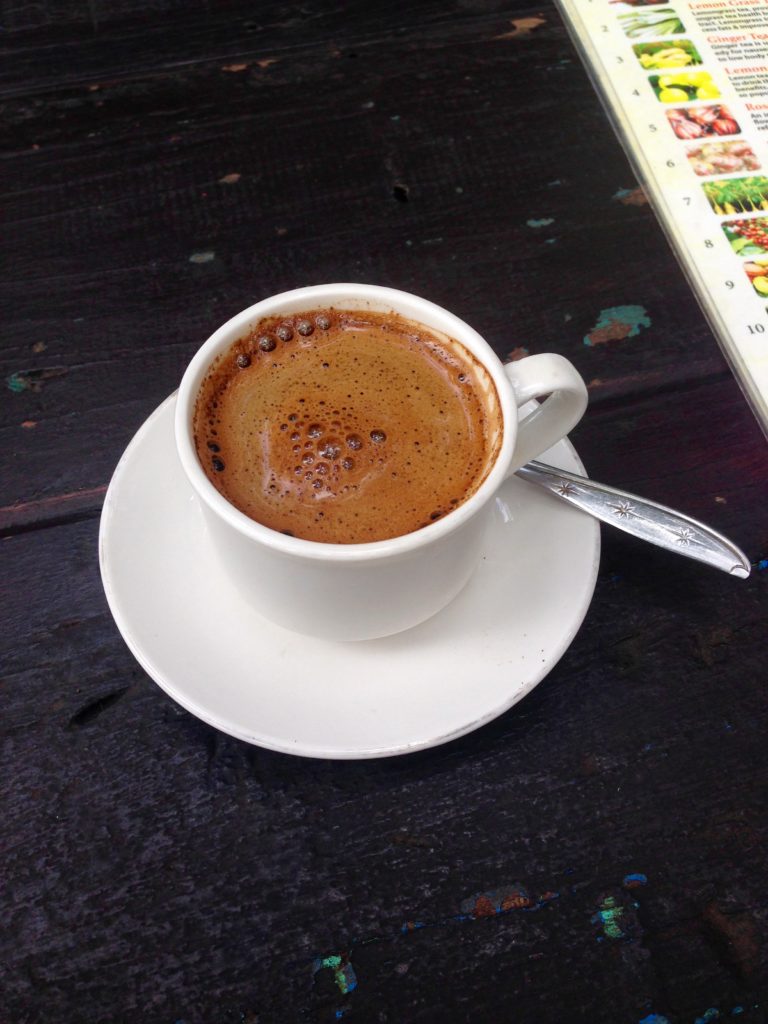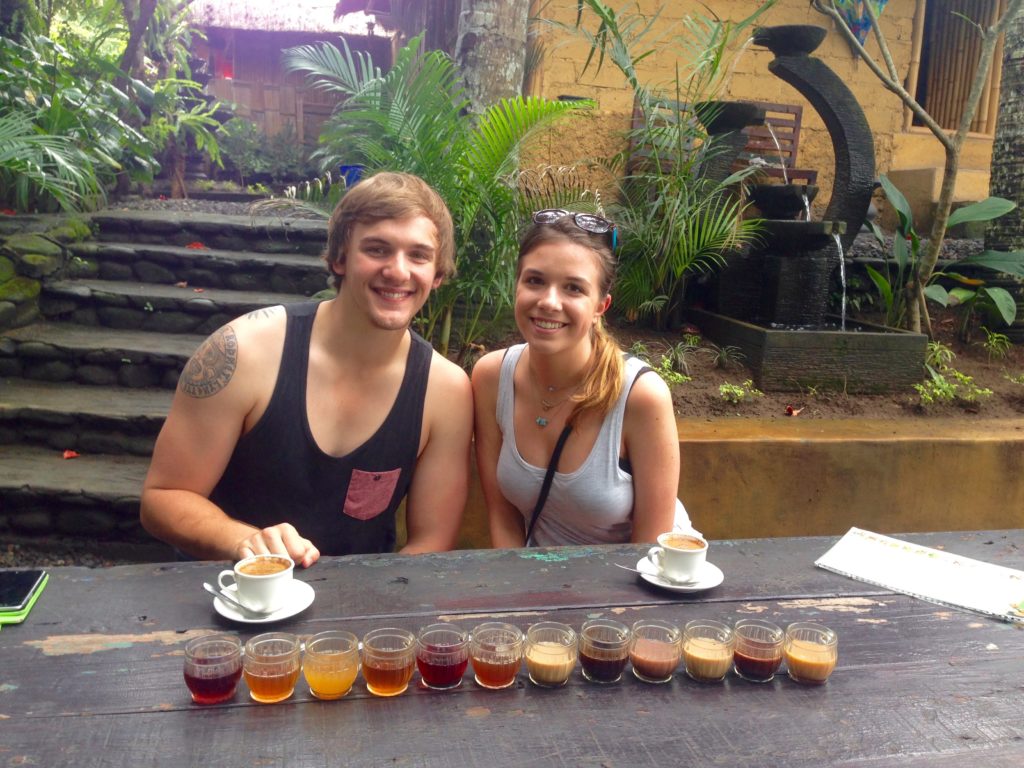 Monkey Forest: The Monkey Forest is a must! For about $3, we were able to walk through the forest full of beautiful temples, markets, and a whole lot of monkeys! The monkeys are wild so we were told before to take off jewelry, sunglasses, or anything that the monkeys could steal off from us. It's also important to never look at the monkeys directly in the eyes since it's a sign of aggression. At first, I was really hesitant of the monkeys, and not going to lie, pretty scared. I knew I wanted to get a photo of me with them, but after reading horror stories about people getting bitten, I was quite nervous about it. Finally, I built up the courage and bought some bananas and got some great shots with the monkeys climbing all over me!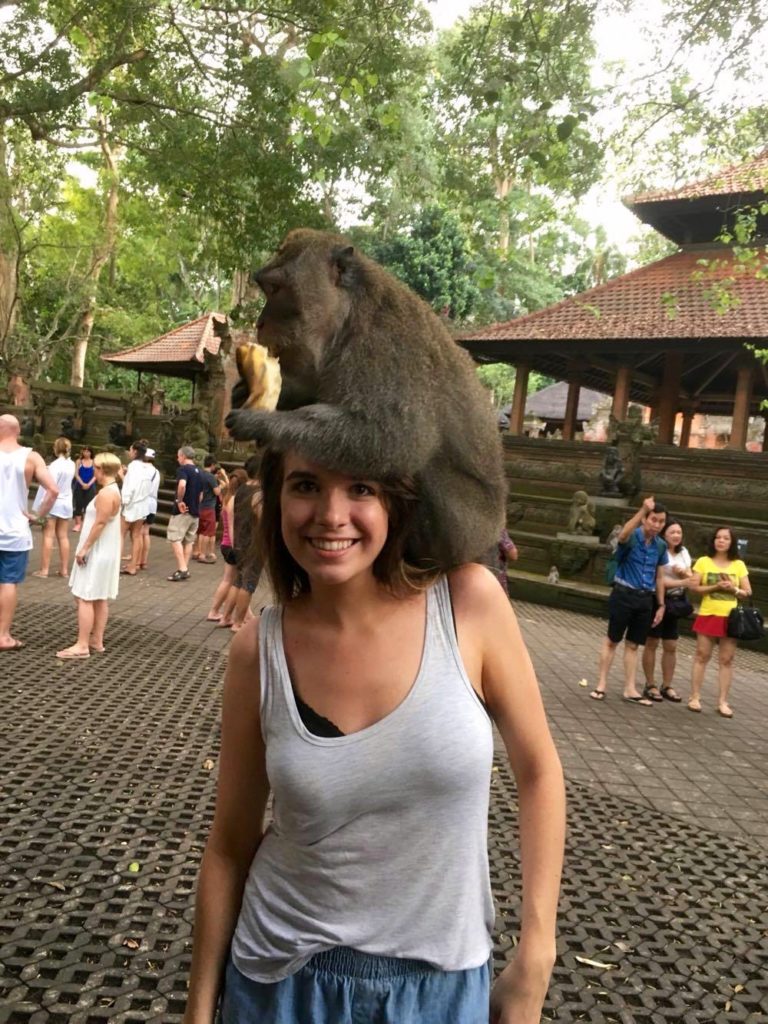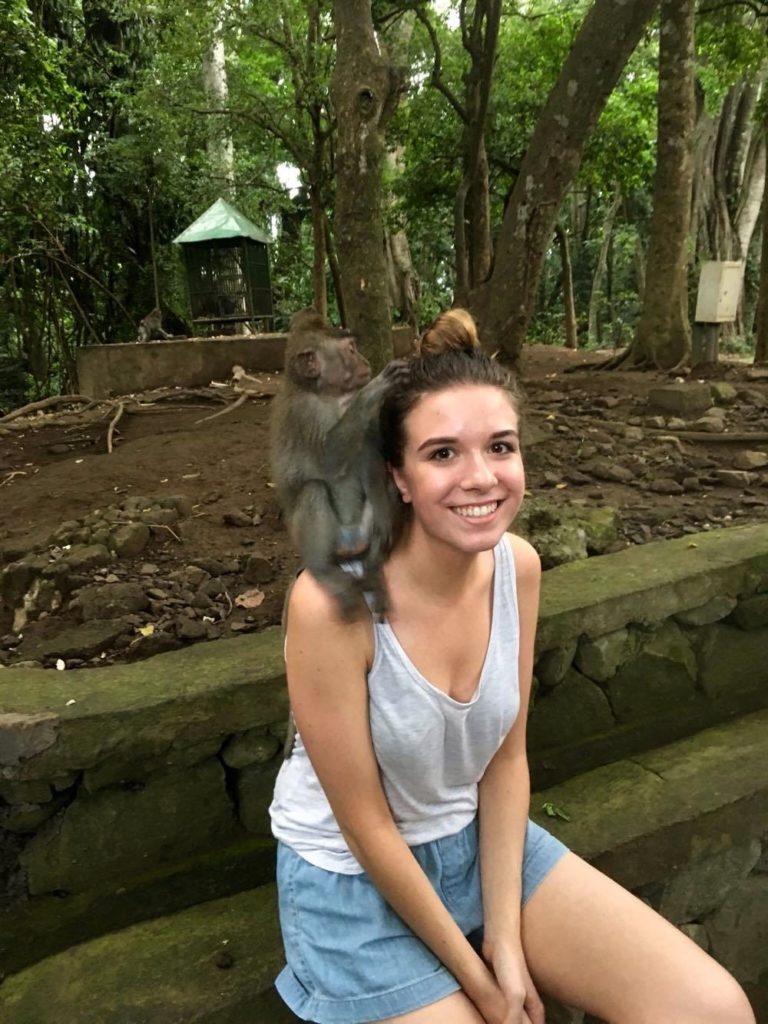 Markets: The Ubud markets are very well-known. The movie Eat, Pray, Love actually filmed a couple of scenes here! It's a little overwhelming, but there is so much to see and buy! I ended up getting rompers, tapestries, dresses, pants, shirts, and everything I could imagine for like $30 USD! It took us a while to get into the groove of bartering, but once we did, we got some awesome deals!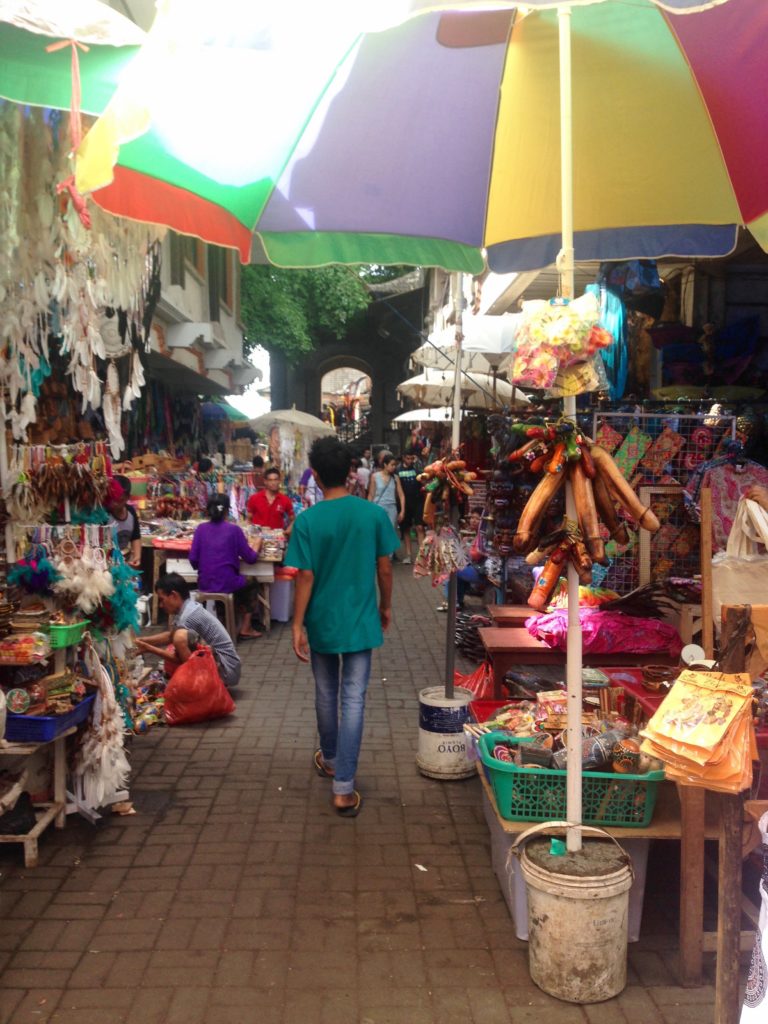 Rice Fields: There are a few different rice fields in this area. There are a lot of tours in the Ubud area that you can purchase that bring you to the most popular ones where you're able to get amazing photos. However, we decided that we were just in the mood to go exploring ourselves. We took our hotel shuttle and got dropped off down the street from the markets and there, we followed the signs for the rice fields. It was really cool because there was like no one on the path with us and we were able to see whatever we wanted at our own pace!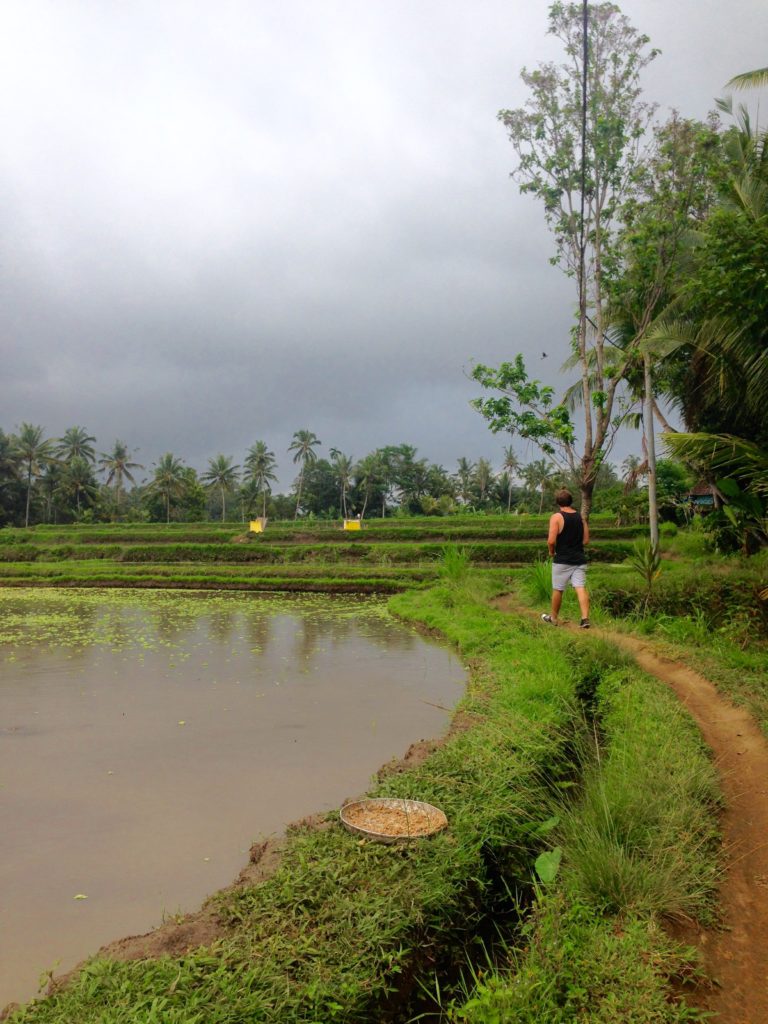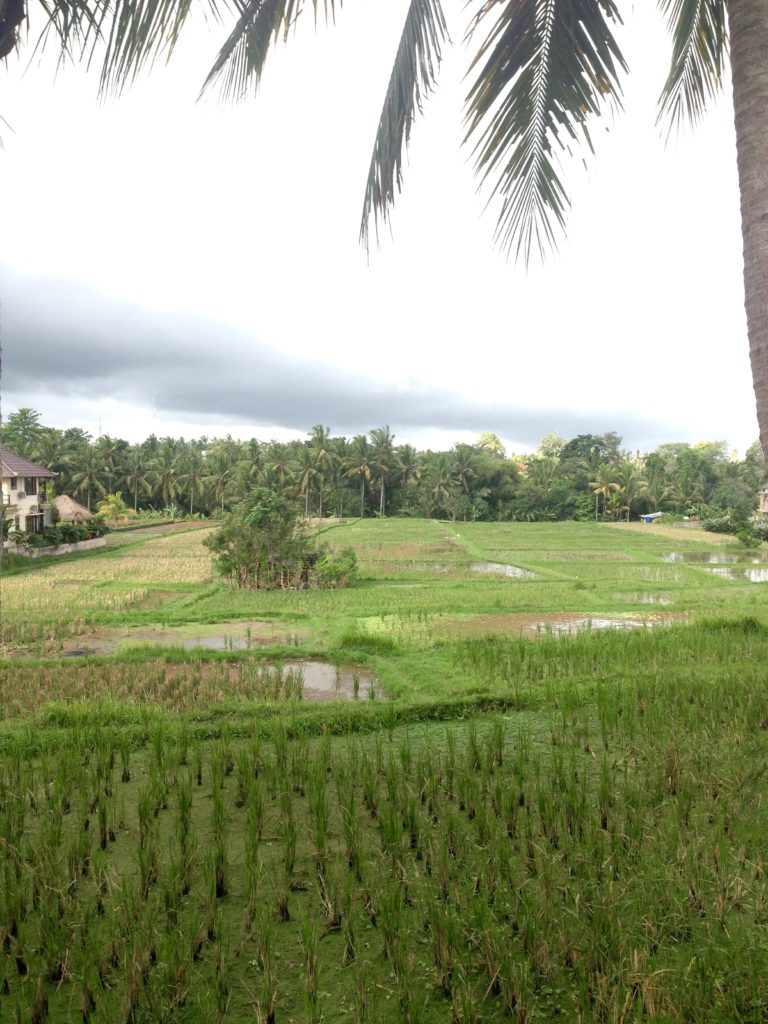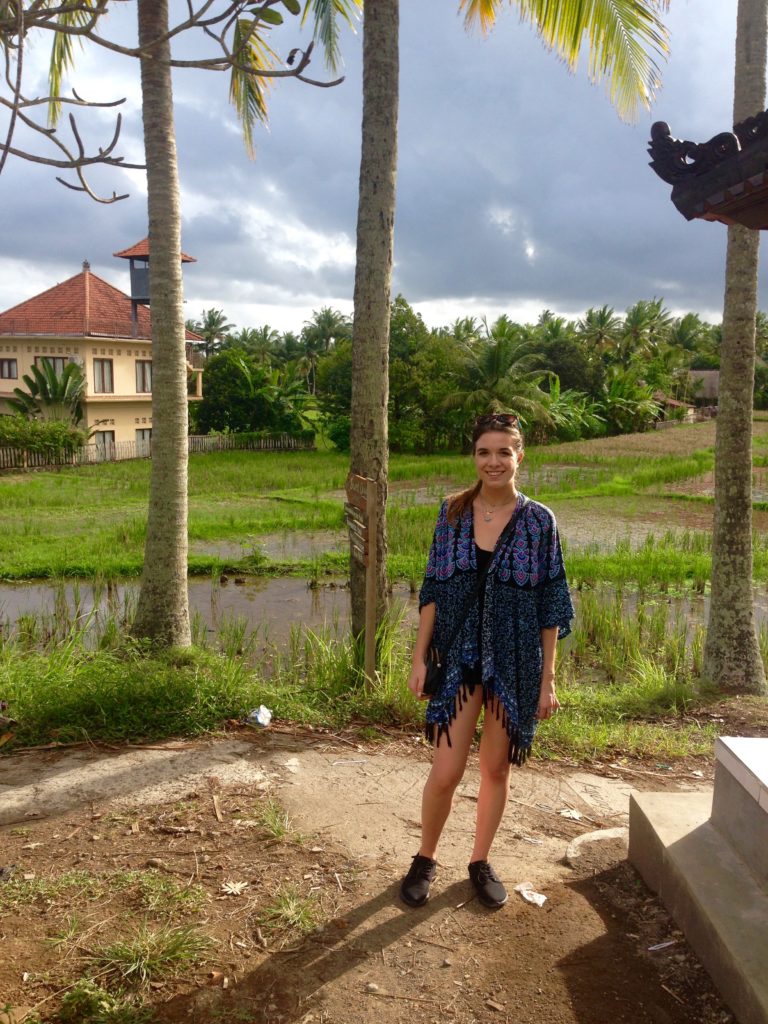 Batuan Temple: Pretty much everywhere you look in Bali, you see a temple. I knew there were really popular temples that were 'must see' stops,  but I didn't know much about them. We booked a driver for our last day and he brought us to the most popular temples. All the temples are beautiful and have so much detail, but this one, in particular, was really cool!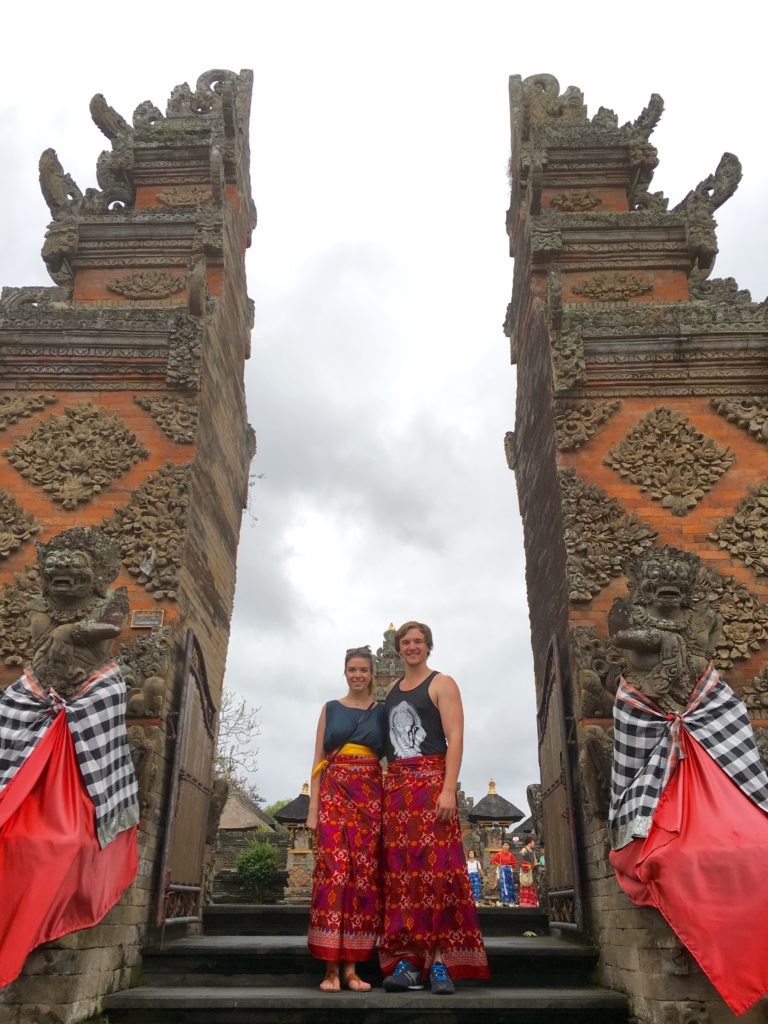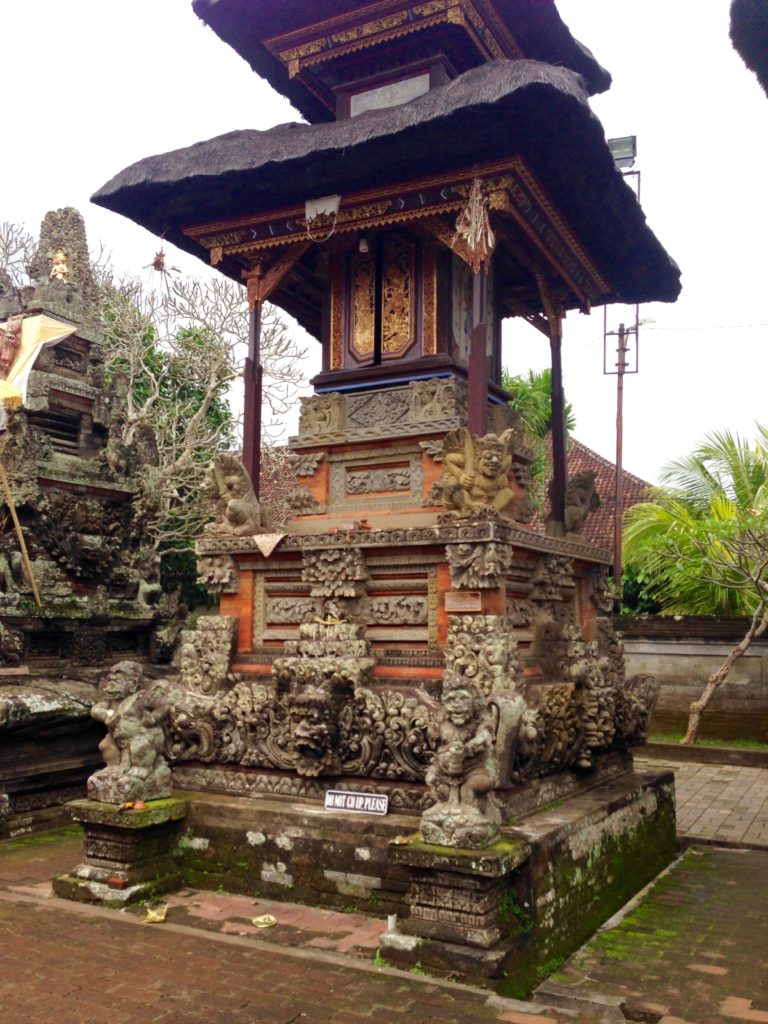 Elephant Park: For my birthday, I really wanted to go to the Elephant Park, so that's what we ended up doing! It was such an amazing experience and I'd highly recommend it to anyone! I'll reflect more on the experience in a separate blog post that is soon to come!
Tegenungan Waterfall: This was another stop that our driver took us to and I'm so glad he did because otherwise, I would have never heard about it before. To get to the waterfall we had to pay a small entrance fee and walk through some markets and restaurants. Once we got passed the markets we had to walk down what felt like thousands and thousands of stairs to get to the waterfalls. The waterfall was not only really pretty, but it was really cool because you're able to swim in the water next to the waterfall. We didn't bring our bathing suits with us so instead, we paid about a dollar more to be able to go to the top of the waterfall for some awesome pictures!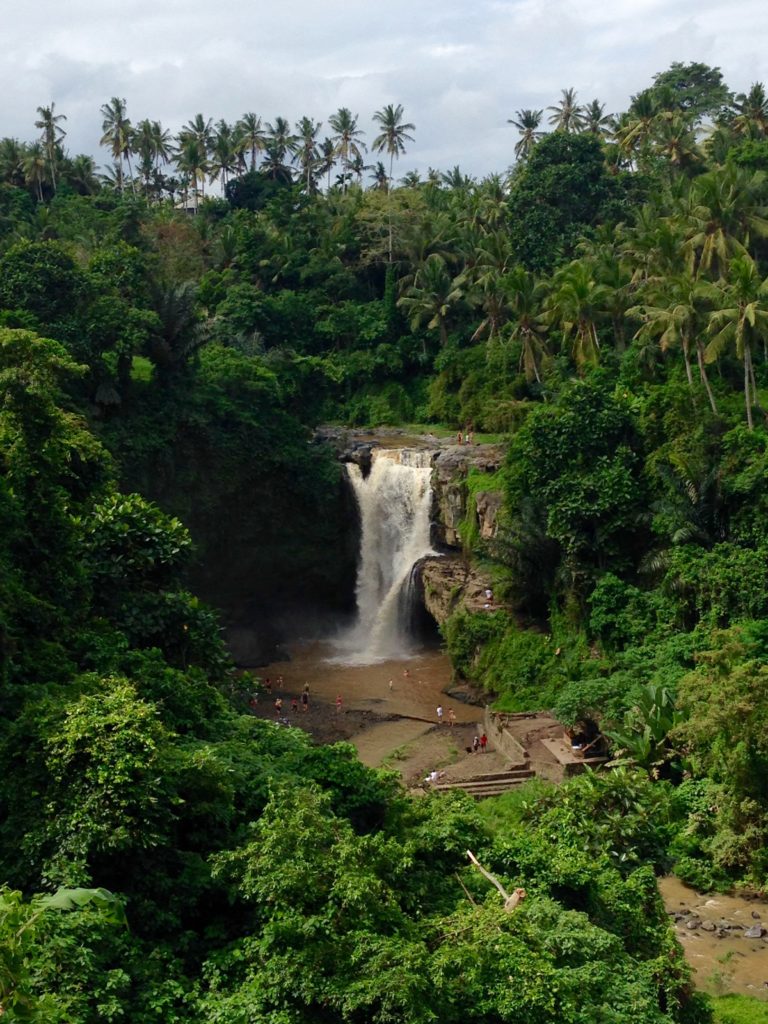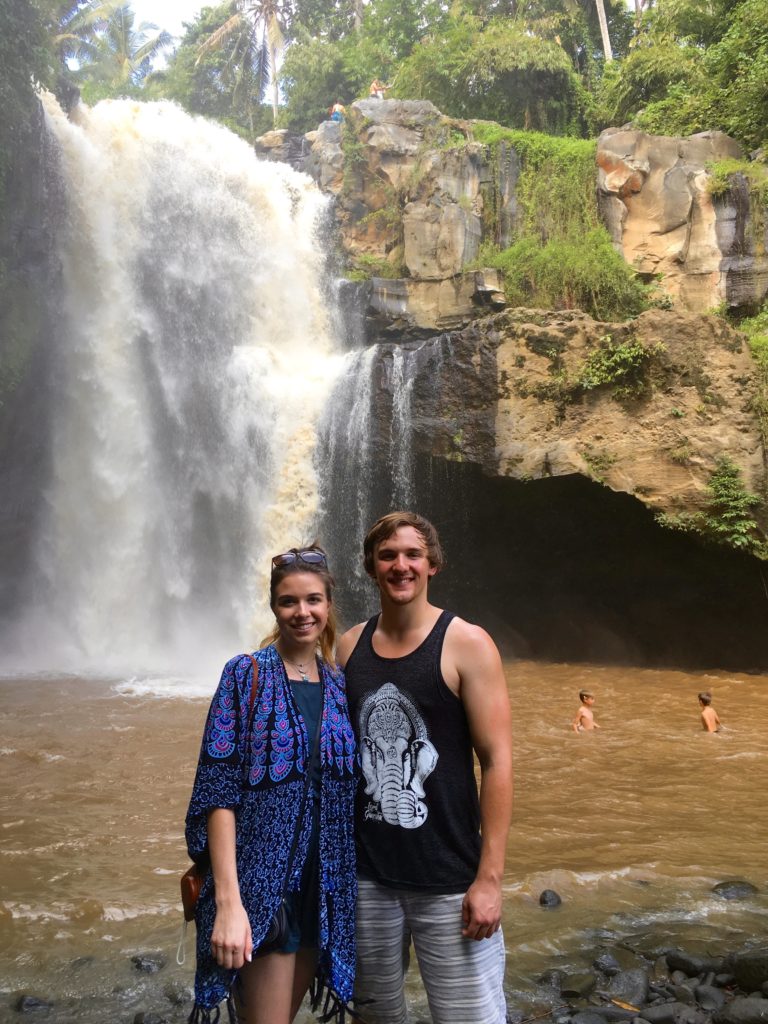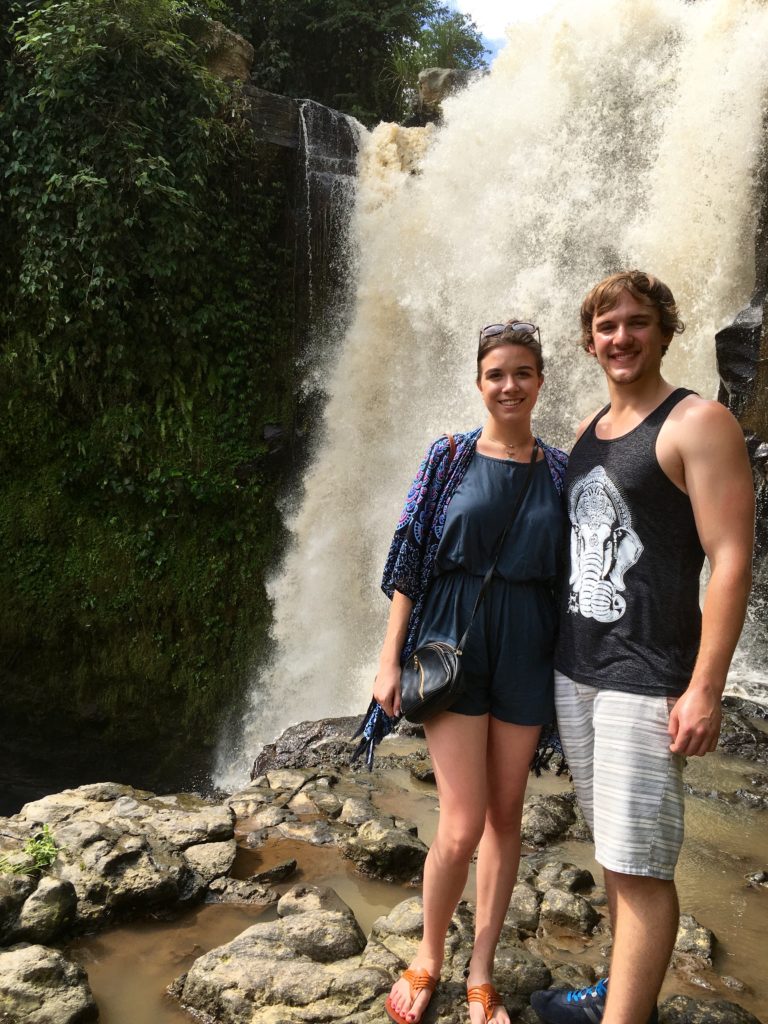 Kemenuh Butterfly Park:  This was one of the stops our driver took us to on our day tour of Bali. It was pretty impulsive, but since it was right down the street from the Tegenungan Waterfall we thought 'why not?" Comparatively speaking, it was a little over priced, but it was very pretty inside and it was cool to be able to hold the butterflies and learn about them.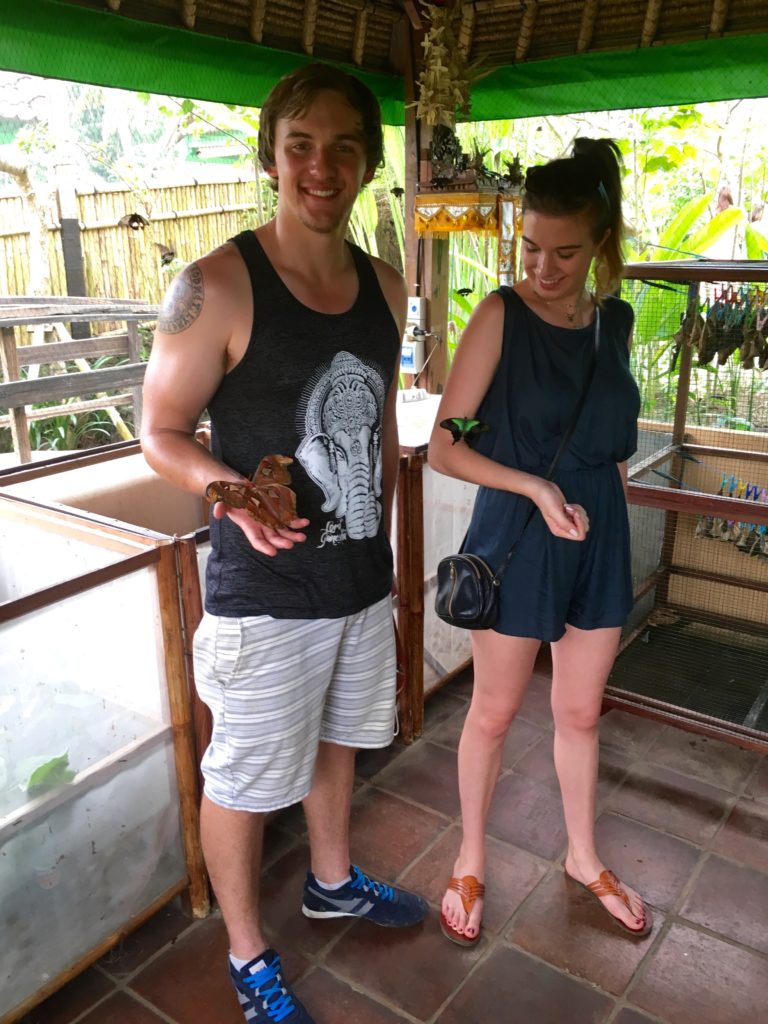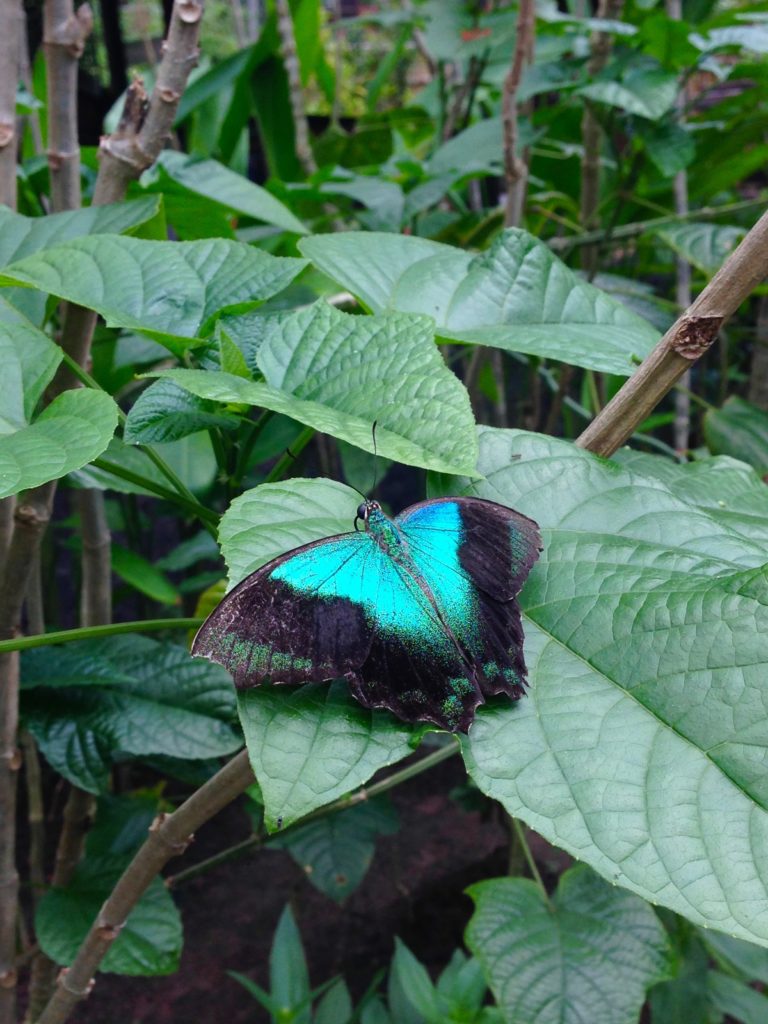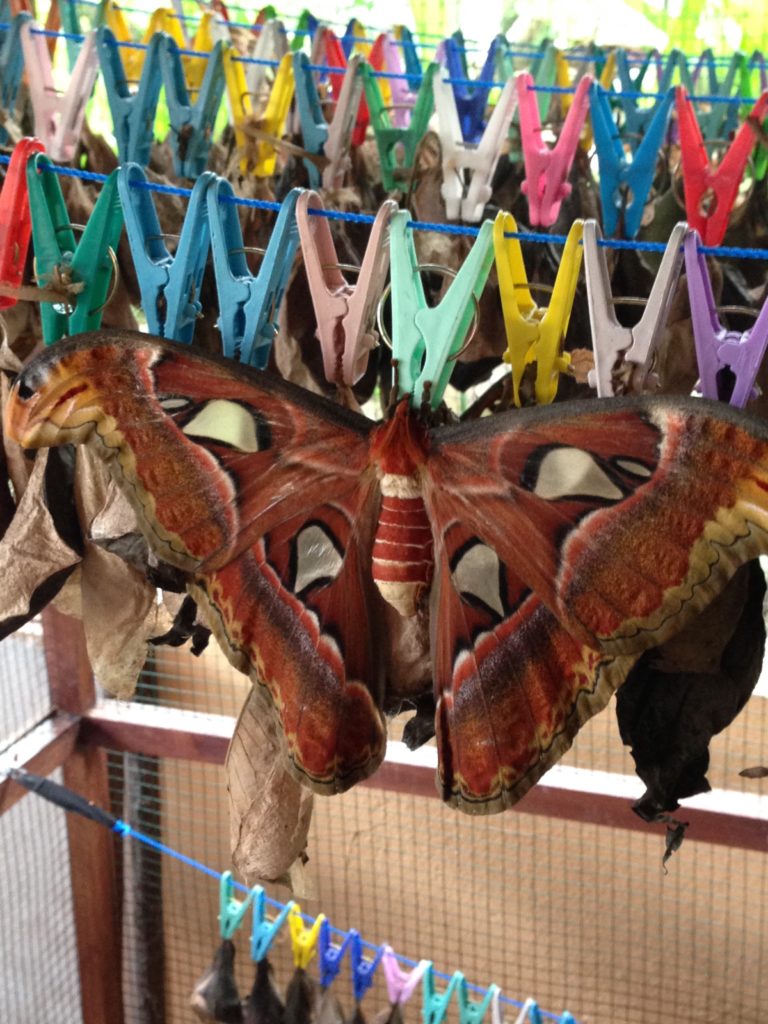 Uluwatu Temple and Traditional Balinese Dance: One of our last stops before our flight back home was to the Uluwatu Temple. This temple is set up on top of cliffs overlooking the ocean. The view is simply amazing and even more amazing during sunset. Located right next to the temple is where the Kecak Dance is held. The dance was about an hour-long and was definitely an experience!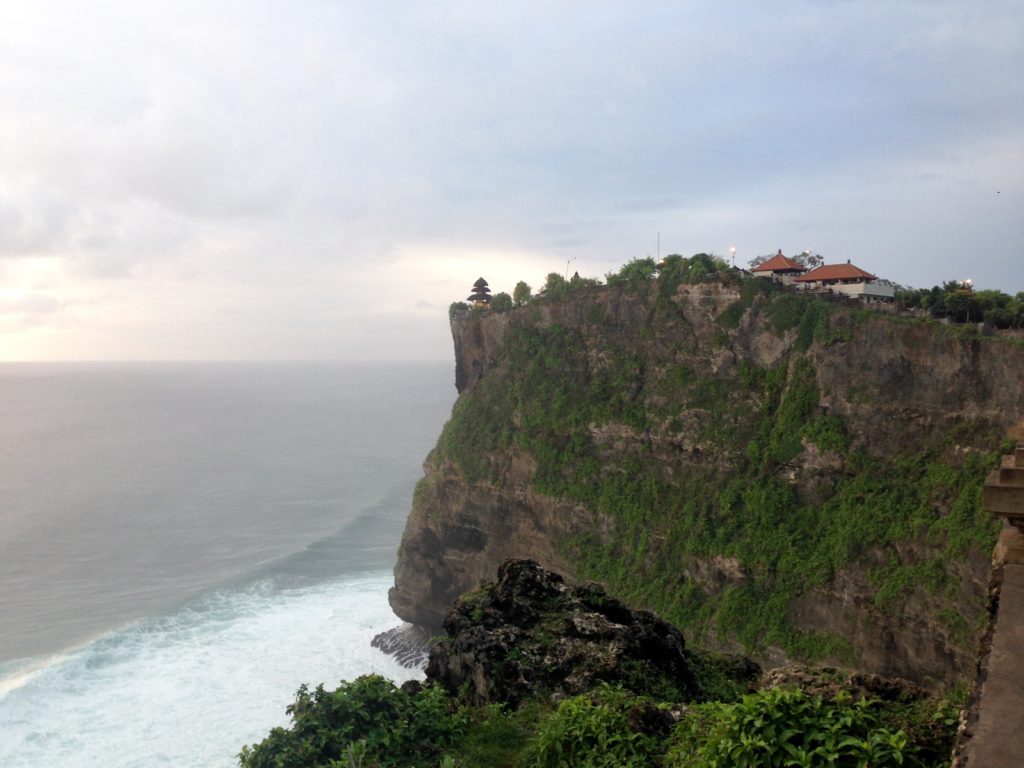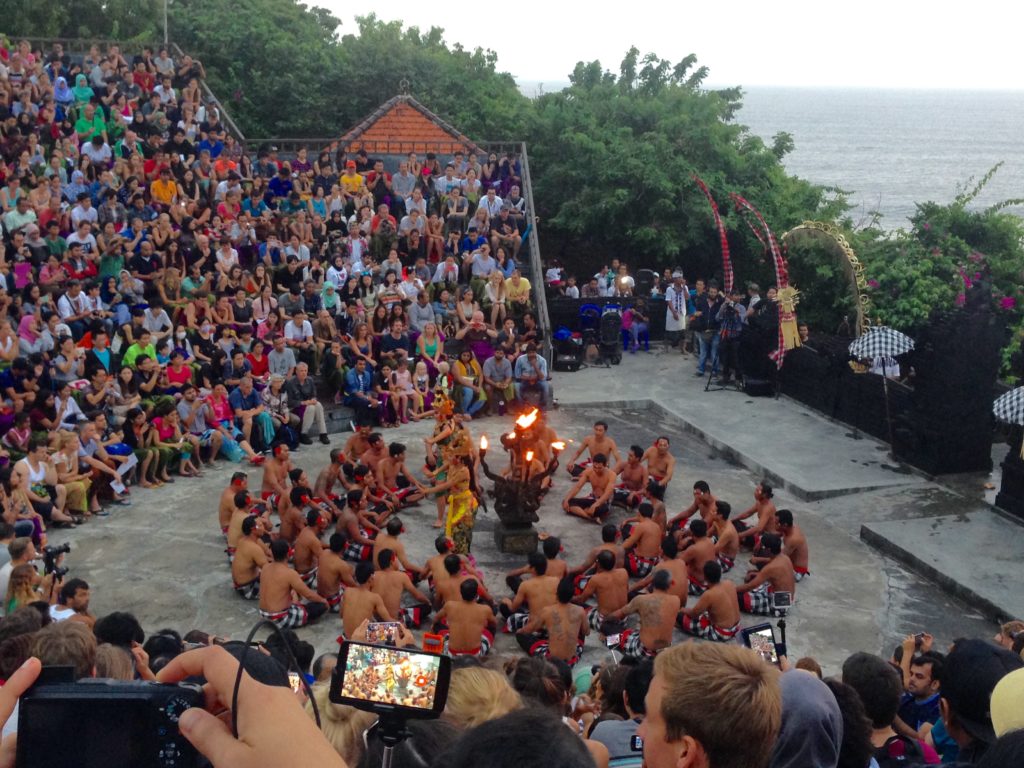 For more things to do around Ubud, make sure to check out The Craziest Tourist post of the 25 Best Things to Do in Ubud, Bali. There you'll find a wide-range of activities from places you need to eat, art galleries and museums that you need to see, what temples to visit, and where to take a 'famous' Ubud yoga class. You definitely will want to check it out before planning your trip to Ubud! You can check out their post here.
How We Got Around:
Taxis: The taxi situation in Ubud is a lot different from how it is in Seminyak. The cars don't have meters so you basically have to find someone with the most reasonable price, which we found somewhat difficult to do. If possible we tried to stay away from taking taxis and arranged transportation with our hotel.
Hotel Shuttle: A lot of hotels in Ubud and in Bali, in general, have a shuttle service that will either drop you off, pick you up, or do both! We definitely utilized this service to get dropped off at the markets, Monkey Forest, out to eat, and just to wander around town. We just had to plan accordingly and tended to overestimate the time we wanted to spend out, rather than underestimate it.
Hired a Driver: We hired Made and I couldn't recommend him enough! He brought us from our Villa in Seminyak to our Villa in Ubud. Along the way suggested we stopped at the Ubud Sari Coffee Luwak to try the famous Balinese coffee. We enjoyed our ride with him so much that we hired him again for our last day, where he took us on a tour of Bali which included a lot of the stops I mentioned before in this post! It was such a great day and a great way to experience many different attractions in Bali that we've never heard of! We were with him for about 10 hours and it only cost us $50 for the both of us! You can email him at madeandiapong80@gmail.com or call him at 081 239 976 240. 
Overall our whole trip to Bali, both in Seminyak and Ubud was amazing. I had a great time and I can't wait for the day I go back! I highly recommend any of the places we stayed. If you have any questions or have been to Bali yourself comment down below and share your experience!