LinkedIn is a great professional marketing tool, especially for undergraduates looking for jobs after graduating college. With the technology world we live in now, it's important to have a good online presence. LinkedIn is a great tool for finding companies that match what you're looking for, but also for companies to find you as well.
What is LinkedIn?
LinkedIn is the largest professional network. It allows you connect with people and companies, but also lets them to be able to find you! Especially with most of us college students having a lot of personal social media accounts, having a put together, professional space for companies to find you, is really key to job searching after graduating college.
Things You Should Include in your Profile:
Resumes are typically about a page long and are therefore very limiting. The awesome thing about LinkedIn is that you can add a lot more information about yourself and really let companies get a better idea of who you are and what you're capable of doing.
Introduction
This is one of the first things people see when going to your profile. Sell yourself by giving an awesome description of yourself, experience, education, and what you're looking for.
Profile Picture
Having a good picture is so important. Make sure you have a well-lit picture. It doesn't have to be professionally taken, but make sure that the picture is of you, and you only. Remember– this is your site to professionally network yourself, meaning your Instagram selfie might not be the best thing for you to make as your profile picture for LinkedIn.
Job Experience
I include all my past jobs and a description of the tasks or responsibilities I had while working there.
Education
Along with experience, adding education is very important. I have my education from high school up until college. I also included the school I studied abroad to. This will hopefully add more possible connections for me, such as people who also attended those schools.
Under each college, I have all my classes listed. I have two majors, so my classes are sorted by major. Especially if I lack experience in a certain job I'm looking at, hopefully with listing my classes, I'm able to back myself up for the position with the knowledge I have learned through appropriate classes, projects etc. that I may have worked on throughout my college career.
Awards and Scholarships
This is the spot where you can brag about all the achievements you have earned. Adding things like Dean's List or any scholarships you have received throughout college will attract positive attention.
Involvement
Adding the different clubs or societies you're involved with on campus is key. A lot of times, companies love to see that you being involved on campus and being well-rounded. Since I'm looking into a career in public relations, adding things like being involved in the Public Relations Student Society of America or my position as the Publicity Chair for National Society of Leadership and Success, can only add to my experience in the PR field and hopefully give me more of a leg up in that field after I graduate.
Connect
Who you connect with is up to you. For the most part, I only accept connections from people I know and want to be in my professional network. However, I do know a lot of people who add just about anyone and everyone to widen their networking circle. Like I said, the decision is up to you what you think is best!
Along with adding people to your connections, following is another important aspect of LinkedIn. Just like most social media sites, you can follow different companies and people and LinkedIn is no different. I recommend following companies you're interested in now or possibly in the future, and people of inspiration. This way you're able to keep up with job openings, what they're up to, and to be able to learn more about them.
Utilize Tools
LinkedIn has some awesome tools for job searching, which I actually just recently found out about. Under the job tab, you're able to search for specific job and location. However, you're also able to advance your search by narrowing it down to specifically the jobs you're interested in and the multiple locations to which their located in, job level etc. You can also switch a button on and be able to let companies know you're looking for a job.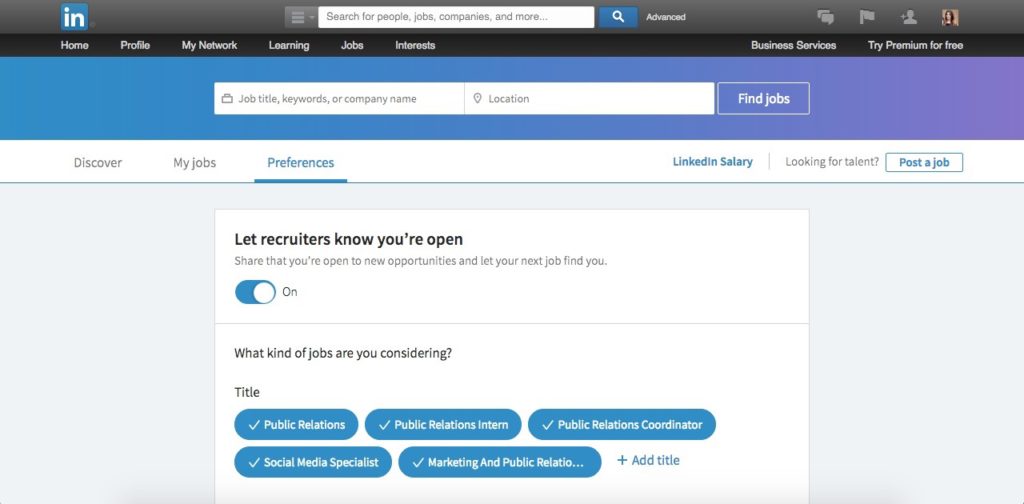 With our day and age, having a professional online presence is vital and keeping a constant LinkedIn profile is a great professional tool, especially for undergraduates. What's your tips for LinkedIn? Let me know in the comments down below!