Before I get started, I have to admit, that I've been waiting for a moment to make a cheese board. After seeing all the amazing ones on Pinterest, I knew that it was something I wanted to try for myself. Having a wine night with my friends seemed like the perfect excuse to get my friends together on a Thursday night and finally display the cheese board of my dreams.
Hosting parties are so much fun. It's something that I've enjoyed since my elementary birthday party days where I would have a different themed party every single year. There was hollywood theme, spa, paint party, Pinterest themed, and even a Jonas Brothers themed one! 
Being in college though, it's hard to have the budget to host the party of your dreams. With inspiration from Pinterest, I was able to DIY a lot of different things and throw the perfect wine night that was most importantly, affordable.
Invitations
Instead of sending out traditional invitations, it's a lot easier and cheaper to get in touch with my friends via social media. I wanted something a little more official than just a text message so I opted to make a Facebook group instead. This way I was able to give a description of the party, have people RSVP, and update them on anything else throughout the week before the party.
Wine
One of the most important things, or probably the most important at a wine party is the wine. Wine can obviously get pretty expensive, which is why I had every guest bring a bottle of 'unique' wine to the party. When I said unique, I simply meant that I didn't want everyone to bring over the typical Barefoot Moscato that we all know and love for its sweet taste and very affordable price. I did however provide some wine for the games.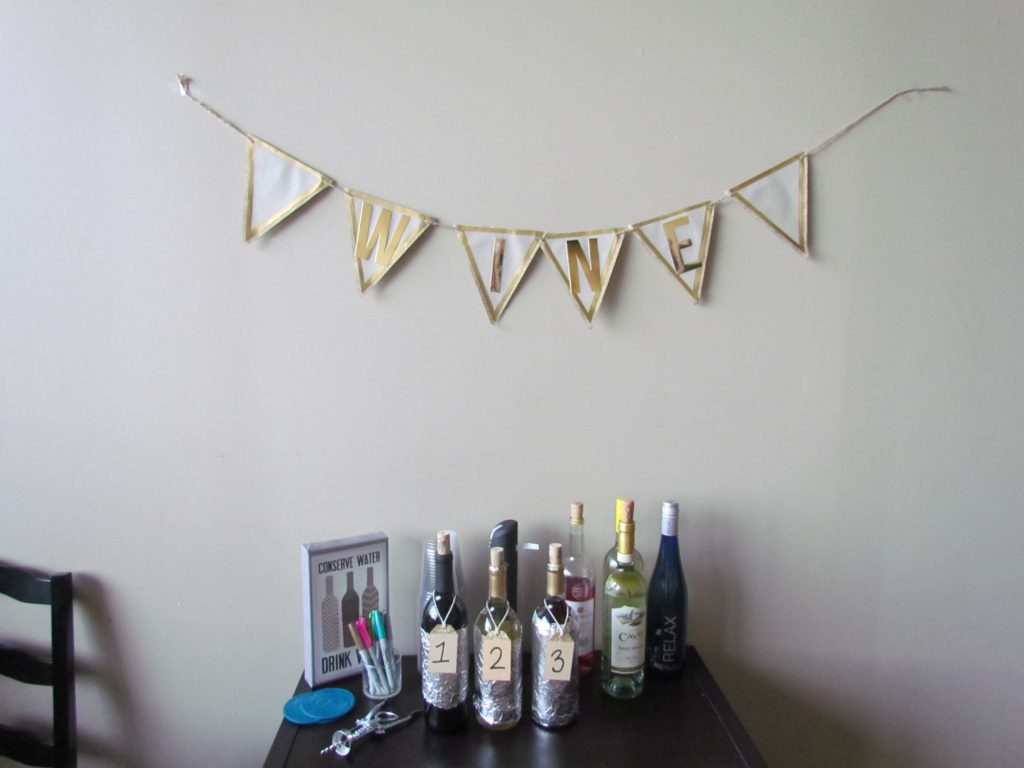 Activities
I had a few things planned, but knowing my friends, nothing goes as scheduled. People have different schedules with work and classes and were showing up at different times so I didn't want to have a set timing for everything. What I did have planned were two 'games.' The first game was guessing what 3 different wines were. For this, I simply bought 3 different bottles of (affordable) wine and covered the labels using tin foil. You can use wine bags which I personally think would look better, but I couldn't find any at my local Target. Since my friends and I aren't the most educated when it comes to different types of wines, I found this sheet on Pinterest that gave a description of different types of wines, how they should taste, color etc so that everyone could make an educated guess based on the sheet of what each wine was.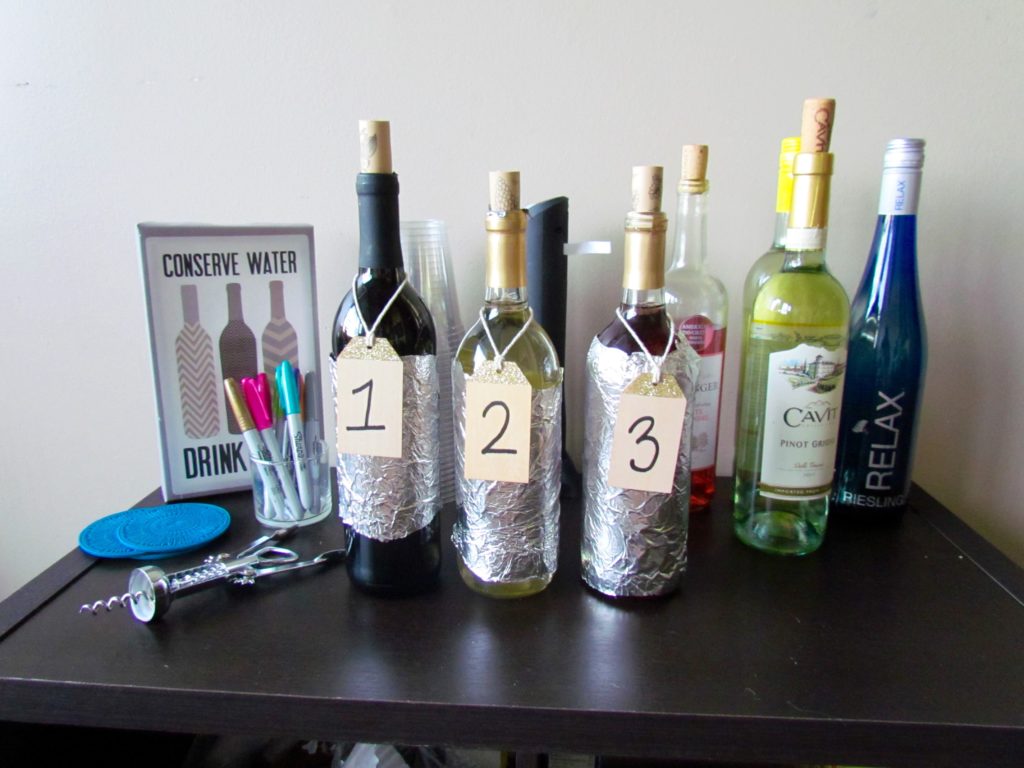 The next game I had was voting for the best wine. For this I simply made a label on my computer and printed it out and taped it on a mason jar. I put some index cards and a cup of pens next to it for people to vote for their favorite wine of the night after they've tried them all.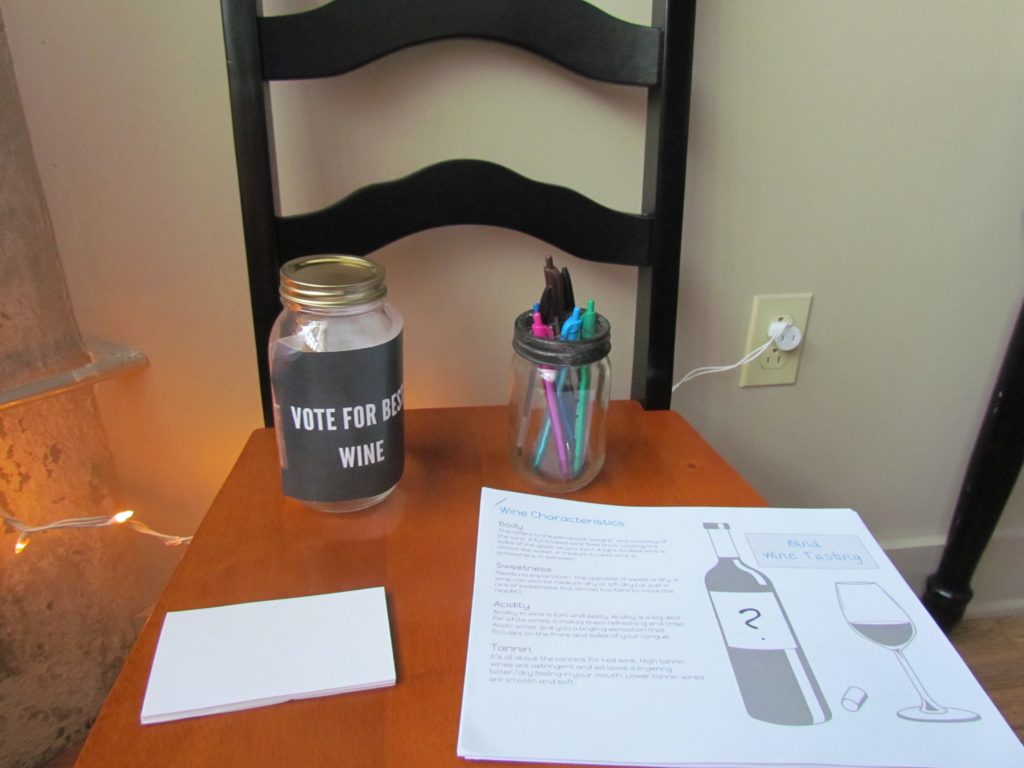 When people came in, I explained the games and where everything was located. The games ran until everyone had voted for a wine and filled out the wine guesses. I announced the winners at the end of the night and let them pick a wine out of the two that I bought for prizes. Everyone took their times with the games and seemed to enjoy them!
Lastly, we plaid Cards Against Humanity. This game is always fun and was a great way to end the night.
Decorations
I kept this fairly simple. I dug through the Target $1 and $3 section and found some really cute little knickknacks. I was able to DIY a flag banner from simply buying the flag set and stick on letters, both from Target, and stuck them on to spell Wine. Other than that I bought some fresh flowers from Trader Joe's, printed out some pictures from Pinterest and put them in frames, and arranged any decor pieces, plants, and candles that I already had in our apartment on the table!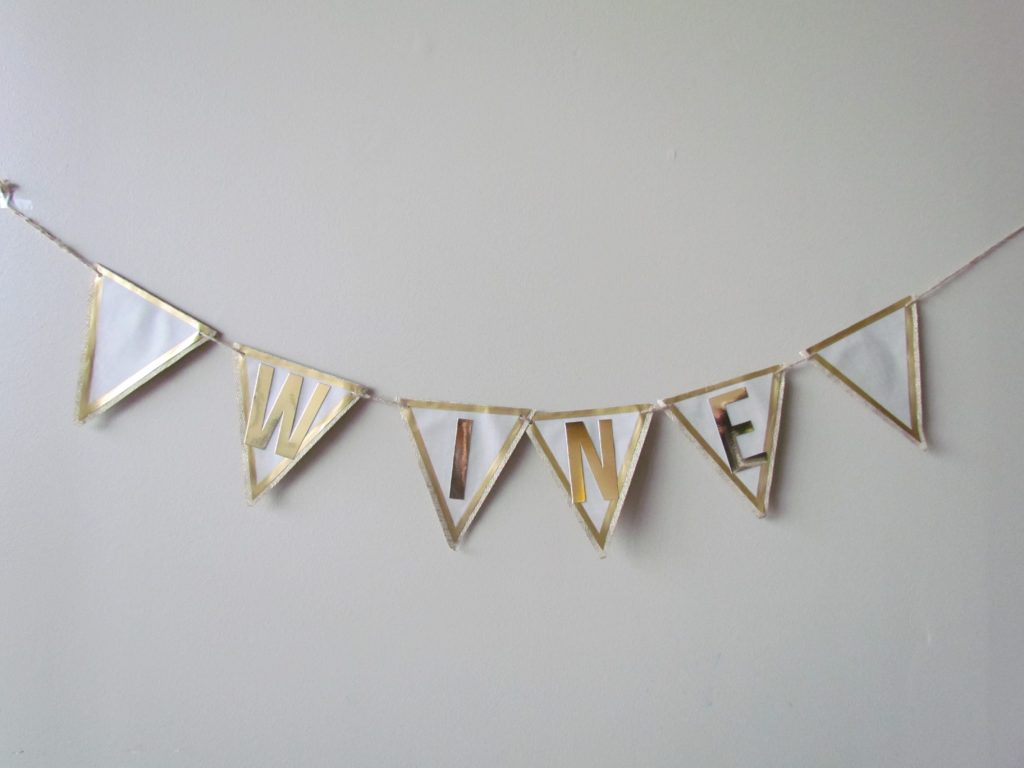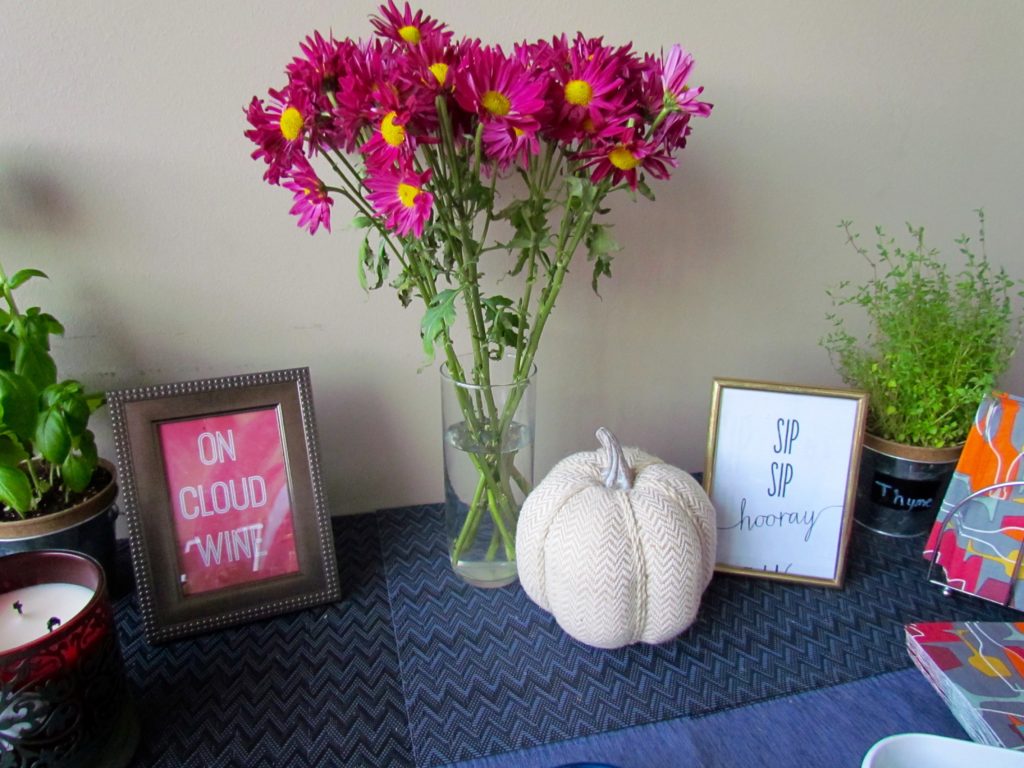 Food
My main focus with food is the cheese platter. I looked on Pinterest for a while for different inspiration and even made a Pinterest board for my wine night. For my cheese board I had 5 different types of cheese, a mixture of hard and soft. I also had two types of salty meat, prosciutto and salami. Then I had a mixture of snacks such as jalapeno stuffed olives, pickles, chocolate covered almonds, blackberries, and grapes. I made a some meatballs in the crockpot, a Caesar salad, and a loaf of bread cut up with an olive oil dipping sauce. I did most of my shopping at Aldi where they had excellent prices on hors d'oeuvres and cheeses!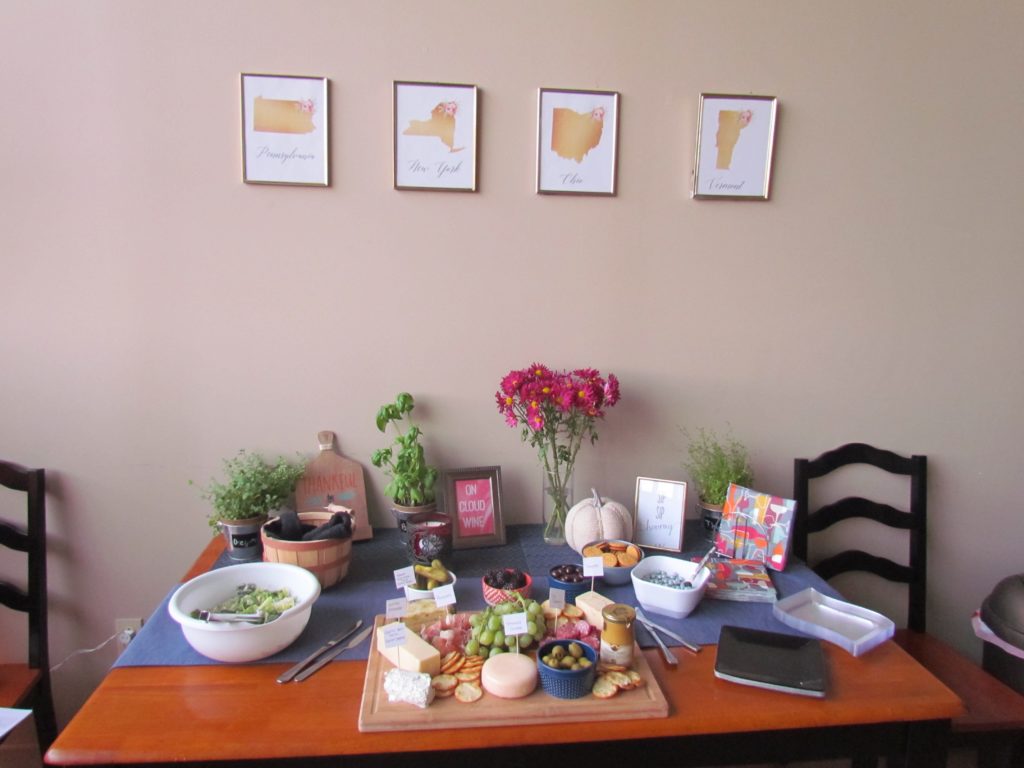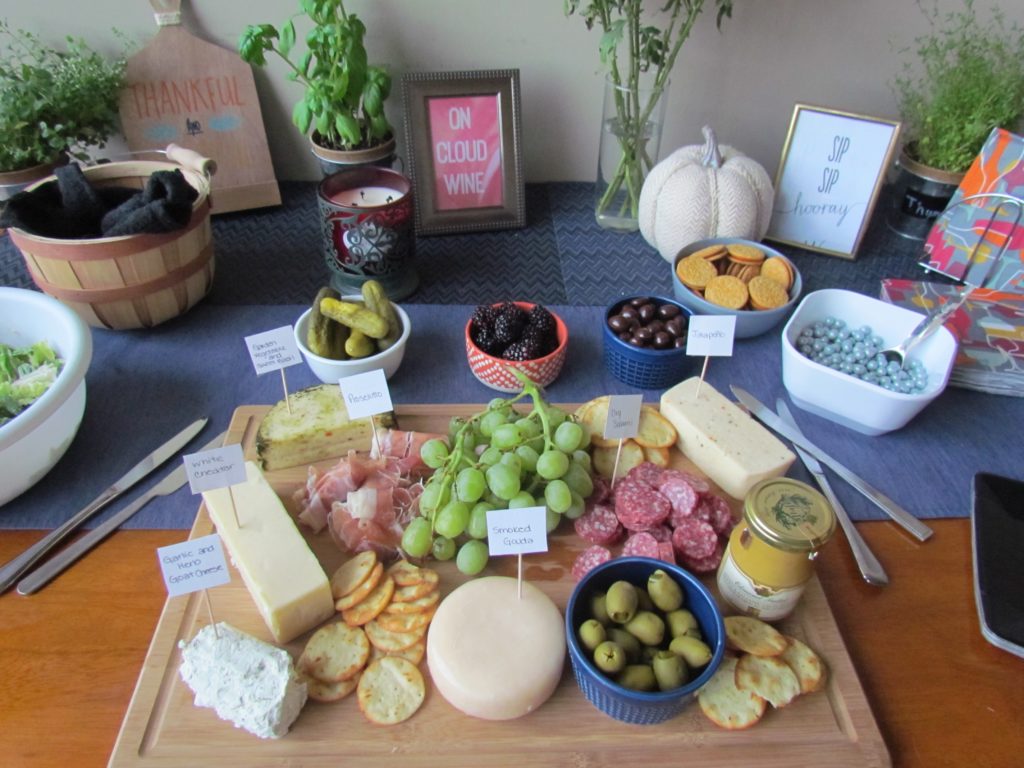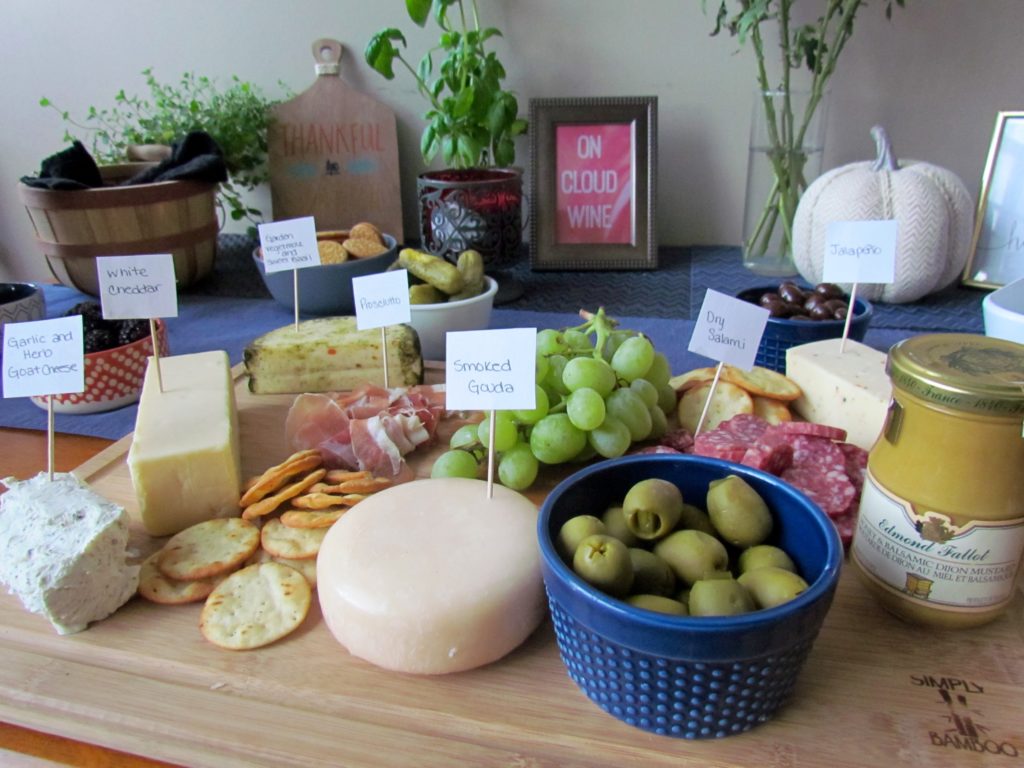 The night was overall a success and I really hope to have another one very soon! Have you ever hosted a wine party? Let me know in the comments down below!