The holidays can definitely get really expensive, really quickly. As a lot of people are, I'm on a budget, especially around Christmas time. As much as I would like to make my house look like the Santa's Workshop, I'd rather spend more of my budget on gifts for family and friends, than on Christmas decorations.
However, with all of that being said, regardless of a budget, I still want to make your home extremely festive for the holidays, which is why I'm turning to more DIY Christmas and holiday decor this year. I'll be featuring multiple posts this holiday season of gift guides, recipes, and different ways to decorate your home for this Christmas or the holiday season, on a budget.
Starting off this holiday season is a blog post on how to make a DIY Christmas Wreath for under $10! I absolutely love wreaths and this DIY Christmas Wreath came out amazing! I think wreaths in general are so pretty and festive. However, a nice wreath can be super expensive. While I was shopping for Christmas decor, even at the budget-friendly shops, wreath's were well over $30 for a standard, simple wreath. Seeing the prices of wreaths and nothing that I absolutely loved, I decided to make my own wreath that perfectly matches my home decor and all for under $10!
What You'll Need:
A standard green wreath (I got mine at Kmart for $5!)
Ribbon (I already had this in the house)
Christmas Decorations (Whatever you want!)
Hot Glue Gun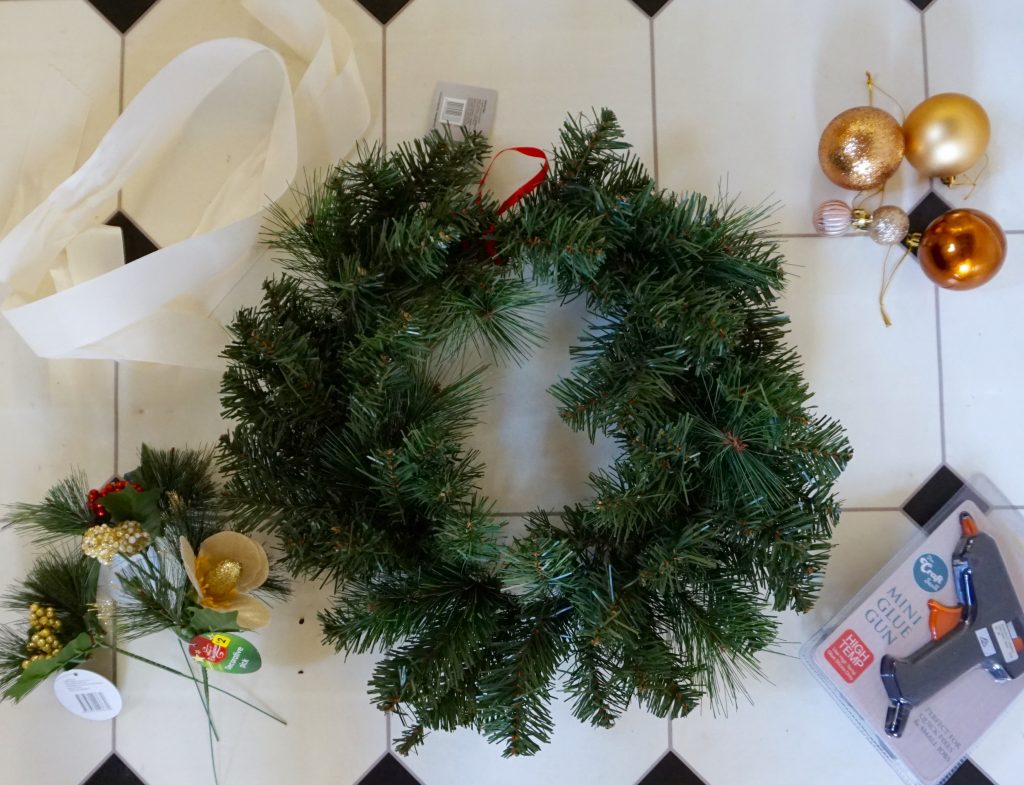 Since I wanted my Christmas Wreath to match my Christmas decor that was already set up in my house, I decided to just take some ornaments off of my existing Christmas tree. Not only did I not have to spend any more money on the wreath decorations by doing this, but now I know for a fact that the two will compliment each other, which is what I wanted to go for!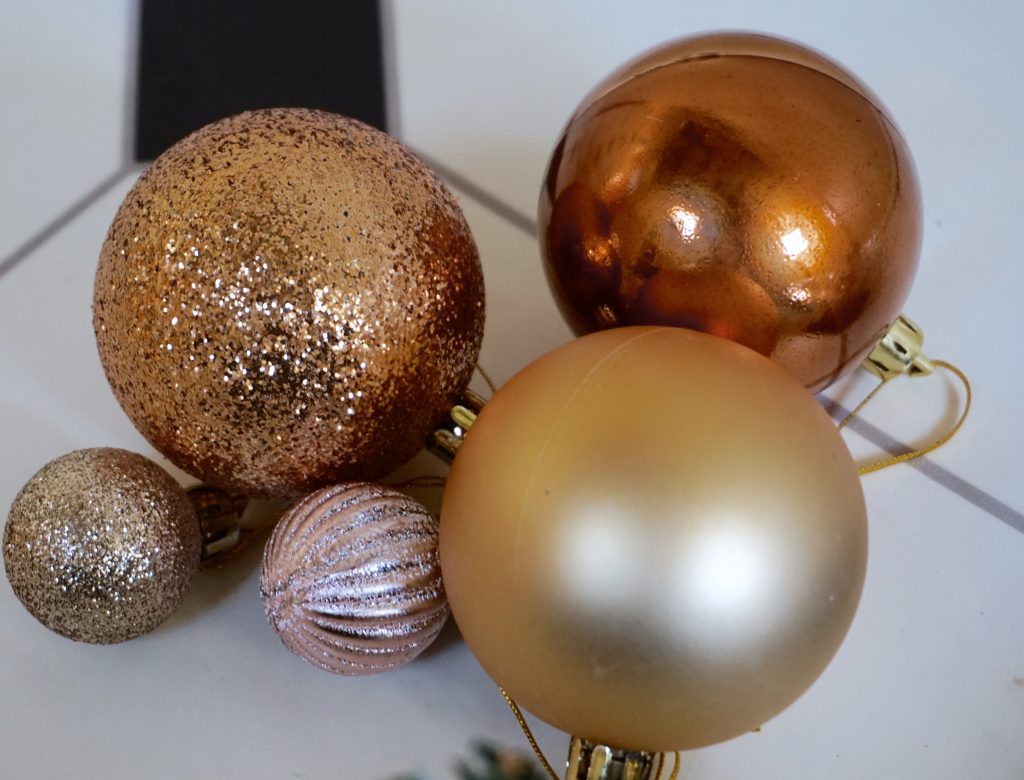 To add a little more detail to my wreath, I picked up some of these little Christmas bouquets for $2 each. I actually opted to only use the two gold bouquets and skipped out on the red one because I thought that those two just went better with the rest of the ornaments. You can pick up any festive decor that you want to include on your wreath. Some awesome ideas include pinecones (especially if you can find them for free outside), fake flowers, bells, and any other ornaments that you have would look great! If you're going for a certain color scheme, simply spray painting items is a great way to incorporate items that you already may have, but just wouldn't have gone with the color scheme originally!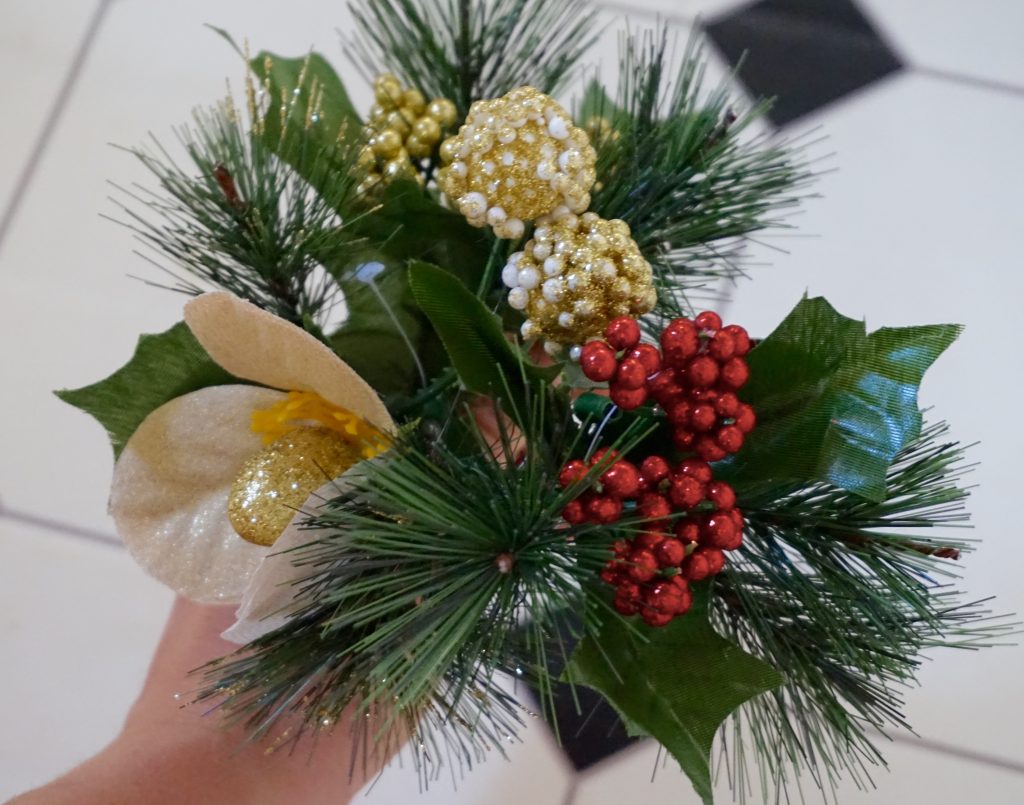 Step 1: Tie the Bow
The first thing I did when putting together my wreath was to tie the bow since it'll take up the most room on the wreath, therefore everything else's placement would revolve around the bow. To do this, I just tied the ribbon as I would tie a shoelace and adjusted it to the size that I wanted. After I determined the size that I wanted and the length, I trimmed the ends of the bow on a slant. I decided to stick to placing my bow in the center of my wreath, but I've seen such cute wreaths with bows off to the side if you wanted to do something a little different!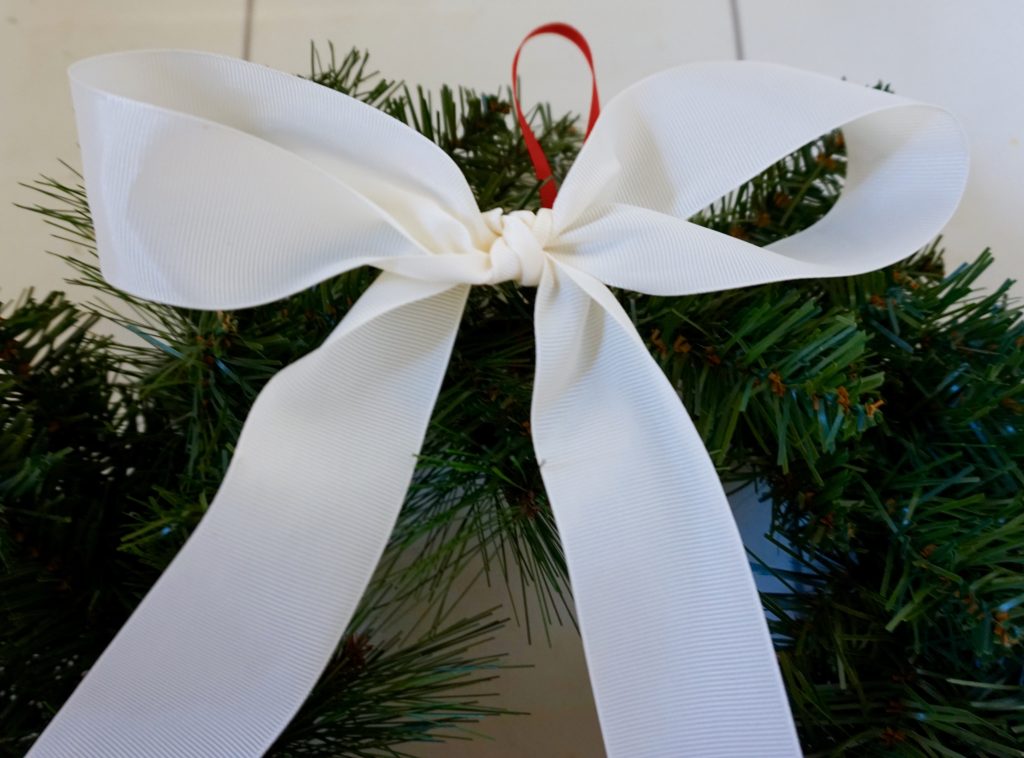 Step 2: Lay Everything Out
After tieing the ribbon, I made sure to lay everything out before gluing it. This allowed me to see everything and adjust it to how I see fit. This was so important because I rearranged things probably 10 to 15 times before I committed to actually starting to glue the items down. So you can imagine that if I just started gluing things from the beginning, the process would be a lot more stressful and time-consuming trying to figure everything out rather than simply planning beforehand!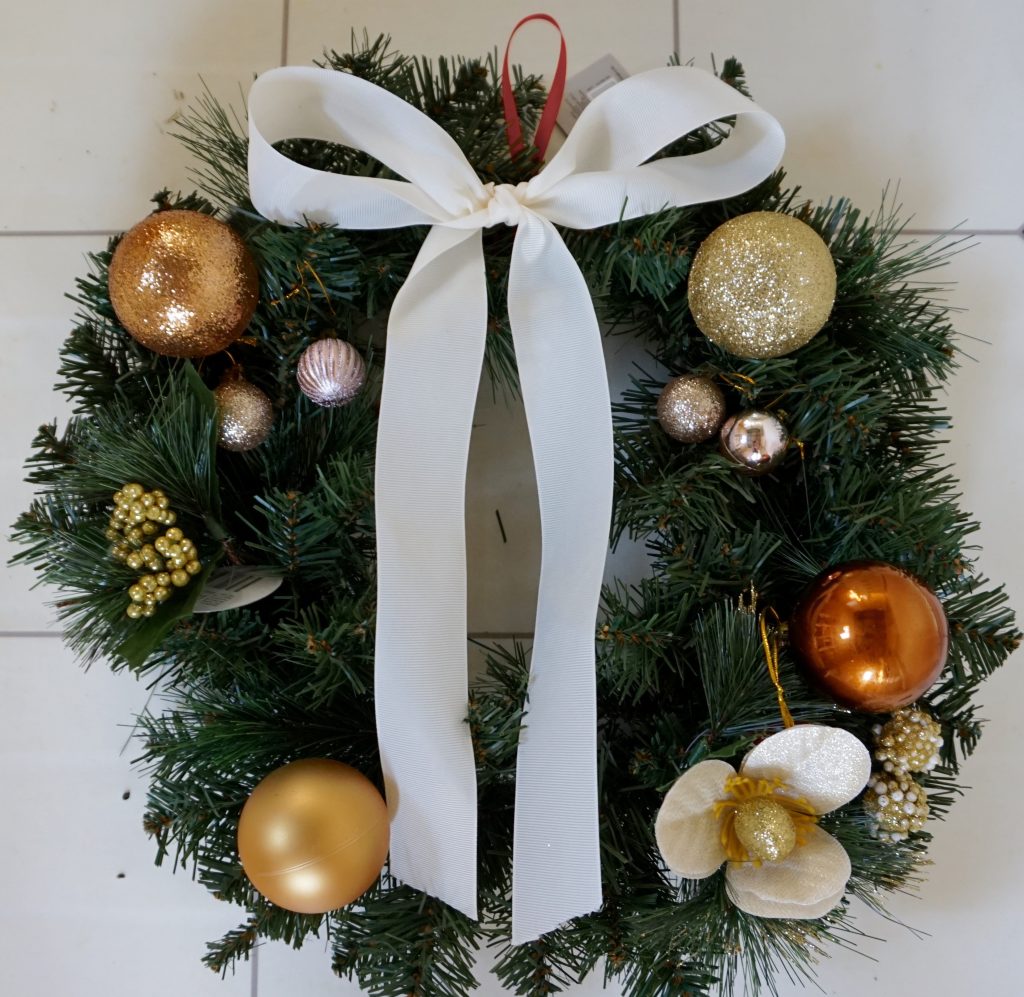 Step 3: Glue
After laying everything out and  finally deciding what layout that I wanted, I got out my hot glue gun and glued everything in its place. It was super simple and the gluing process probably only took about 10 minutes total. I found that since my ornaments were really light and hollow, they didn't need much glue to stay on the wreath and were dry almost immediately. However, if you're items are a little denser, make sure to use plenty of glue and allow time for it to dry before hanging it up.
Final Product
I'm absolutely obsessed with the final product and how inexpensive it was! It blows my mind that after seeing all the wreaths that were in stores, that my wreath looks so similar and literally cost under $10! The awesome thing about this project is not only was it super cheap, but it is so easy to customize the wreath to the decor that was already in my house.
I am also low-key obsessed with how the gold and the glitter look against our front door. I think that the color combination is absolutely perfect and I'm so thrilled with the results! This just shows how simple it is to really customize your wreath to your existing Christmas decor or even your front door!
I highly recommend this Christmas Wreath DIY! It was so easy, so inexpensive, and took hardly any time at all! I also love the fact that this wreath is one-of-a-kind and that no one else has it! I'm excited to try out more Christmas DIYs this holiday season. What's your favorite holiday or Christmas decoration? Let me know in the comments down below!