If you're down for traveling around the Byron Bay, there's a lot of amazing locations that are definitely worth checking out, especially in the surrounding areas. When my boyfriend and I did a road trip up from Sydney to Byron Bay, we actually stayed outside of the area, in small town named Wollongbar.
There were a lot of benefits of staying in Wollongbar. Although it was a little bit of drive initially to Byron Bay, accommodations were much cheaper. Especially for just a short drive away, it was definitely worth it. Another positive aspects of staying outside of Byron Bay, is the easy access to other awesome locations in the surrounding areas. During our trip, we made a day out of Byron Bay and felt like that was enough. On the other five days, we went hiking, explored other beaches in the surrounding areas, and traveled to other popular destinations.
If you're planning a trip to Byron Bay, I highly recommend you check out some of the places during your stay!
Nimbin, Australia
I wrote an entire blog post about our visit to Nimbin and you can check it out here! Nimbin is known as the "drug capital of Australia" however, it has a lot to offer for those who do and don't partake in those activities. Throughout the day we were surrounded by good vibes, friendly people, and awesome food.
There is also an amazing scenic drive in The National Park with tons of beautiful lookouts. Although Nimbin is a small town, you definitely want to spend an entire day exploring here!
Minyon Falls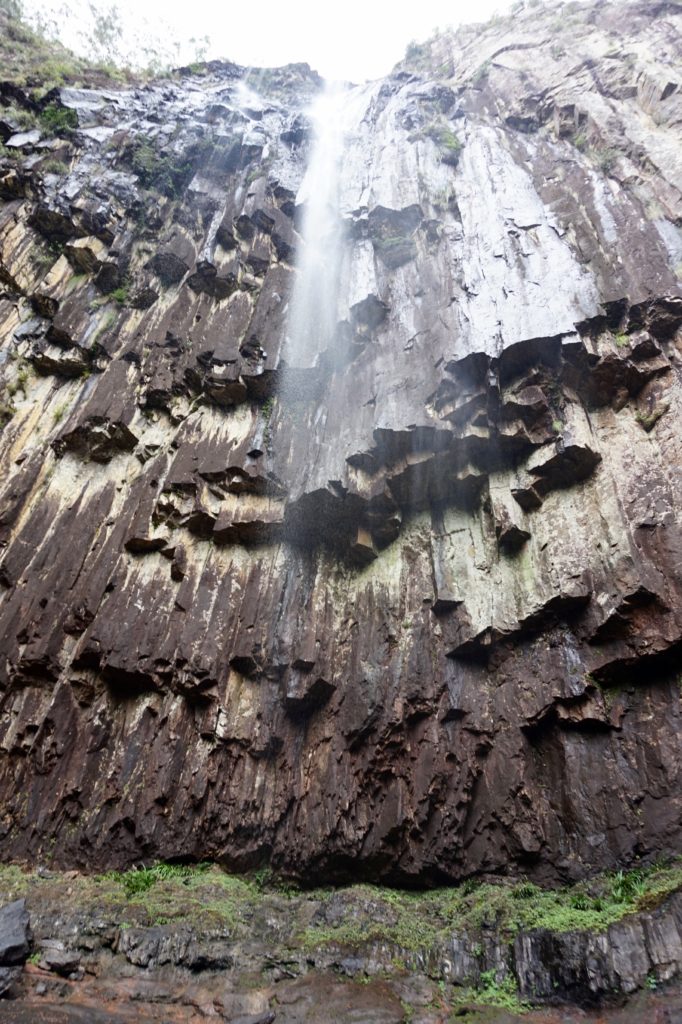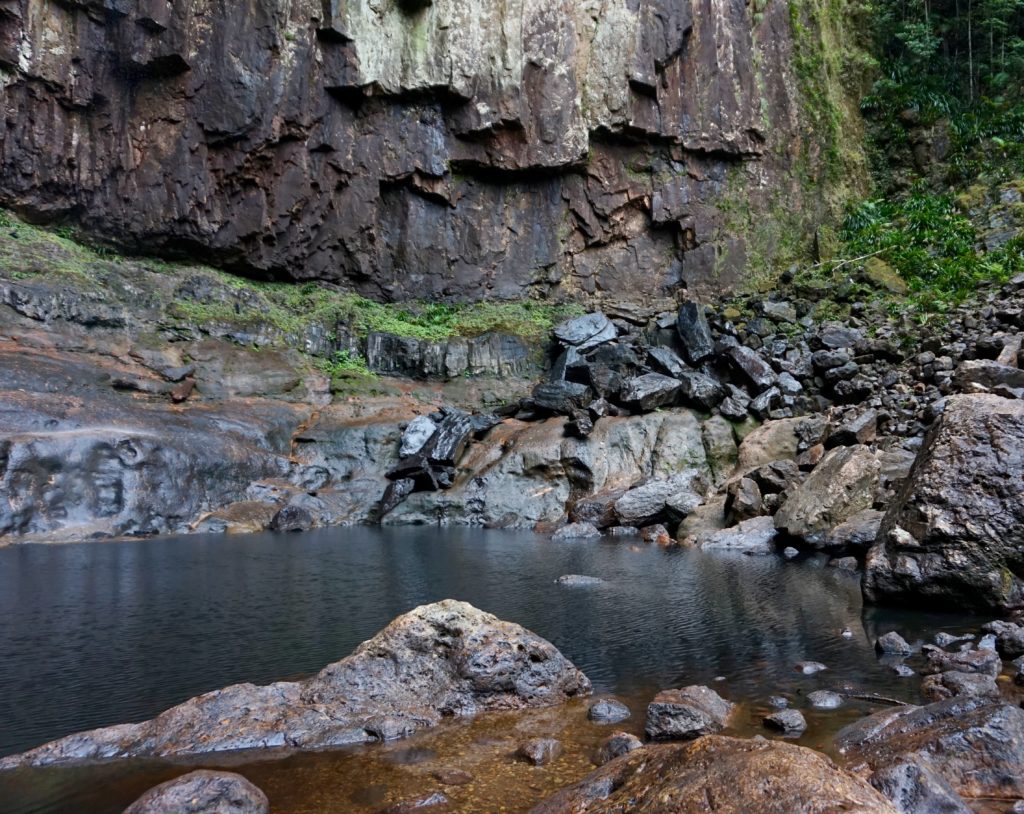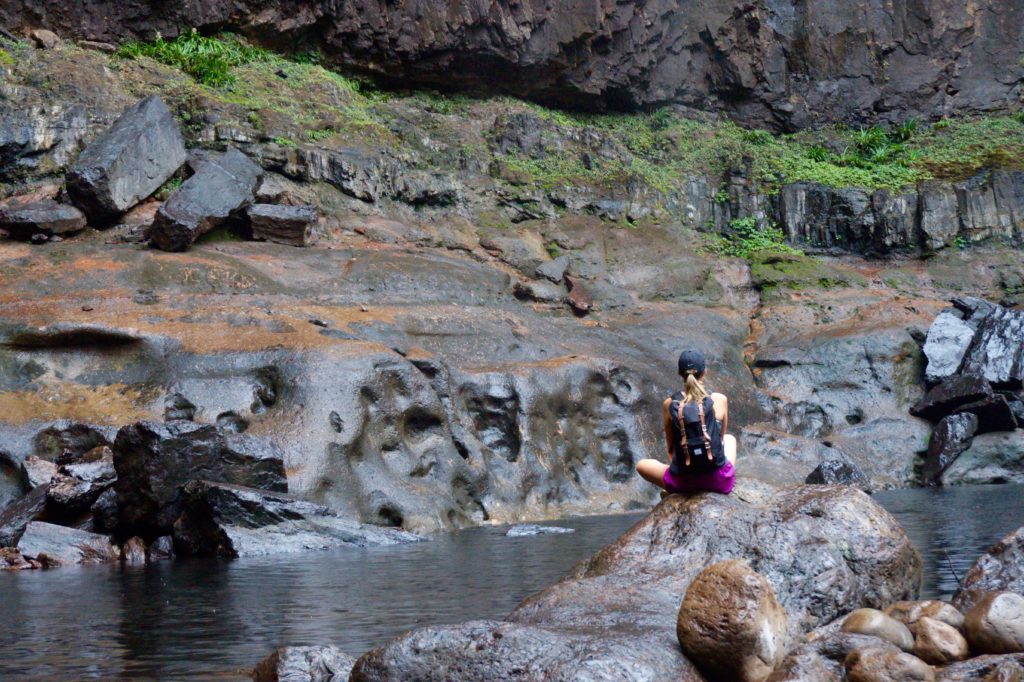 Minyon Falls is located only a few minutes outside of Byron Bay in Nightcap National Park. The Minyon Falls is a plunge waterfall over the Rhyolite Cliffs, once part of the Tweed Volcano, and into the Repentance Creek. To get to the falls, you have to hike through the Minyon Platform Track. Although it was advertised as being a 2.5 hour trail, we easily arrived at the falls in less than 45 minutes.
Although the falls weren't rushing like I had wanted them to be, especially after seeing all the amazing photos people were able to take in the past, it was still a very beautiful and peaceful spot. The hike itself was fun, but a word of precaution, especially if it's raining like it was for us, watch out for leaches! We definitely had to check our bodies a couple of times during the trip to get rid of any that might have caught onto us throughout the hike. Other than that, it was a great hike and I definitely recommend it, especially after a rain fall when the waterfall is in full force!
Shellys Beach, Ballina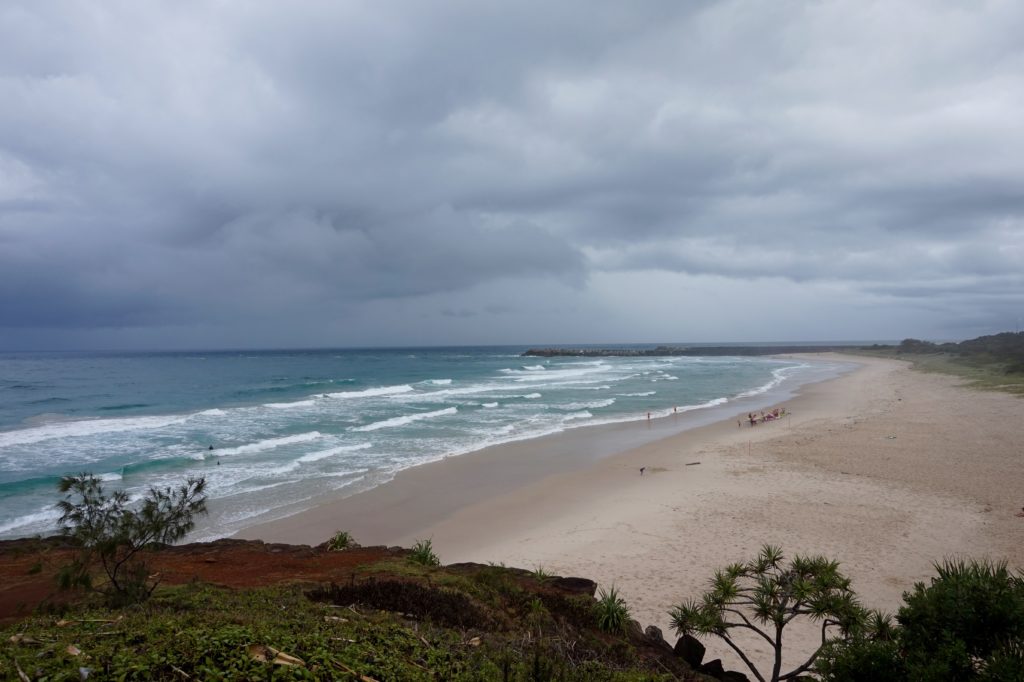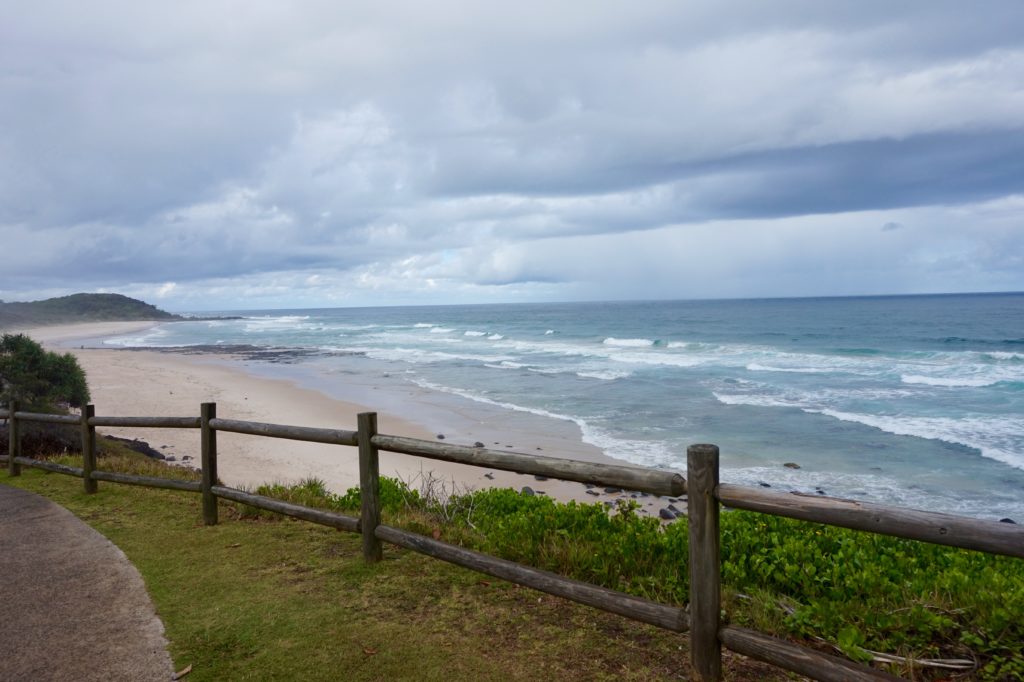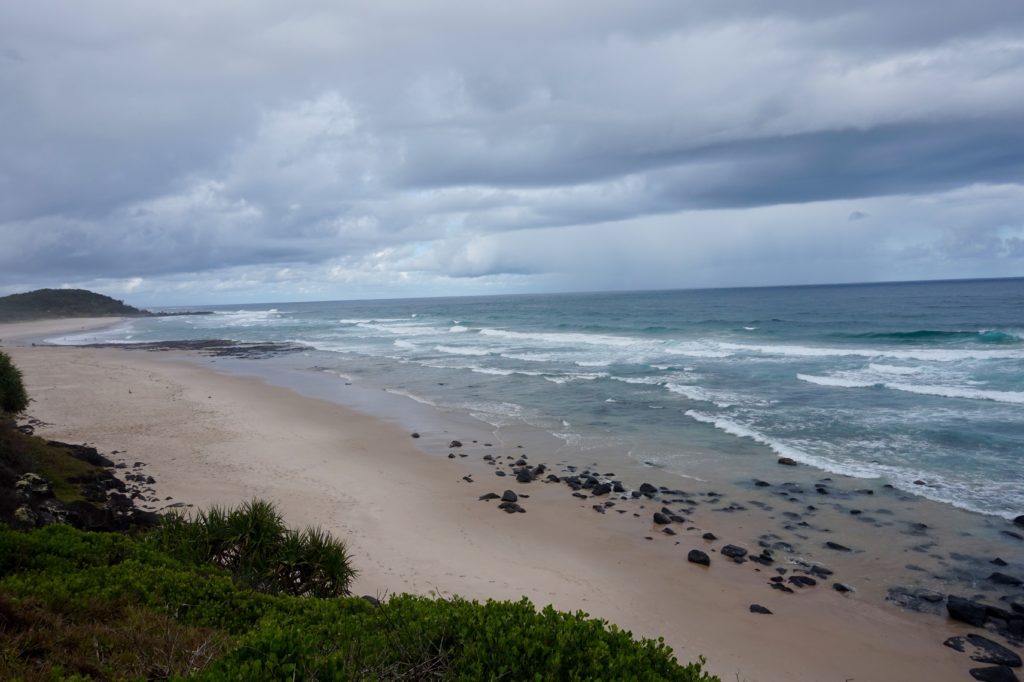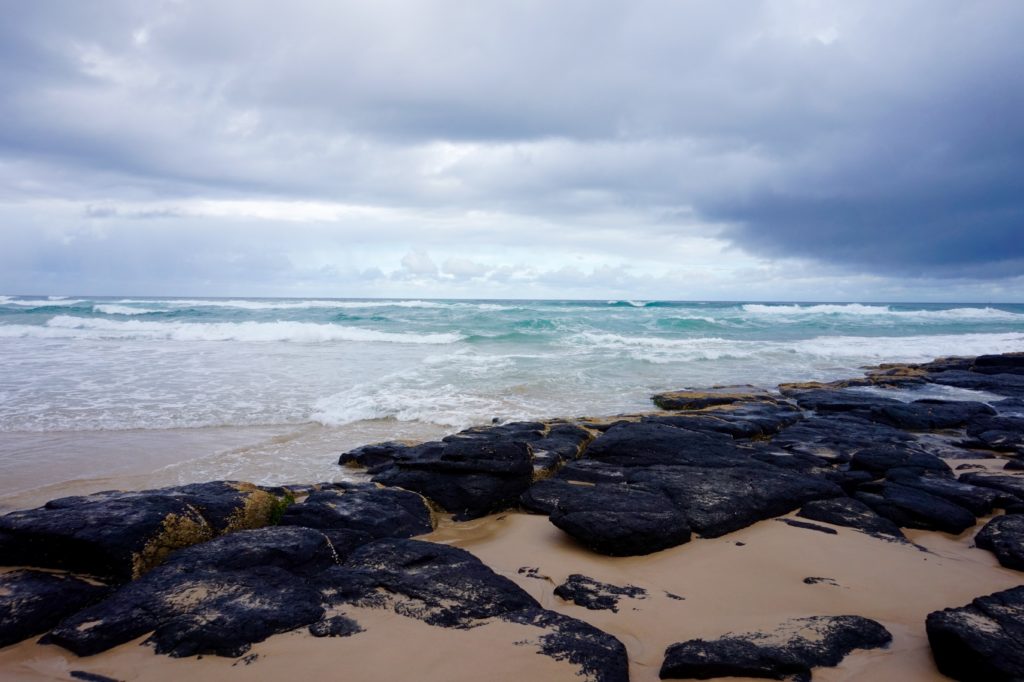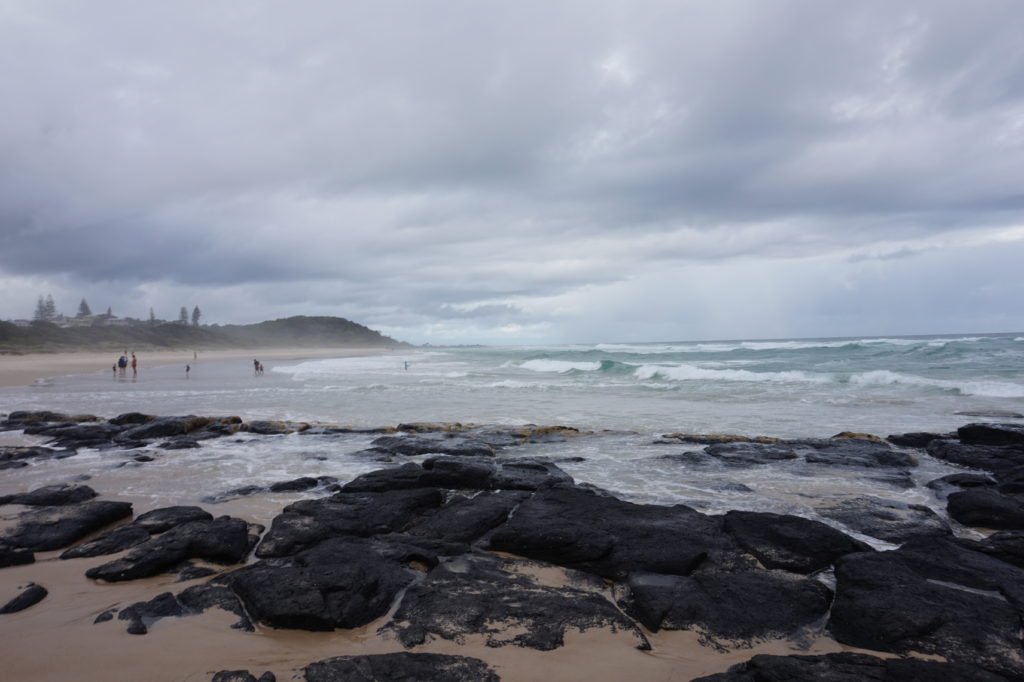 Ballina is about a half an hour drive South of Byron Bay and I highly recommend checking it out. We decided to stop by Shelly's Beach which was a great choice. Although it was about to storm, the area had a very nice vibe. The beach was almost deserted other than a surf lesson going on. The beach itself was very wide and open and the water itself was a comfortable temperature. There was a bike path that surrounded the beach and made me wish that we rented bikes to explore some more. It was honestly a picture-perfect area and I'm totally jealous of anyone who lives in this area. Overall, Shellys Beach was a perfect spot to exercise or relax without having the crowds that you would at Byron Bay.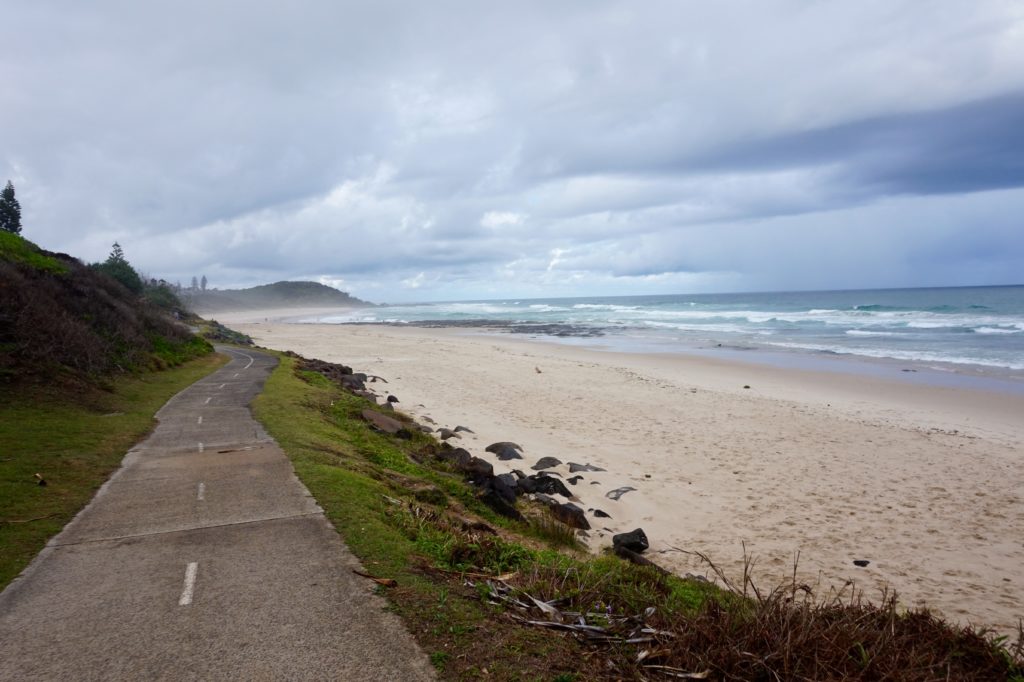 Killen Falls, Tintenbar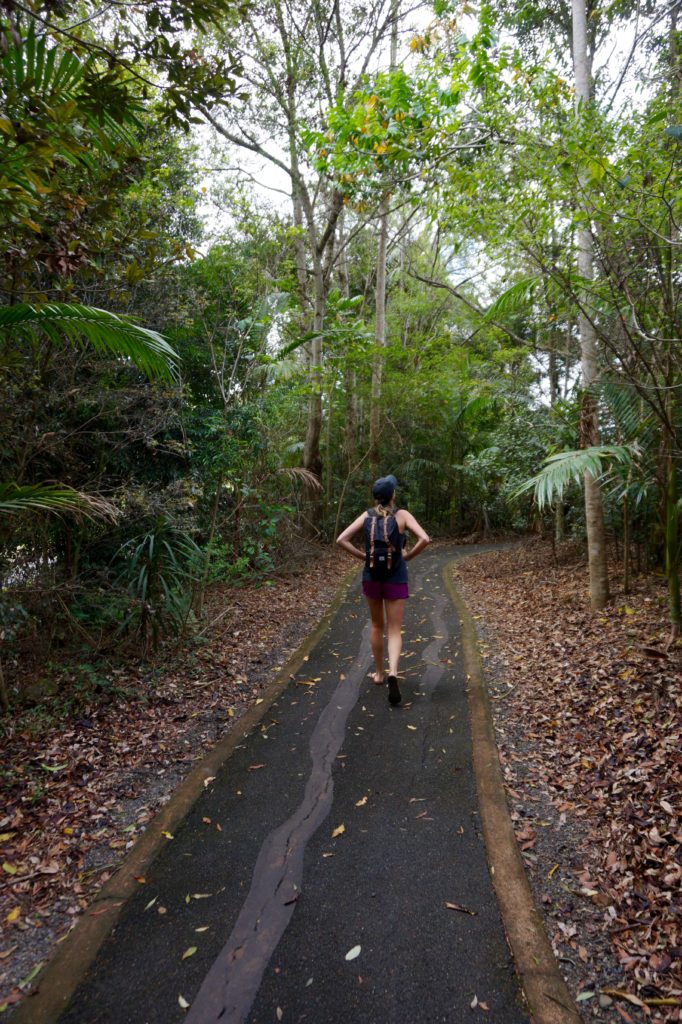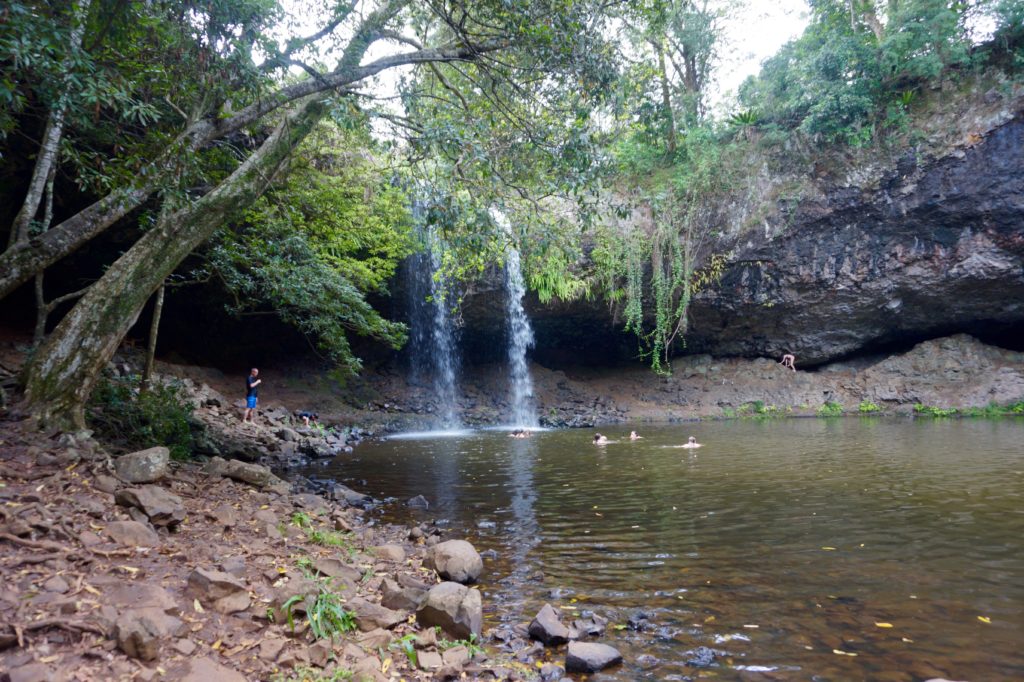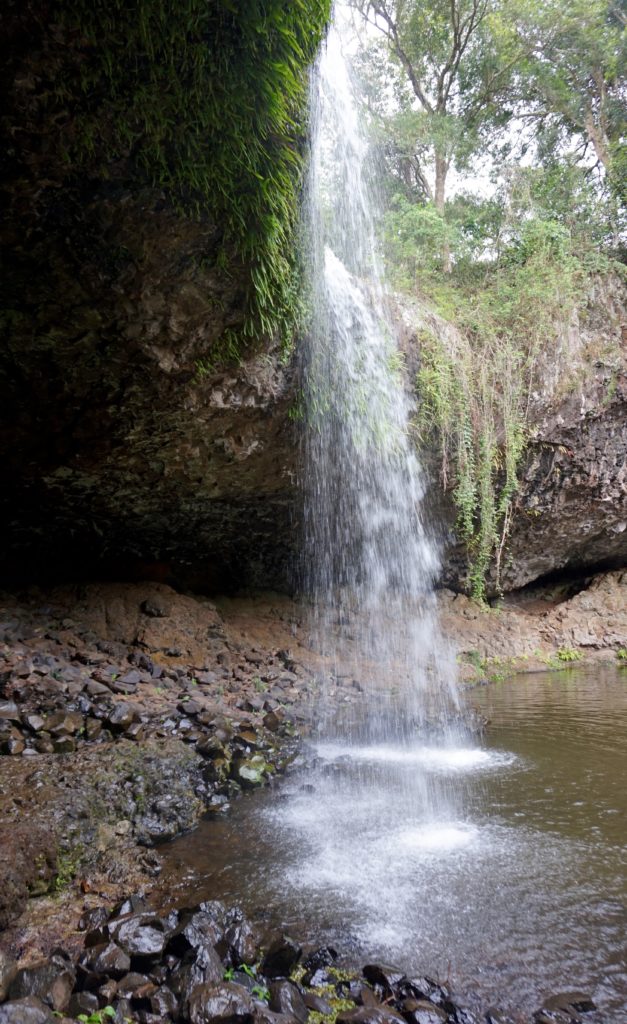 Killen Falls is a large, hidden swimming hole on Emigrant Creek. It's a short drive from Ballina, and is South from Byron Bay. In the surrounding areas, there's a few different paths you can choose from. The first path is a short walk to a lookout that's over a dam and the further path leads you to the swimming hole. When we arrived it was busier than I expected. Although this once was a hidden secret, it's now known as one of the best "secrets" that aren't so secret anymore. Although there were only about four or five families there, there was still plenty of room to admire the waterfall and get a quick dip into the water.
Port Macquarie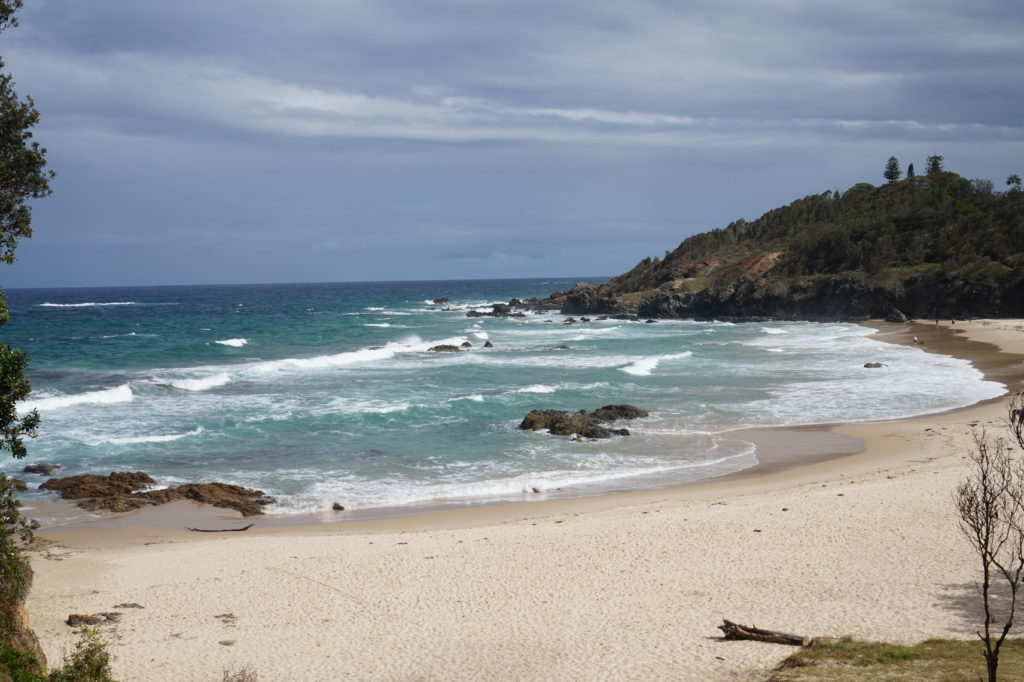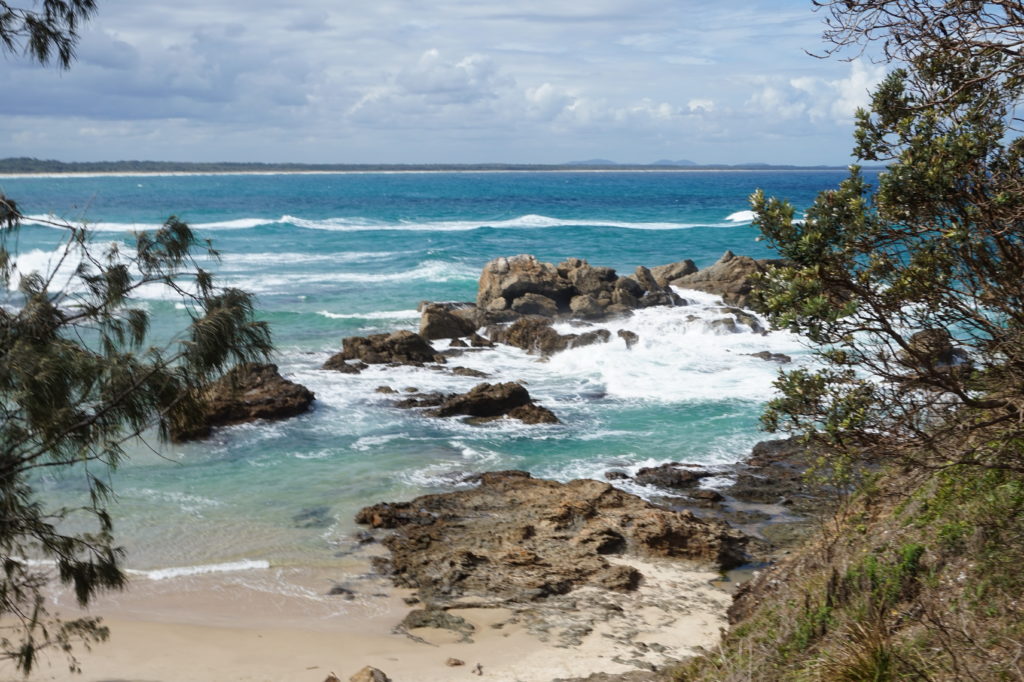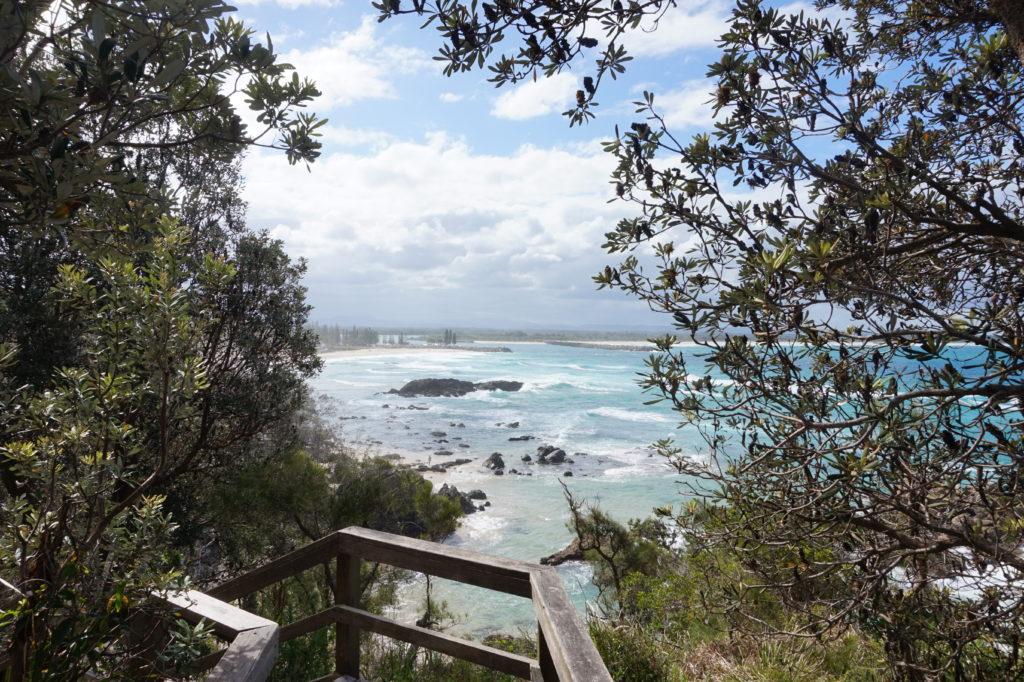 Although Port Macquarie is nearly five hours away from Byron Bay, if you're on a road trip to Sydney like we were, I highly recommend stopping and visiting this town for a little bit. Port Macquarie is known for its beautiful beaches and it's wildlife. The time we were there, there were a lot of families camping out in their RVs right on the water front, which seems like an amazing way to visit the area!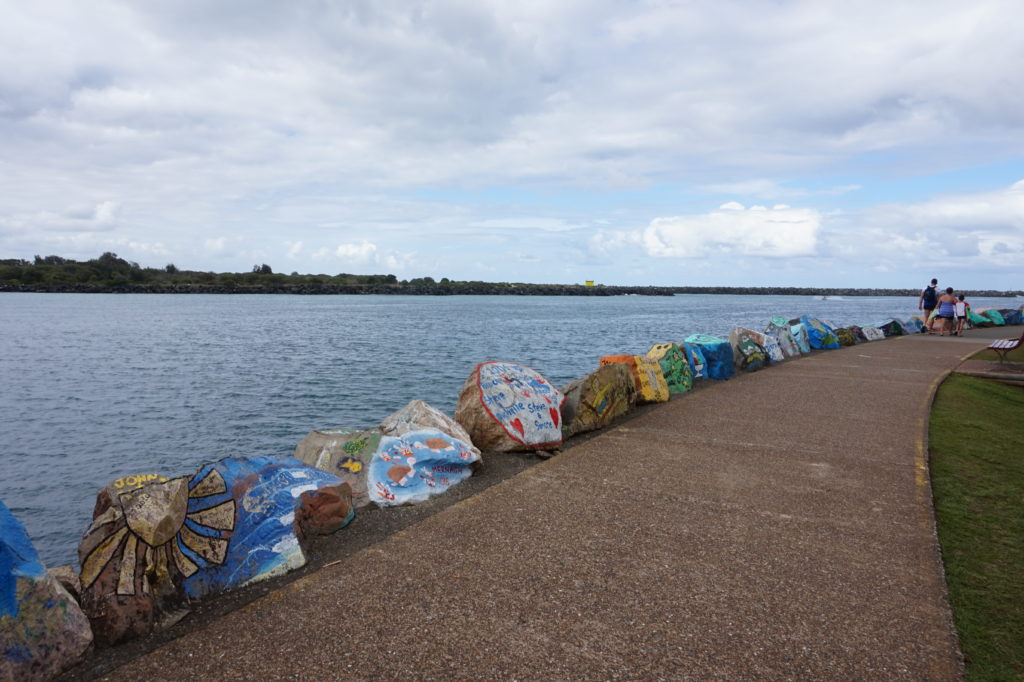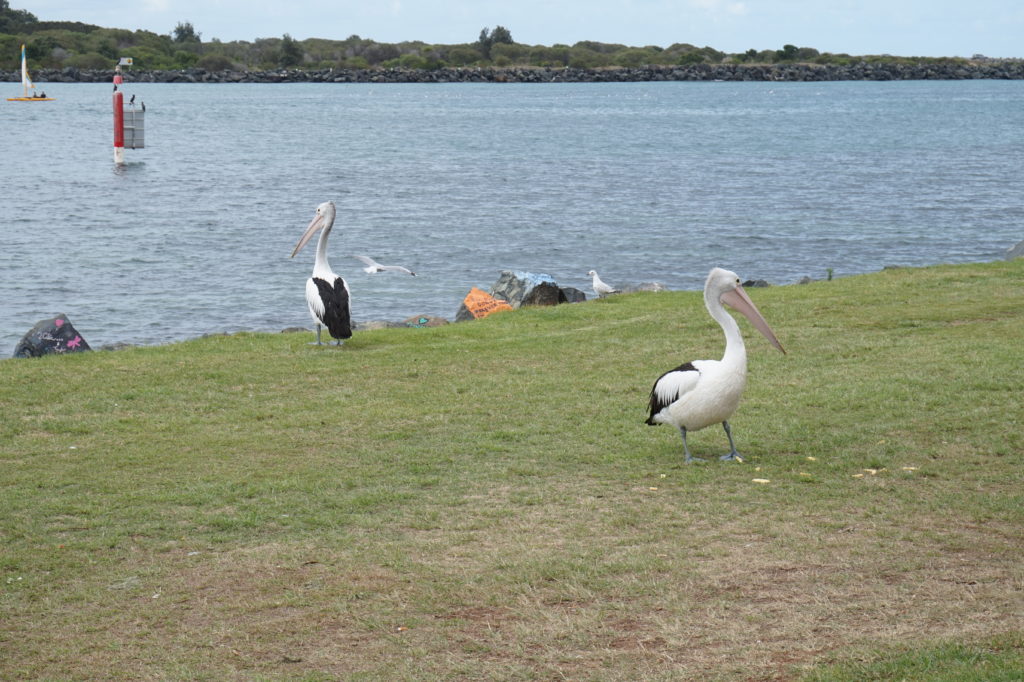 I absolutely loved this area and seemed like a beautiful place to live. There were a lot of restaurants in the area, a beautiful bike path, and a lot of family friendly areas. I absolutely loved the detail of the rocks being painted by families surrounding the bike path.
The Big Banana, Coffs Harbour
Lastly, a fun quick addition is stopping at The Big Banana in Coffs Harbour. Apparently this is a famous landmark and judging on the size of the line to take a photo with The Big Banana, it definitely seems like it's a popular spot! The Big Banana has a lot of cool things on the location. It has an amusement park and water park along with little shops like a candy shop and a wine and cheese shop! We just stopped to take a photo, but if you have kids with you, it definitely seems like a fun place to stop to take a break from a road trip!
If you haven't checked out my post of things to do in Byron Bay, you can check it out here! Although there is so much to do in Byron Bay, if you're making the trip to the area, you should definitely spend a day or two exploring a little more outside of Byron Bay! I absolutely loved all the areas we explored during our road trip, and I highly recommend you check them out as well!
Have you ever been to Byron Bay? Let me know in the comments down below!