Long flights are the worst, or they're at least not great. Unless you're lucky enough to be in business class, sitting for 15 hours in a small 20″ seat could make anyone go crazy. However, there are a few ways to make that 15-hour flight "fly by" and therefore you walk out of the flight feeling pretty fantastic!
I've had my fair share of long flights. Within the past year and a half, I've flown from America to Sydney, Australia 8 times. That alone is over 216 hours of flying! With my experience with that long flight, I've definitely learned different tips and tricks that make the flight go by so much quicker and essentially make the whole travel process almost seem enjoyable.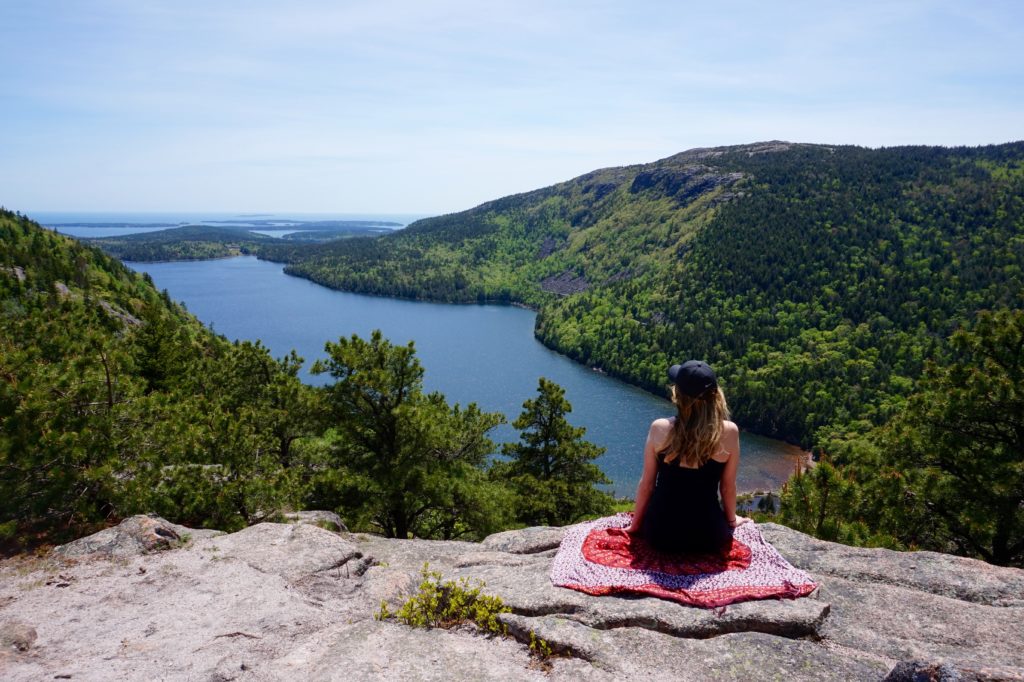 Stay Hydrated
Water, water water! It's so important to stay hydrated when flying. Of course, constantly chugging water is super annoying if you're sitting in a window seat and having to constantly get up to use the bathroom. I tend to always select window seats, so to make sure I'm not annoying my aisle buddies for the next 15 hours, I actually prefer to start my "flying prep" the day before.
The day before my flight, as soon as I wake up in the morning, I make sure to constantly be chugging water all throughout the day. It's important to start the hydration process early. Not only will this help your body feel more hydrated the next day, but it'll also help clear your skin, which will hopefully combat any of the nasty things airplane air can do to your skin.
The awesome thing about long flights is that you get free food and drinks. A lot of long flights such as the flights from the U.S. to Sydney offers free wine and beer. Although it may be tempting to get a nice buzz throughout the flight, I always stick strictly to water and the occasional glass of OJ or coffee in the morning right before landing. Trust me, water is the key to having a comfortable flight.
Stay Moisturized
Flying can dry out your skin like crazy, so it's important to stay moisturized. I always carry a travel size moisturizer that can work on both my face and body. I have sensitive skin so something like Simple Moisturizer or Cetaphil is perfect for all over my body. During a 15 hour flight, I make sure to moisturize my hands, legs, face, neck, and anywhere else that may feel dry at least a couple of times throughout out the flight.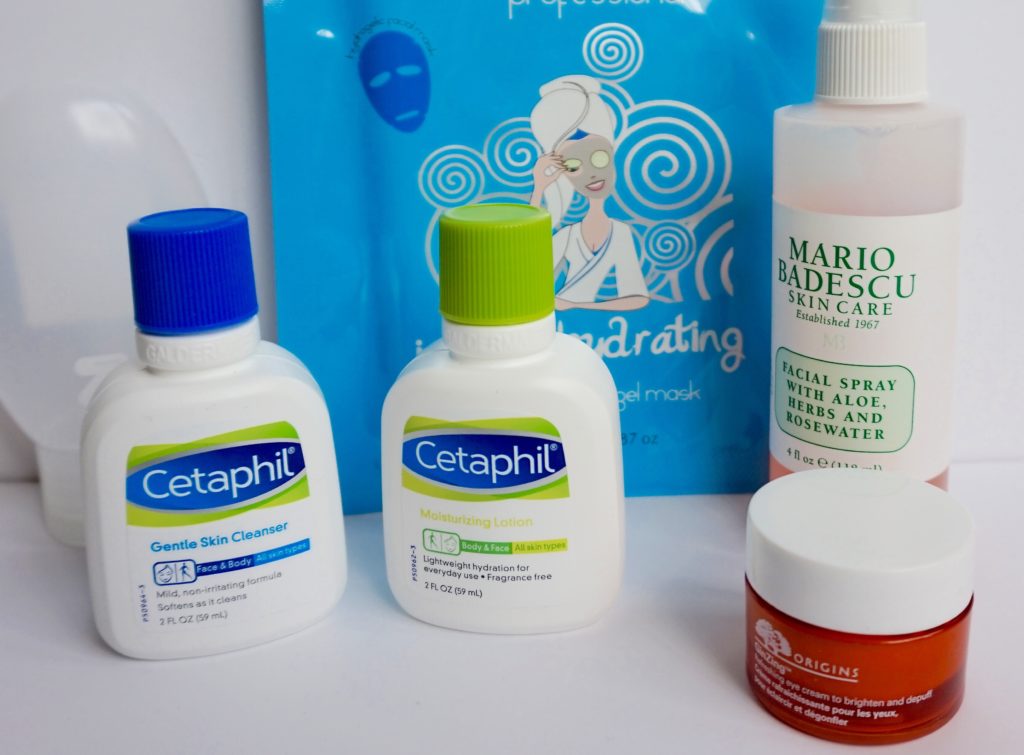 I also love to do an overnight face mask when I'm on a long flight. The Origins Drink Up Hydrating mask is so perfect for long flights. Not only does this just make my skin feel great and look amazing when I use it at home, but it's perfect to just put it on throughout your flight and wash it off whenever you get a chance or when you reach your destination. Honestly, the longer I leave this on my face, the more healthy and glowy my skin looks, which is definitely rare when flying. Another awesome thing about this product is that it's practically invisible after it soaks into your skin so you won't be looking strange as you might if you had a bright blue face mask on.
Although it's not a moisturizer, using rose-water is an easy way for me to instantly feel refreshed and make my skin feel great. I'm constantly spraying it on my skin throughout my flight for an instant pick me up or to give my skin a little bit more hydration.
So those three things are definitely my must-haves when it comes to skin care essentials when flying. 
Wear Comfortable Clothes and Change
Dressing up for the airport or looking nice is sometimes necessary. But on a 15-hour flight, with the majority of the people sleeping the whole flight, your top priority should be to be comfortable. I always get cold on planes so having some comfortable sweatpants or leggings is a must, along with a few clothing pieces that I can layer throughout the flight as necessary. I like to have a T-shirt or tank top with a comfy sweater or cardigan. I also always like to have a blanket scarf with me. Although they provide you with a blanket, having some extra comfort is always nice to have. I also always make sure to have a pair of slipper socks and change into them as soon as I get on the plane.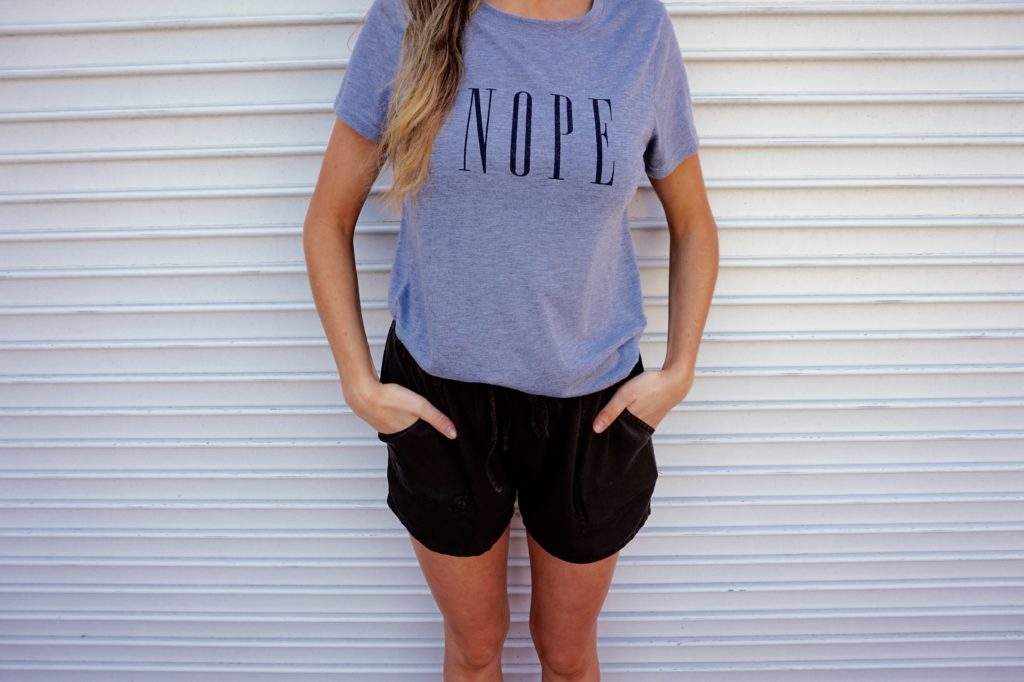 Lastly, I like to have a change of clothes for when I get off the plane. You can always change on the plane, but I personally think it's a bit easier to do it in a larger bathroom in the airport as oppose to a cramped airplane bathroom. Having some fresh, clean clothes, will just make you feel so much better after you get off the plane and really make you feel refreshed!
Get some Zzzs
With such a long flight, the best way for it to go by quickly is to get some sleep! Sleeping on a plane can be pretty difficult, but with trial and error, I've found ways that make it the easiest for me to fall asleep. After getting the first meal (normally with such long flights you get fed 3 times, 2 meals and one snack), I like to take some sleep aid pills. I take Zquil, but anything like sleeping pills or melatonin should help. Zquil definitely does the job for me! I then like to get set up my space and get comfortable.
I personally always try to get a window seat when flying because although it's not more room, however, I find it nice being able to lean up against something when sleeping. As I mentioned they give you a blanket and they also give you pillow on longer flights. I like to prop the pillow against the side of the plane for some extra cushion and then I use my neck pillow and my blanket and scarf to fall asleep. Having the right pillow is the key to getting a good nights sleep on a plane. I decided since I was flying so much to invest in a good neck pillow. I got the Evolution Pillow by the brand Cabeau for $40 at Target, but you can also purchase them on Amazon as well. It's honestly the best neck pillow I've ever tried and if you're traveling a lot, it's definitely worth the price.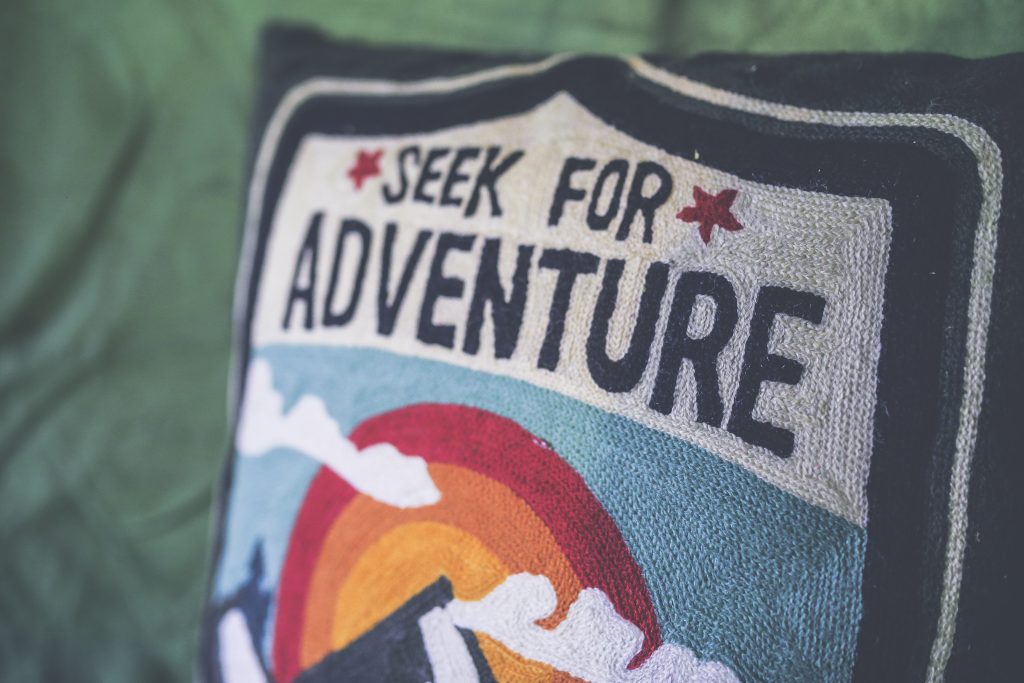 Lastly, having an eye mask is a must when sleeping on a plane. They tend to dim the lights during normal sleep hours on longer flights, but it's always nice just to have an eye mask to keep it dark when you're sleeping in case the lights turn on or other people's tv screens are too dark. 
Come Prepared
What I mean by this is having an 'emergency kit' or something along those lines. It's a long flight and a lot of things could happen. I like to make sure I have additional snacks in case I get hungry between meals, medicine like Ibuprofen, allergy medicine, Tums, eye drops, different types of tea, extra hair ties, toothbrush and toothpaste, a pen, floss, band-aids, and just anything I can think of for "what if" situations. I like to put most of the small items in a little makeup bag so I know where everything is.
Having a kit like this is essential for me when traveling since you never know what can happen and especially with a 15-hour flight, the last thing you want is to be uncomfortable. Even though I never use half the things in this bag, it gives me the peace of mind that if something was to happen, I'd be prepared. 
I hope you find this list helpful if you're preparing for a long flight or any of these tips can be used for any duration of flying. If you would like to check out more travel tips on my blog, check out How to Travel Anywhere on a College Budget, where I go in depth on how to find the cheapest deals when it comes to traveling, and How to Perfectly Pack Your Toiletries.
What has been your longest flight you've ever done? I'm curious! Let me know in the comments down below!