I've traveled the Seminyak and Ubud, Bali, traveled around Australia, and through Maine, however, this travel guide for Cleveland, Ohio is probably the one that I hold the most dearly. For those of you who haven't checked out my Senior Year Reflection and my travel guide on the Cleveland Flea, you wouldn't know that I spent the last four years living in Cleveland.
I graduated from Cleveland State University this past May and sadly moved out of Cleveland and back home for a little bit before I start my next adventure. Since I lived Downtown at the center of everything for four years, I'd like to say I know a thing or two when it comes to the best of the best and therefore this travel guide will be a little different from my past travel guides in the sense that I've only included things that I absolutely love!
If you're traveling to Cleveland, you made a great choice! Cleveland is up-and-coming with fantastic restaurants, a great nightlife, and all the sports games anyone could want! There's always something going on, yet the city almost has a small city feel.
Where to Eat
Barrio
If you ask any local what's their favorite taco joint is it's probably Barrio. Barrio is a taco joint with several locations around the Cleveland area and is currently expanding the demand of Barrio. Barrio has killer margaritas (try the blood orange), amazing custom build your own tacos, and multiple happy hour specials almost daily!
I highly recommend you make Barrio one of your first stops when coming to Cleveland because you'll definitely want to come back again and again. I personally recommend getting the original queso, a blood orange marg, and a couple of tacos, the stoner shell with the coca cola steak and the pulled pork is my favorite. If you go 4-6 enjoy the happy hour with half price and if you go after 9 and sit at a tall table, you'll also receive the discount. Unfortunately, happy hour specials aren't available on game day, but with tacos just being $3-5, the visit is definitely worth it.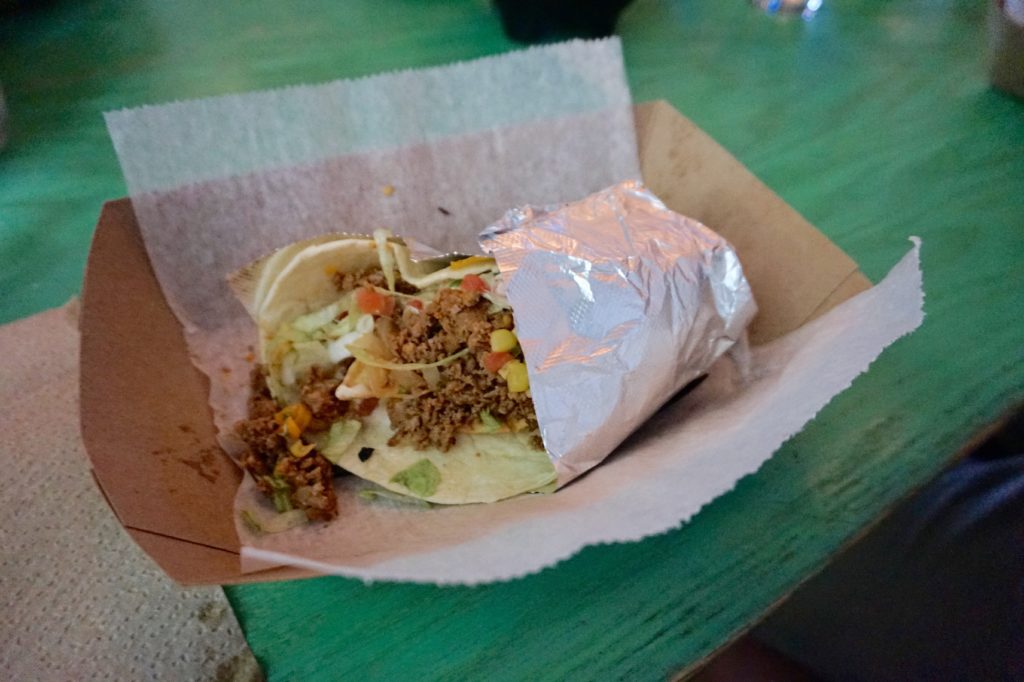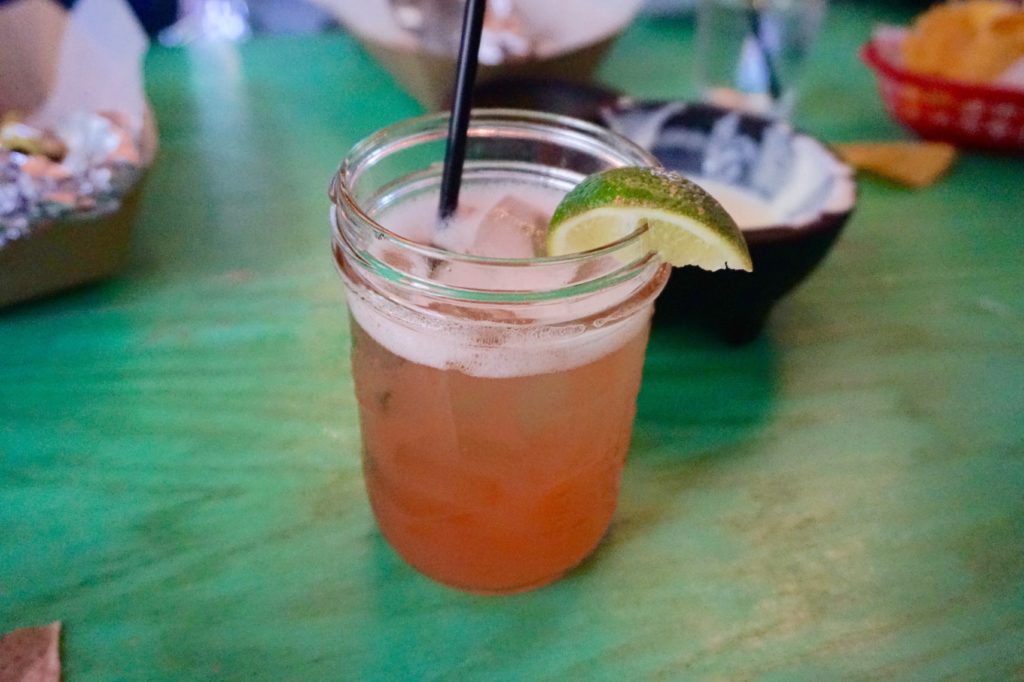 Pour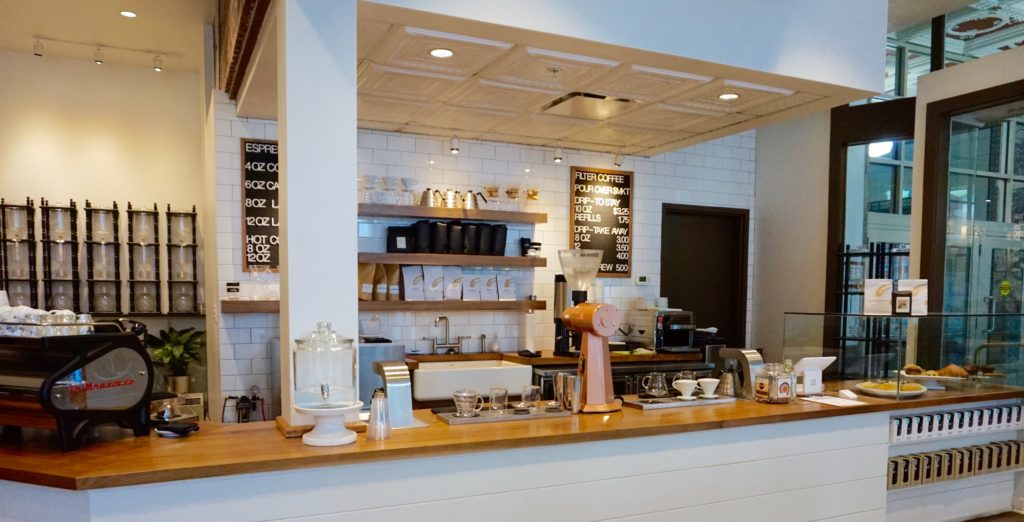 Cleveland is starting to get more and more trendy coffee shops and Pour is no exception. Pour has only been open for a little over a year it's already a popular spot for college students or business professionals. With a calming white decor and delicious coffee and pastries from Fluffy Duck Cafe, stop in to get a coffee or get some work done with their free wi-fi and their large tables great for group work and with outlets included.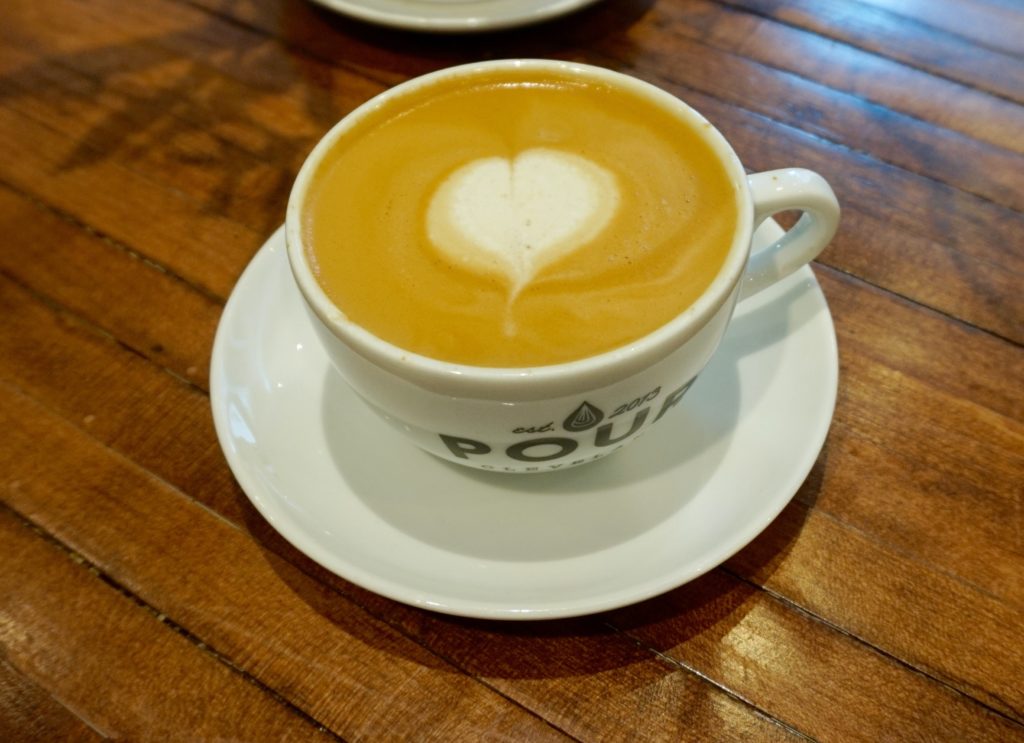 Restore
Restore is another fairly new restaurant that has become so popular. Looking for a great acai bowl or avocado toast or some fresh pressed juices? They've got it all. The restaurant also has a beautiful, trendy decor which is perfect for getting some work done and hanging out with friends.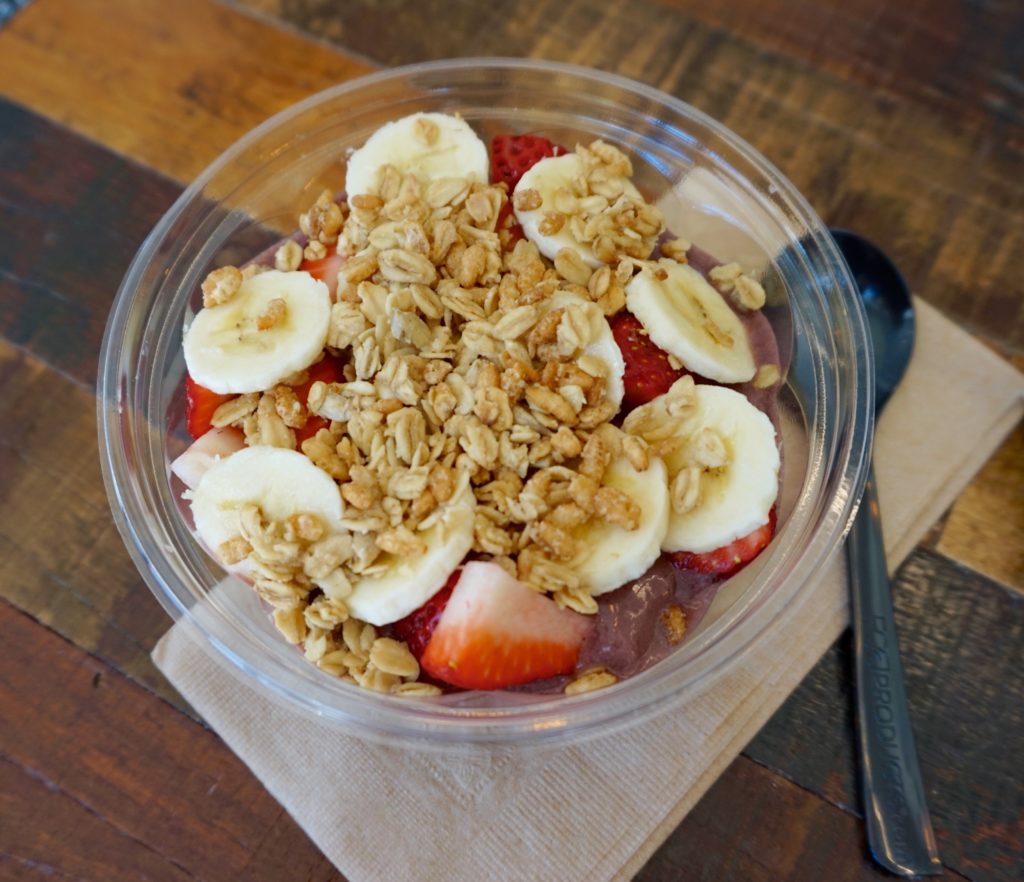 Presto Sandwiches
I discovered Presto Sandwiches my Freshman year and it's still my favorite sandwich shop in Cleveland. Located right across from East 4th, this almost "hole in the wall" restaurant has some delicious sandwiches. Go in and sit in the shop or get it to go and sit in the beautiful arcade, a popular spot for weddings with beautiful architectural designs and twinkling lights. If you don't have time to stop in, you can also order on Uber eats! I highly recommend the Smokin' Turkey, it's amazing and everyone I recommend it to, they're obsessed with it as well.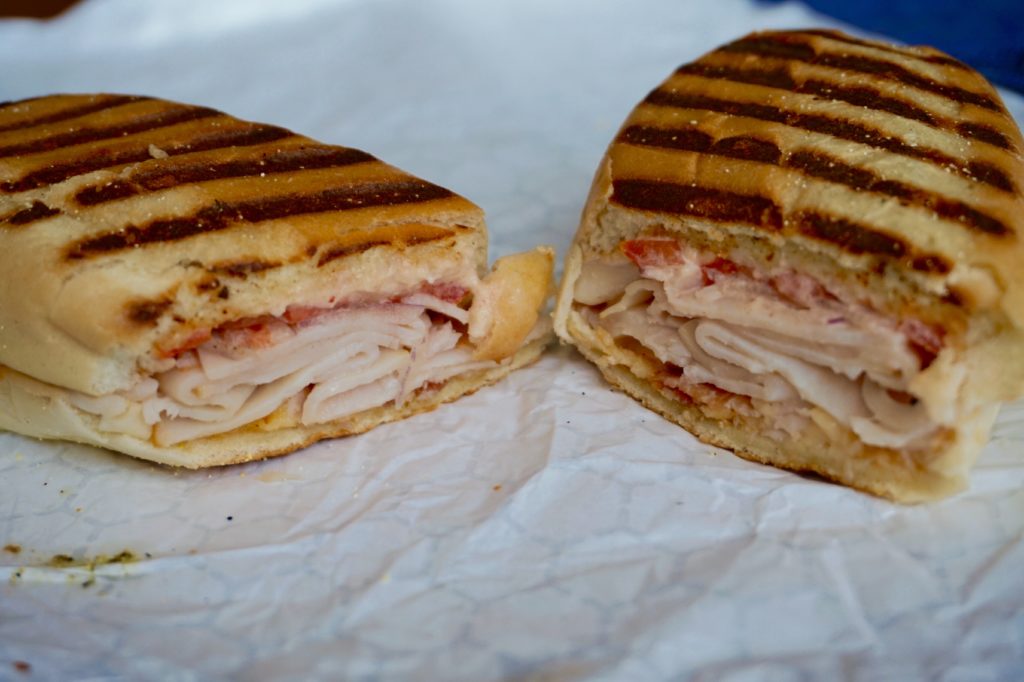 Superior Pho
A hidden gem that was located right down the street from my apartment was Superior Pho Vietnamese with some of the best Pho I've ever had. Especially when the weather was a bit colder in Cleveland (almost year-round), a nice (huge) bowl of Pho always made me feel a little bit better. I always ordered take-out, but whenever I went to pick up, the restaurant was always busy. There are a few other Vietnamese places nearby, but due to the awesome prices and delicious Pho, I highly recommend Superior Pho.
Things to Do
Rent a Bike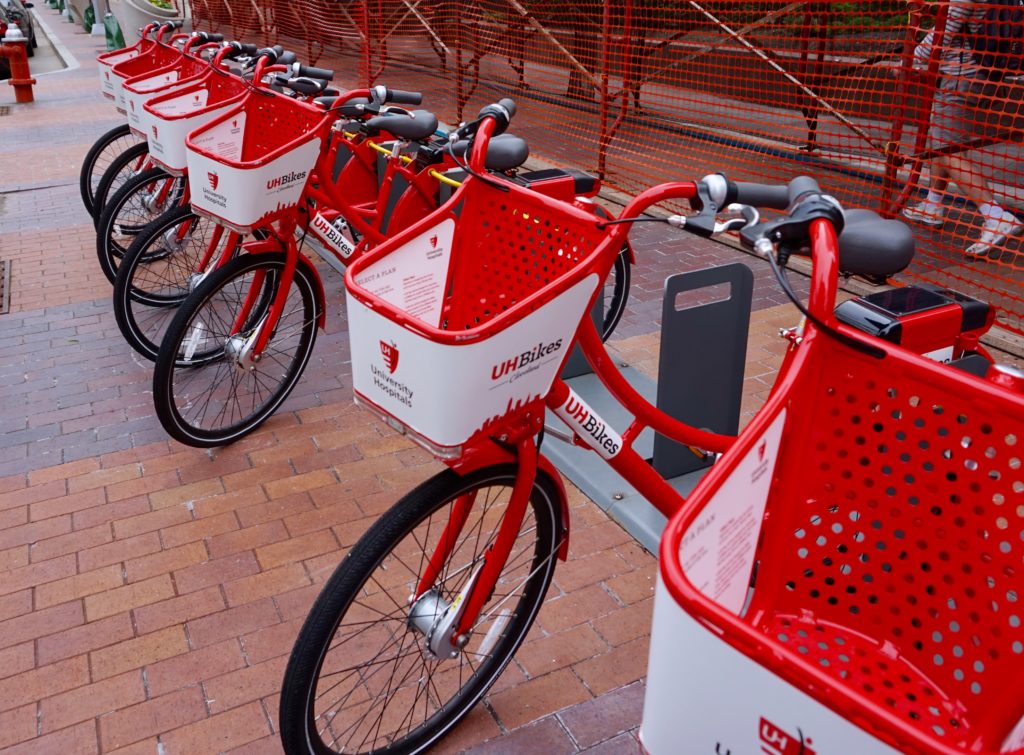 There's a lot to do downtown area. The downtown area is small enough that you could definitely walk around the whole thing in a couple of hours, however, be renting one of the UH Bikes is a great option to see a lot of the city without spending as much time. Simply download the app and you're good to go. It's about $3.50 for every 30 minutes.
Playhouse Square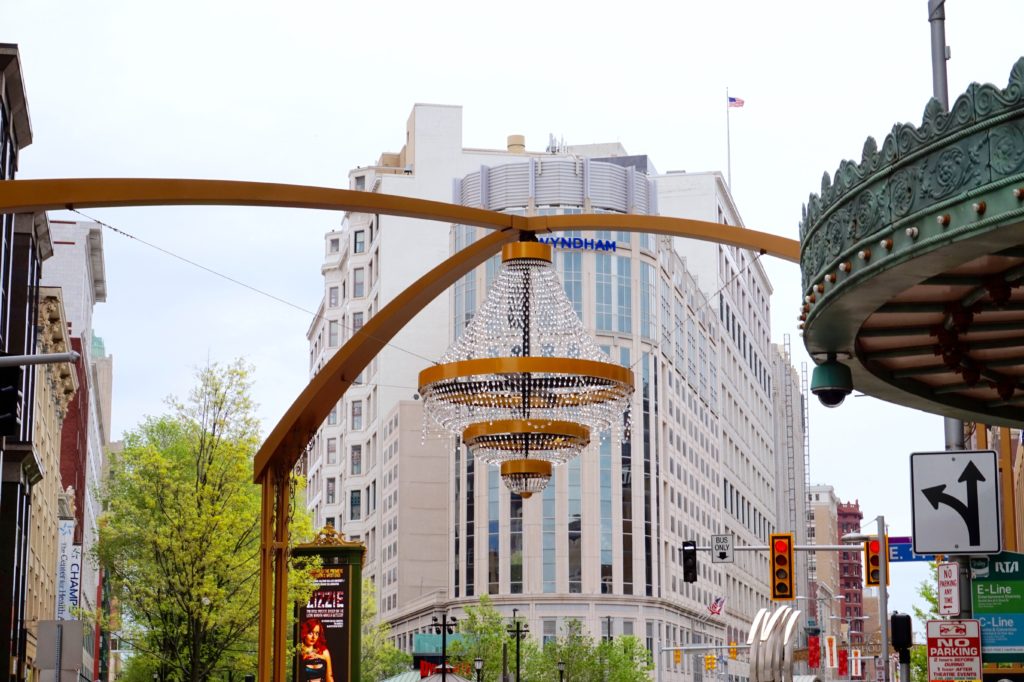 After New York City, Cleveland has the next biggest theater district. Make sure to take advantage of all the theaters by booking to see a play. There's always something playing or going on at Playhouse Square. Regardless if you're into the theater or not, make sure to walk around the area and admire the new chandelier that was put up only a few years ago! It's stunning!
Sports Game
One of the awesome things about Downtown Cleveland is all the sports arenas located within walking distance from one another. Home of the Cleveland Cavaliers, the Cleveland Indians, and the Cleveland Browns, no matter if they're your favorite team or not, the atmosphere of Cleveland during game days is unreal. Not being the biggest sports fan before moving to Cleveland, I have to say that Cleveland has definitely made me into one. Although the last few years Cleveland has gone pretty far in the sports season (other than the Browns), especially during the beginning of the season, tickets to games are definitely affordable.
The Rock and Roll Hall of Fame
The Rock and Roll Hall of Fame is located right by the Pier in Downtown Cleveland. It's a popular tourist attraction due to its wide variety of exhibits of the history and most influential artists, producers, and other notable people who made a big difference in the world of rock and roll. Definitely, stop in and spend some time wandering through the museum and exploring the history of rock and roll.
Edgewater Park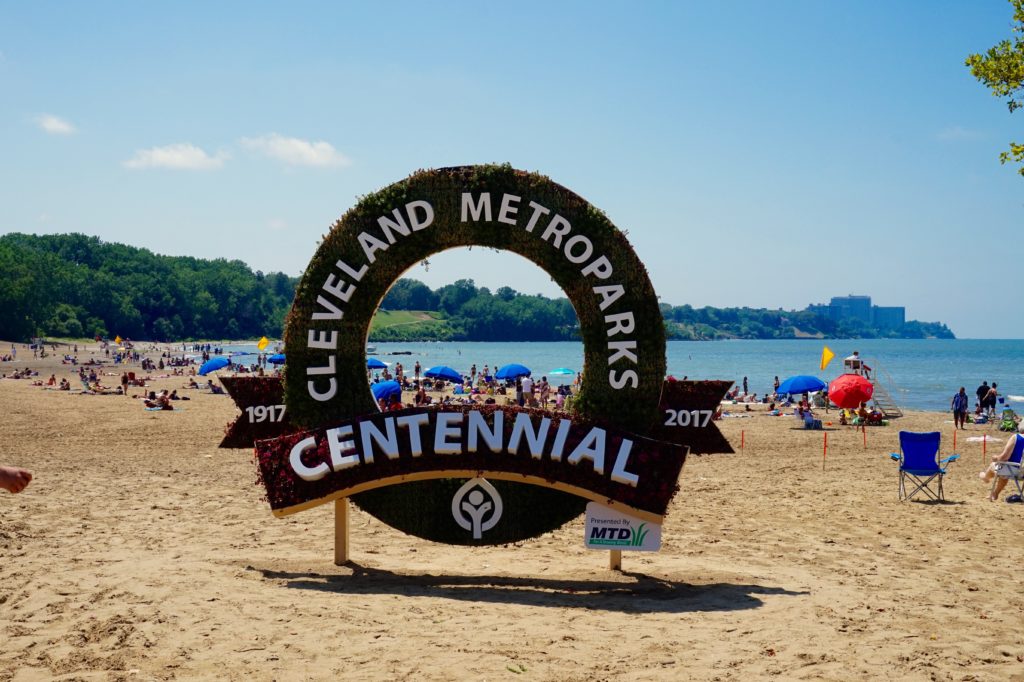 Edgewater Park is the closest beach to Downtown Cleveland and because of that, it's pretty popular. With recent renovations, it's a beautiful place to come for a picnic, grab a bite to eat or relax in the sun. There are lifeguards on duty so no need to worry about bringing your children there and in the summer the park hosts Edgewater Live, with live concerts and food trucks weekly!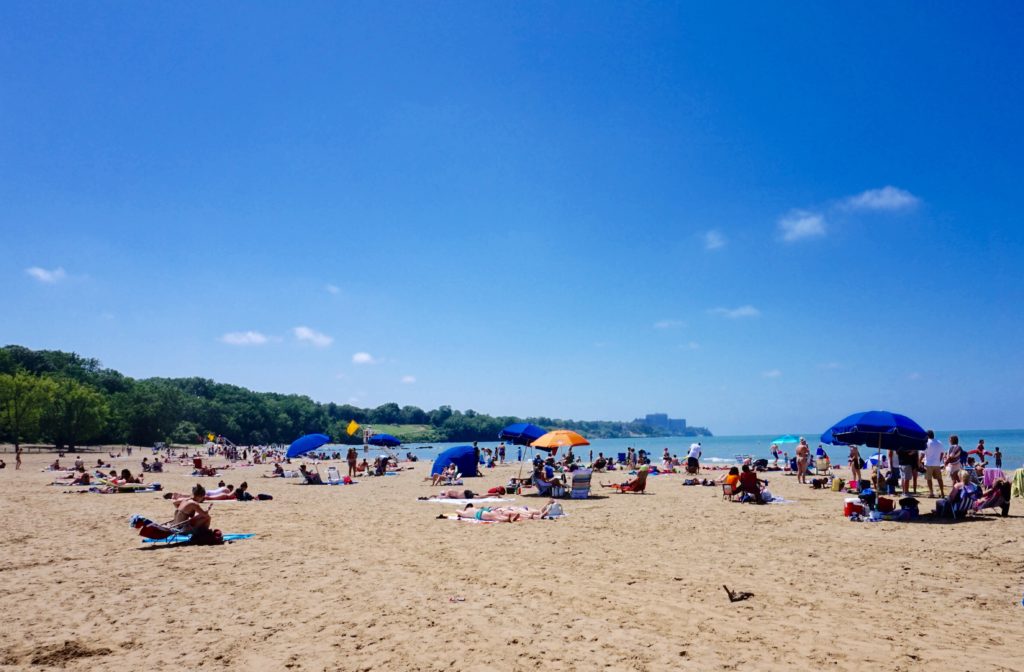 West Side market
West Side Market is one of my favorite places to take people who are visiting Cleveland. Located less than 10 minutes away in Ohio City, the West Side Market is home to numerous food vendors from anything from local butchers to homemade bread to fresh pressed juices! Although most vendors do accept credit cards, make sure to bring some cash for the ones that don't! There is also free parking specifically for the markets located in the back. However, if you go on popular days such as weekends, try to find parking elsewhere.
Power Hour
There are a ton of places that have great happy hour specials in downtown Cleveland. However, a lot of places don't host a happy hour on game days, and with the success, Cleveland has been having with sports, that seems like just about every day a sports team is playing. However, at City Tap, you can enjoy Power Hour every weekday night from 8-9 PM for $2 beers. Choose anything on the menu that's normally under $6 and get it for just $2. Coming from a not-so-much-a-beer-person, highly recommend the Summer Shandy. Looking for something to snack on while you're watching the game? Their loaded tots are to die for!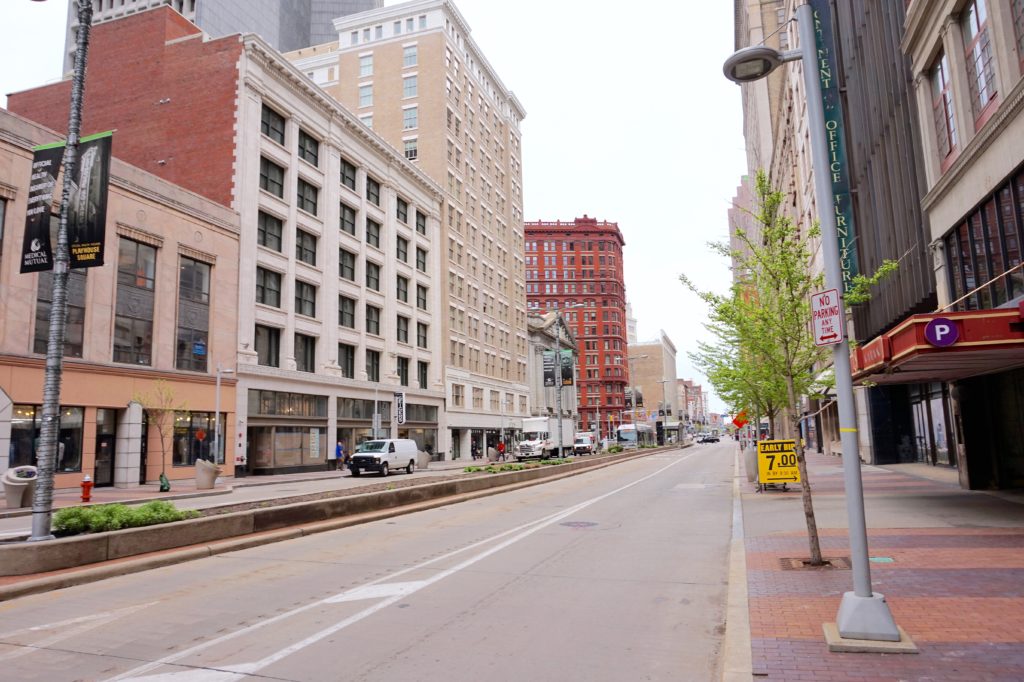 Nightlife
Cleveland has an amazing nightlife. If you're looking to have some fun, definitely hit up Cleveland for a night out! I recommend starting at The Flats, a quick Uber ride from Downtown. Start at Punch Bowl Social, an extremely large venue with multiple bars, a roof-top, and a bowling alley or Margaritaville. You can happily stay the night down there, or just a quick walk up the street, head to West 6th. If you want to hang out with a younger college demographic, Dive Bar is the place to go. Liquid, located right above Dive Bar is also a favorite along with Velvet Dog and Barley House.
Other Places to Check Out:
Little Italy: Located about twenty minutes outside of Downtown, Little Italy is a lovely place to grab some dinner. Walk the streets filled with Italian restaurants and music and enjoy some of the most delicious pasta and gelato you've ever had.
Ohio City: I already mentioned The West Side Market is a must-see stop on your trip to Cleveland. Although the market is one of the main attractions of Ohio City, the little town itself has plenty to do. From trendy coffee shops, the Great Lakes Brewery, and countless restaurants, you'll be occupied from morning to evening in this town. My two favorite places are Heck's Cafe and TownHall.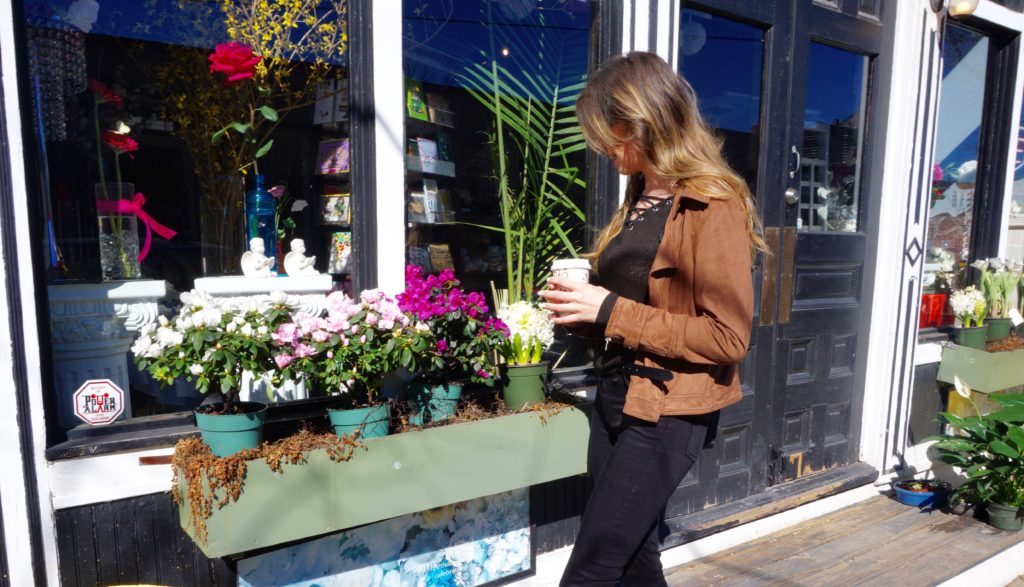 East 4th: Not only is East 4th incredibly beautiful, seriously, so many people come to get wedding photos done on this street, it also is the home of some of Cleveland's most amazing restaurants. Zocolo, Greenhouse Tavern, Flannery's, and Corner Alley are all popular on this street for good reason. Whatever you're craving for food, you'll have plenty of options on this street!
Tremont: Located off the first exit off of the highway, Tremont is a small town with amazing hidden gems. The restaurants here are some of the best. Enjoy breakfast at Grumpy's Cafe or a nice candle lite dinner at Fahrenheit where I highly recommend getting the Lobster Mac & Cheese!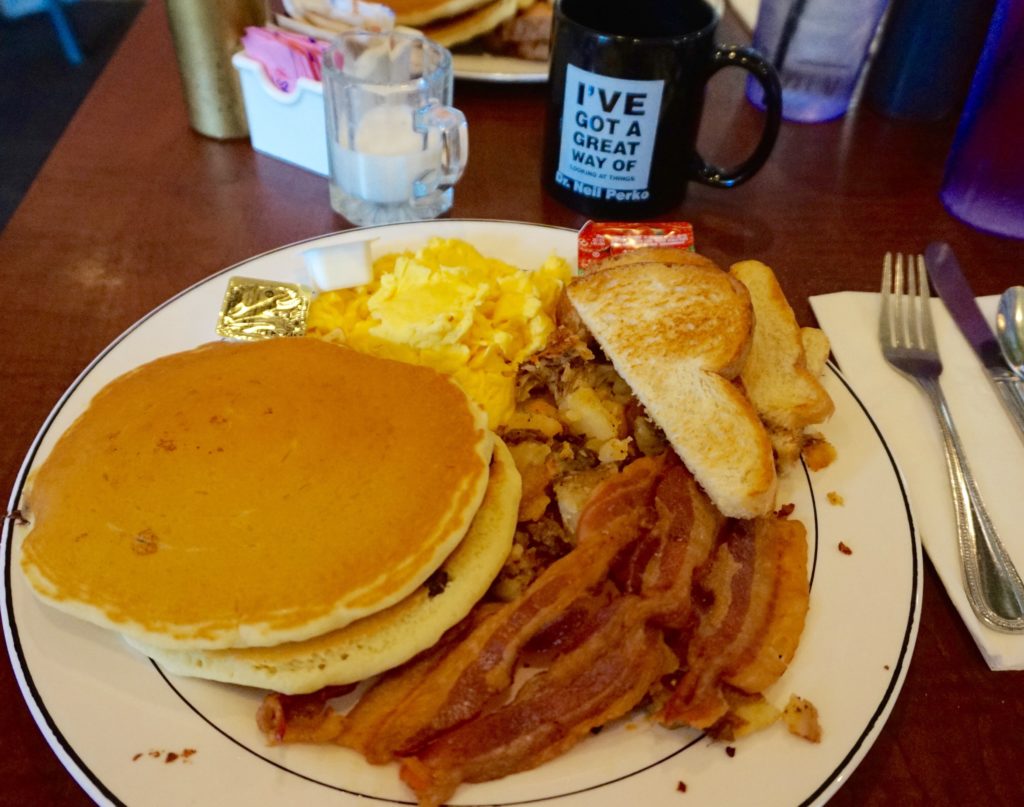 The Cleveland Flea: The Cleveland Flea happens multiple times throughout the summer and is definitely worth the visit. Check out numerous local vendors and thrift shops all in one place. Enjoy some of Cleveland's most popular food trucks and local treats and listen to some local music. To get more of a feel for the Cleveland Flea, check out my travel diary on it!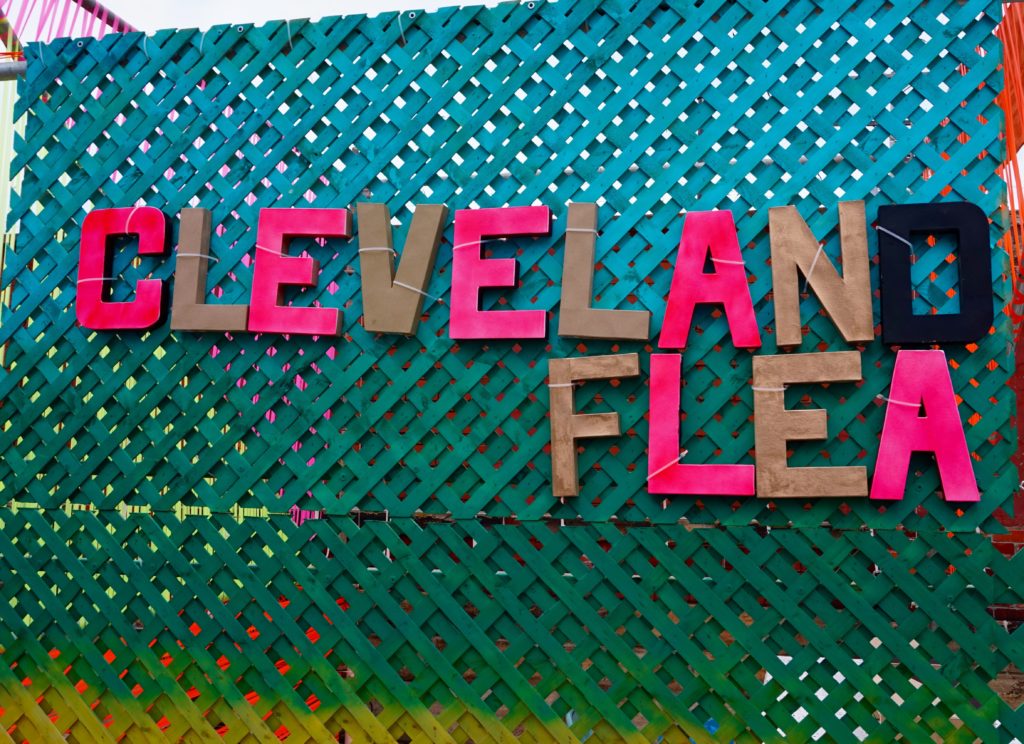 If you're still looking for more to do and check out I recommend enjoying the view or some food by The Pier, having a drink at The 9 rooftop bar or the Volt, shopping at Crocker Park, and burgers, beer, and games at Wild Eagle!
Cleveland has so much to do and if you haven't visited yet, definitely make your way to the city! Have you ever been to Cleveland before? Let me know in the comments down below!